Rules & Strategy
Video Poker
Video poker is a casino mainstay, and with good reason. Offering elements reminiscent of both slots and poker, video poker is one of the few games in the casino where a player can actually find positive expectation of winning, effectively almost turning the tables on the house. Unlike the majority of casino games where winning is determined by luck, video poker deftly combines luck, skill and strategy in a go-at-your-own-pace style game where players can, with enough practice and adherence to game strategy, consistently win. Like live poker games, short term results for video poker are dictated in part by luck, but over the long term it's a player's level of skill that predominantly determines win/loss ratios.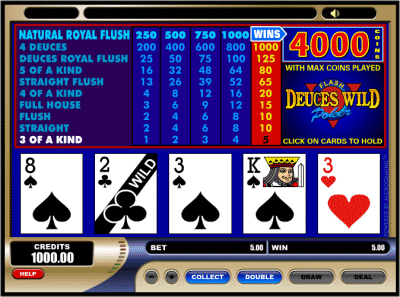 Featured Articles
Video Poker and Stress:
Losing, suspicions can make for a very trying gambling experience
A number of different factors make video poker stressful. One of these is losing. People don't like to lose, although each person reacts differently. And you will lose at video poker far more frequently than you win.
By Bob Dancer
Read the Article
How Long Is The Long Run? Part 1
Surprisingly, the length of time has little to do with it
Video poker experts frequently talk about a magical length of time known as the long run, but rarely if ever do they define how long the long run is.
By John Robison
Read the Article
Play Longer With Less Risk
Taking a sensible, educated approach can pay dividends
Gambling presents a certain amount of risk. That element of risk is part of the fun and thrill of playing. It is also the part that can be analyzed and adjusted to suit your skill level and financial means. Learning how to minimize risk and play sensibly allows you to stay in the game longer and provides more opportunities to win.
By Carol Costa
Read the Article
Additional Articles
VP Spotlight: The Inside Scoop on Inside Straights.
Knowing when to draw is the key to a winning hand
Read the Article
Video Poker Kicked My Butt!
Playing tired and tipsy does not a winner make
Read the Article
New Year — New Goals
Play smarter and have more fun doing it
Read the Article
Video Poker Archive
Video Poker Spotlight: A Champagne Christmas
Learning to watch your step.
Read the Article
Mystery Of The Machines
Players panic when slot techs tinker with their games
Read the Article
Your Own Worst Enemy
Learn to have some self-control before hitting the casino
Read the Article
Helping Luck Along
The laws of randomness ultimately decide whether you win or lose. Are there ways to help luck along?
Read the Article
Helping Luck Along Part II: Video Slots
The key to success is to stay in the game and wait out the odds.
Read the Article
What I Liked About the Gaming Show
My annual rundown of next year's best video poker games
Read the Article
Video Poker: Where's The Best Place to Play?
There is no 'right' answer—it all comes down to personal preference.
Read the Article
The Best Versions of Video Poker
Read the Article
Video Poker.
Do you have a comment or question about this article?

Look for your question to be answered in either Casino Player or Strictly Slots Magazines.