THE NEW VIDEO POKER
Bonus features like multipliers and free games spice up the traditional video poker game, while offering a fair shake that diehards will appreciate
By Frank Legato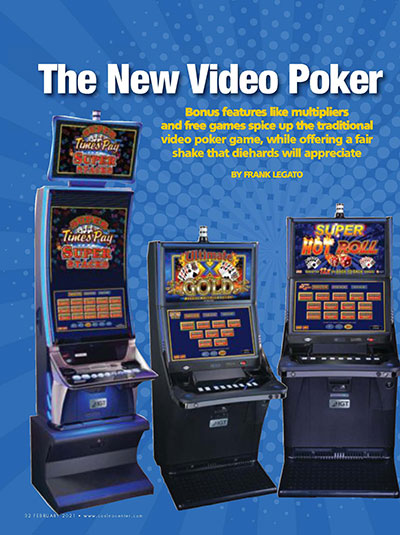 The idea of an automated version of the game of poker, to be played alone while enjoying drinks, goes all the way back to the origins of the slot machine. Even before the modern reel-spinning slot machine was invented in the mid-1890s, bars in San Francisco and elsewhere offered mechanical poker machines featuring five spinning spools of cards.
Prizes for winning hands were usually free drinks or cigars, but bar owners didn't need to worry too much. The spools held 10 cards each—a deck of 50, with a couple of high cards missing.
When, some eight decades later, what we now know as video draw poker was perfected by Bally Manufacturing employee Si Redd, all 52 cards were there. And by the time Redd broke from Bally to form the company now known as IGT, players were already on to the fact that the better they knew draw poker strategy, the better they could do in the casino.
Redd's first video poker machine was a Jacks-or- Better draw poker game. By manipulating the payoff amounts on the ascending hands, Redd had perfected a game which, with perfect strategy, returned an overall 99.54 percent—a lower house advantage than any table game in a casino.
Smart gamblers picked up on this, creating a loyal subculture of video poker players that became some of the most valuable players in the casino. Redd's IGT came up with new twists like bonus four-of-a-kind payouts  in the Bonus Poker genre, Deuces Wild and other variations that could squeeze the house edge down to zero and beyond for the perfect strategist with enough of a bankroll. This only grew the subculture, as players flocked to video poker lessons and bought up books to learn strategies to optimize their chances.
Yes, a few experts have been good enough to make a living off video poker, but to the casinos, the thousands more who have only thought they were experts have more than made up for the few successful pros. And even for those experts, a zero-house-advantage game is still a 50-50 proposition, like the flip of a coin.
But the concept of improving on a casino game by perfecting skill has kept the video poker fan base growing. Of course, those diehard players who seek the best pay tables and the highest returns on video poker generally are not interested in newfangled features.
That has been changing lately, thanks to the variety of specialty video poker games pouring from IGT these days. IGT's newest offerings take bonus features popularized in slot machines and apply them to the video poker game—so far, with a great reception even from longtime video poker aficionados.
This last point is significant, since diehard video poker players are set in their ways. Other than the sheer play speed and volume offered by multi-hand games from Triple Play to Hundred Play, video poker players have always wanted to be able to employ the strategy they have learned on the games they love, with no fancy stuff, thank you very much.
In fact, as far back as the late 1980s, IGT's competitors had tried to crack the company's video poker dominance by offering specialty poker games with bonuses. One would award extra winning hands, like awarding a four-of-a-kind for 8-8-8-6-2 (it was called "Add 'Em Up.") Another would apply bonus payments to hands over a certain level, or a bonus payment for a sequential flush.
All of them ultimately flopped, because the educated video poker subculture was not fooled—to offer bonuses, something was always taken from the player, usually by lowering the payments of various hands, be it 1-for-1 for two pair or 4-for-1 for a straight. Optimal strategy no longer assured the lowest house advantage.
The new IGT video poker games are different. They offer special bonuses and features that have been developed in the slot arena, but they do it without affecting the base pay table. Instead, the player typically pays what amounts to an up-front ante to qualify for the bonus features, in the form of a larger per-hand wager. Educated players can still shop for the highest pay schedules, and can apply the same strategy, but with the added expectation of possible bonus rounds, multiplied jackpots and other features.
Darnell Johnson, IGT's senior director of product management who oversees video poker, says the company has made some of the same mistakes as others with specialty video poker over the years, but has always learned from those mistakes and made improvements in the end.
"We made some mistakes and took from the base game (to offer bonuses), and we definitely saw the impact of that," Johnson says, "but we definitely learned from that, and we continue to listen to our players and do our best to create content that's going to work well for them."
Johnson says IGT's newest video poker games allow for the fact that longtime players seek out the best pay tables. "When we add a feature, we do not take from the base game to pay for it. We add the feature on, so it actually grows the RTP (return  to player) a little from that perspective…  Our bonus-feature games are definitely ahead of the curve."
IGT's library of specialty poker games continues to grow, fueled by success stories, as the company conceives new versions of the most popular games out there. Here, according to Johnson, are three of the newest games that are turning heads among the video poker faithful:
Super Times Pay Super Stacks
Longtime hit game Super Times Pay randomly applies multipliers to various hands in exchange for a six-coin-per-hand wager. With the six-coin wager, multipliers appear every 15 hands on average, increasing wins from 2X to 10X.
Last month, IGT released a new generation of this game called Super Times Pay Super Stacks. This version of the game features a mystery bonus in which the game logo erupts to reveal a random number of free hands with a multiplier.
"It's a very unique experience," Johnson says. "The other great thing about that is the average bonus frequency is about one in 11 hands, so it's a relatively quick and easy way to get into the feature and see some of the potential rewards. This is a really good game that we expect to see a lot of interest in. It leverages the Super Times Pay game mechanic, so it's something very familiar to our players, but it has this unique twist."
Super Times Pay Super Stacks also is unique in its presentation. It's one of the first video poker games IGT will make available on the premium CrystalCurve cabinet, a format previously reserved for slot games, with a large, portrait-style 42-inch curved video monitor. "This will be the first time you see video poker on a 42-inch screen," Johnson says. "It's a very impressive visual on the floor. We wanted to leverage that additional real estate on the screen to provide the best value to players."
Ultimate X Gold
One of the most popular of the new video poker offerings has been a growing family rising from the game Ultimate X, which for a 10-coin-per-hand wager causes multipliers  of up to 12X to be applied to the hand following any winning hand. On multi- hand versions, frequent multipliers can appear on more than one of the hands on each play.
The first sequel to this game was Ultimate X Bonus Streak. In this version, any win of three of a kind or higher (no wild cards) awards up to five multipliers to future hands in that position—beginning with 2X, and rising sequentially as high as 12X.
The newest entry in the series, Ultimate X Gold, adds yet another twist to the game. Instead of applying the multipliers to hands in the same position of a multi-hand game, this version applies the multiplier to a hand on the pay schedule, and it sticks until the player lands that hand. "Now, you have the opportunity to add multipliers to qualifying pay-table categories," says Johnson. "This new version of Ultimate X keeps the multiplier in place until a winning hand is achieved."
Super Hot Roll Poker
Hot Roll Poker, a popular IGT offering since its 2014 introduction, randomly awards a multiplier on the deal or draw of certain hands. The value of the multiplier is determined through a video roll of dice, the total on the dice equaling a multiplier of up to 12X.
The new Super Hot Roll Poker addresses the fact that should a hand in the original end up a loser, the multiplier is wasted. The new version of the game keeps the multiplier  in place until a winning hand is achieved. Also, the new version applies the multiplier to both the current hand and the following hand.
"This is one crazy-fun game," Johnson says. "It's available as a Triple Play, Five Play or Ten Play game. The frequency for the dice roll on Triple Play is one in five games, on a Five Play game it's one in four games, and in Ten Play, it's actually one in three games. So, you'll land this feature quite a bit, and it's really engaging. And you now have the opportunity to carry that multiplier feature not only to the hand that you've played at that point, but you have the opportunity to get that on your next hand as well.
"Released early in January, this is arguably one of my favorite games we've released of late," Johnson says." It has an element of the persistence that you hear about in slot games, brought into poker, that makes this game extremely entertaining."
Modern Comfort
While IGT has been transforming the benefits of video poker with bonus versions, it also has been making playing video poker more comfortable. Many of the newest IGT video poker games address what has been a traditional drawback to video poker—player comfort.
Video poker players have long come to expect a play experience that includes awkward positioning as they play, having to reach and strain to push buttons or touch the screen, or dealing with blinding glare on the screen from overhead lights. IGT engineers have addressed ergonomic issues like these in the company's latest video poker machines.
While placing video poker on the sleek CrystalCurve cabinet is the newest solution, a much more important example may be the new PeakBarTop, a unit for the ubiquitous bar video poker market that addresses all the traditional gripes concerning player ergonomics.
The PeakBarTop, rolled out last year as the first new IGT bar-top multi-game unit in years, was designed after exhaustive research with players to correct the nagging player comfort issues.
"We did a lot of research with players, with operators, with industry experts, to understand what the optimal type of experience would be for a bar-top player," Johnson says.
For one thing, the PeakBarTop uses a curved video monitor. The player can sit back and see everything, instead of having to hunch over a flat screen while playing. Sightlines and screen positioning were designed for maximum comfort while playing. The positioning of the buttons, bill acceptor and card acceptor mean you don't have to reach. And the curved screen solves the glare problem.
"We took an innovative, player-focused approach on the game side, as well," Johnson says. "For example, with all of our bundled multi-game sets, we created a different type of a main menu system that now has a scrolling effect. You can scroll to find your games. We believe with a lot of people being much more familiar with smart-phone interfaces, that's a very intuitive way to pick games."
Many of these same advanced features are present in IGT's Cobalt 23, the latest upright cabinet being used for video poker games.
As far as what you should expect inside those cabinets going forward, Johnson says everything points toward the further diversification of video poker play features. "There is a lot of potential for poker to continually evolve over time," he says. "There is still a huge following of video poker players in the market today. It continues to be about 10-12 percent of the overall (slot) market in North America, higher in certain other areas.
"There's a lot of loyalty when it comes to video poker players, and a lot of players are really comfortable with the game they have now and aren't always quick to adopt different games. But we believe the trends we're seeing and the feedback we're getting from players and operators show that slight tweaks to the game through brand evolutions are the way players are looking for us to go."