Apps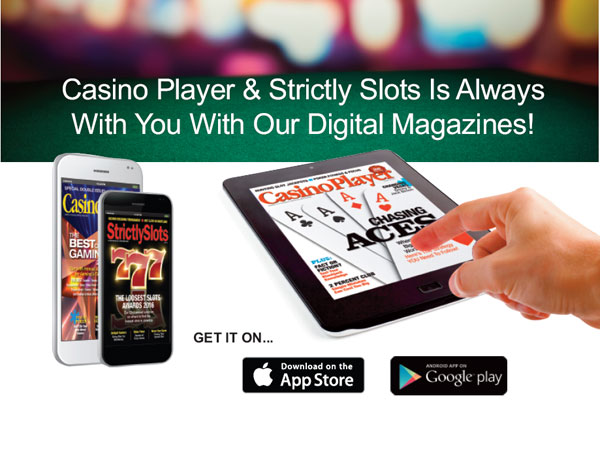 CASINO PLAYER
Published for nearly 30 years, Casino Player magazine provides gamblers and casino lovers with the tools they need to beat the casino. Featuring in-depth strategy articles, game reviews, and expert tutorials written by today's leading gambling authorities, Casino Player is the #1 casino lifestyle publication in North America. From cover to cover, every issue is packed with the hottest casino news, special events and promotions, detailed entertainment reviews, dining and hotel information and much more!
Casino Player iOS, Apple iTunes:  v5.9.0  released 4/14/2017
https://itunes.apple.com/us/app/casino-player-magazine/id555980875?mt=8
Casino Player Android, Amazon:  v2.4.7  released 3/29/2017
https://www.amazon.com/Casino-Player-Publishing-LLC-MAGAZINE/dp/B00A6C7QWC
STRICTLY SLOTS
Strictly Slots magazine is a focus-driven monthly publication for players who love slots and video poker. Written by gambling experts, each issue offers readers valuable insight into the latest in slot and video poker gaming strategies, details new slot club offers, and reveals the latest machines to hit the casino floor—including where to find them and how to play them like the pros. With Strictly Slots you'll have the insider's advantage every time you play your favorite casino games.
Strictly Slots iOS, Apple iTunes:  v5.9.0  released 3/30/2017
https://itunes.apple.com/us/app/strictly-slots-magazine/id555976838?mt=8
Strictly Slots Android, Amazon: v2.4.7 released 3/30/2017
https://www.amazon.com/Casino-Player-Publishing-LLC-Strictly/dp/B00A6E6V4Y