Changing Your Game – Video Poker
Sometimes it's a smart move to leave your favorite machine and try something new. Here's why.
By Henry Tamburin
I encourage players to learn one video poker game, and play it well—rather than constantly switching from one game to another. But sometimes it makes sense to switch games. Let me share with you one example.
A friend (I'll call him Tom) came to Las Vegas over the Labor Day weekend. We met up at one of the local casinos, since he likes to play video poker and this casino has good video poker pay schedules.
I usually play single and multi-line NSU Deuces Wild and 9/6 Jacks or Better in this casino. Tom plays Jacks or Better for low stakes, and this casino offers quarter-denomination 9/6 Jacks or Better. Tom began playing a single-line 9/6 Jacks or Better machine while I played a single-line NSU Deuces Wild machine. After a while, he came over to my machine and was surprised that I was playing a single-line game rather than a triple-line game. I told him the reason: the casino was having a promotion during September in which they gave an extra 200 coins in free-play if you got a natural royal flush (no wild cards) with maximum coin played.
By playing a single-line game, I was guaranteed to get the bonus 200-coin free play if I got a royal flush. If I played a triple-line game instead, I'd only be eligible for the 200-coin bonus if I got the royal flush only on the first line. Even after this explanation, he was still confused, so I went a little deeper with my explanation.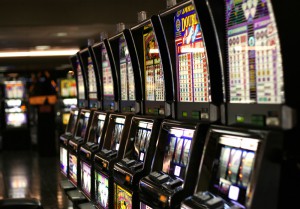 Think about it. An NSU Deuces Wild game, whether it's single line or triple line, has a 99.73% ER with a 4,000-coin royal flush. Normally, I play a 100-line game; however, the 200-coin free-play bonus only kicks in if you get a royal flush on the first line. This means I'd get a 4,200 coin payoff for a royal flush on the first line, but only a 4,000 coin payoff if I got the royal on the other 99 lines. This averages to only 4,002 coins per line for a royal flush.
Now, if I played a single-line NSU Deuces Wild game, I'd automatically win 4,200 coins if I got a natural royal flush during this promotion. If you plug the 4,200 coin payout for the royal flush into a video poker software program (which I did), it calculated a 99.82% expected return with the 4,200 coin royal flush payout. This is a 0.09% increase in ER over the 100-line game, which is why I choose to play the single-line game.
(Note: The casino promotion also gave a 400-coin bonus if you were dealt a natural royal flush on the initial deal. However, this is such a rare occurrence that I didn't consider it to have any benefit, especially over only a months worth of play.)
Finally, Tom understood why I was playing a single-line game rather than the triple-line game. But the next morning when we met up in this casino, I threw him for another loop. He expected that I would be playing the same 100-line NSU Deuces Wild game that I played the day before. You can imagine his baffled expression when I sat down and started playing another game instead: triple-line 9/6 Jacks or Better.
"I thought you told me yesterday that the single line NSU game was better than a multi-line game," he griped. "Why are you playing a triple-line 9/6 Jacks or Better game today?"
Of course, I had a reason why I changed games. It so happens that on Labor Day, this casino was giving double points for video poker (and slot) play. Normally, the cash back is 0.30%, but today I would be getting double that or 0.60% cash back.
This casino also has tiered levels in their Players Club. The more coin-in you rack up in a calendar month, the more lucrative the monthly mailers that you receive. In addition, I figured that the popular 100-line NSU Deuces Wild machines would be occupied all day by local pros (which they were). Taking all of this information under consideration, I decided to try to get most of my monthly play completed on Labor Day during the double-points promotion, by playing the 9/6 Jacks or Better triple-line game.
By doing so, my overall return would be about 100.5%, comprised of the 99.54% return on the game plus the 0.6% cash back plus an estimated 0.33% free play from the top-tier level mailer that I would be receiving in November (and this doesn't include the additional $50 off restaurant coupons, free show tickets, free buffets and other comps that usually are included in the top-tier mailer from this casino).
The point I was making to Tom is that sometimes it makes sense to change the game you are playing—even the denomination,  depending on the type of promotion that the casino is running. However, you need to be able to analyze these promotions. This is not as difficult as it first appears, especially if you have a video poker software program loaded onto your computer at home to help you do the analysis.
Sometimes other factors come into play when deciding which game to play, and at what denomination. These include the tax consequences of playing on a higher denomination machine (you could get more W2Gs), and possibly a slight change in playing strategy. I'll cover these points in a future column.
I had a great time with Tom, and even though he didn't hit a royal flush, he learned something about how casino promotions can change the game you play. I was also luckier than Tom. Not only was I able to rack up a lot of points on Labor Day to achieve the top-tier mailer, I also got lucky and hit two royal flushes during the month and received the 200-coin bonus payoff both times.
Tamburin's Tip of the Month
If you're planning to visit Las Vegas to play some video poker, you can find out which casinos are offering special promotions by visiting www.lasvegasadvisor.com and clicking on "Gambling Advisor" and then "Bonus-Point Days." You'll get a terrific chart showing the special offers and bonus points being offered by Vegas casinos this month.
Henry Tamburin is a blackjack and video poker expert. He hosts the smartgaming.com website and is the editor of the Blackjack Insider newsletter (for a free three-month subscription, visit www.bjinsider.com/free). For a FREE copy of his Casino Gambling Catalog, which contains books, strategy cards, and software for video poker players, call toll free 1-888-353-3234, or visit the web store at smartgaming.com.
Changing Your Game – Video Poker.