The Spin on Spin Poker: Video Poker Meets Slots
By Henry Tamburin
Spin Poker is a cross between a Triple Play video poker game and a five-reel video slot game. It brings the 'feel" and "excitement" of playing a slot machine to a video poker game.
Below is an image of a Spin Poker screen, consisting of three rows (or lines) and five columns. The initially dealt five-card poker hand appears on the centerline. You decide which cards you want to hold, and those cards are duplicated on the top and bottom line in the same column (as they are in Triple Play). When you press the Draw/Spin button, the "draw" cards are randomly filled in each "square" from the 47-card deck (because five of the 52 cards were used on the deal) to form three poker hands that you see on the screen.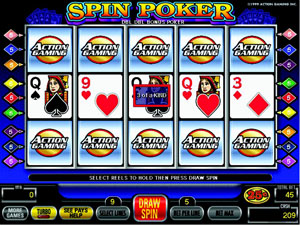 When you play Spin Poker, you get to choose how many lines and how many coins you want to wager per line. There are a maximum of nine lines in Spin Poker (I'll show you shortly which cards comprise each line), and you can wager a maximum of five coins per line. (Note: Five coins is the standard default for the maximum coins; however, it can be set by the casino operator to be as high as 30 coins per line. See also my "Tip of the Month" below for tips on how much to bet and how many lines to activate.)
Let me pause for a moment and explain the nine lines because this often confuses players. The Spin Poker video screen is a matrix of five vertical columns (representing the five spinning reels) and three horizontal rows (that show the three poker hands on the middle, top and bottom rows). The 15 cards that are on screen are combined into nine different sets of five-card hands, and each of these hands is evaluated to determine the payouts.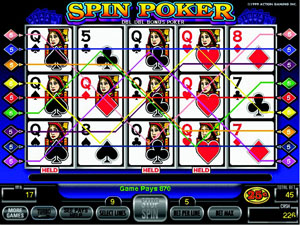 The Spin Poker screen image below highlights the cards in the nine lines that are evaluated for a payoff. If you look carefully at the colored lines, you will see each of the nine lines from left to right as follows:
Line 1: Red middle line
Line 2: Blue top line
Line 3: Navy bottom line
Line 4: Peach V line, consisting of the first card of Line 2, the second card of Line 1, the third card of Line 3, the fourth card of line 1, and the fifth card of line 2.
Line 5: Pink upside down "V" line, consisting of first card of line 3, second card of line 1, third card of line 2, fourth card of line 1, and fifth card of line 3.
Line 6: Orange line, consisting of first two cards in line 2, the third card in line 1, and the fourth and fifth cards in line 3.
Line 7: Violet line, consisting of first two cards in line 3, the third card in line 1, and the fourth and fifth cards in line 2.
Line 8: Green line, consisting of first card in line 1, second card in line 2,  third card in line1, fourth card in line 3, and fifth card in line 1.
Line 9: Yellow line, consisting of the first card in line 1, second card in line 3,  third card in line 1, fourth card in line 2, and fifth card in line 1.
As a player, you don't have to memorize the above patterns of winning hands. After the game is over, you will see on the screen the active lines that are winners (the boxes will be highlighted), how much you won per line, and the aggregate amount you won for all nine lines.
Once you've chosen how many lines you want to activate and coins that you want to play per line, you hit the "Deal" button to start the game. When you do, you'll receive your five-card poker hand in the middle (or first) line. You select which cards you want to hold by touching the card on the screen or hitting the corresponding hold button beneath the card(s) you want to hold. The cards you hold on the centerline will be replicated on the top (2nd) and bottom (3rd) lines. You then hit the Draw/Spin button again and the "video reels" spin-deal you the draw cards on all three lines. (The game uses one 52-card deck, assuming no wild cards. So a specific card can only appear once in any of the three lines.) Your total payout for each round will be the sum of the payouts for any winning hands on the active lines.
There are three meters on the bottom of the screen. The "Total Bet" meter (right) shows how much you are betting on all the active lines per round (or game). Immediately below is the "Credit" meter, which keeps a running tally of how many credits (or bankroll) you have, based on how much you win or lose per round. The "Win" meter (left) shows you how much you won at the end of each round.
There are a myriad of different video poker games on the Spin Poker format (e.g., Jacks or Better, Bonus Poker, Double Bonus, Double Double Bonus, Joker Poker etc.). By clicking on the "More Games" button (lower left) on a Spin Poker machine, you can view all the games available.
You'll also find several popular versions of Spin Poker in casinos. Spin Poker Deluxe, which expands the game from nine to 20 lines; Super Times Pay Spin Poker, which adds a mystery "multiplier" to the payoffs; Triple Spin Poker, which features three games on the same screen with 27 pay lines; and Dream Card Spin Poker, which includes a "Dream Card" side bet.
What's great about Spin Poker is this:  the playing strategy and return is identical to the same game and pay table on a conventional single or multi-line format. Therefore, when you play Spin Poker, you don't have to memorize a different playing strategy. For example, if you want to play 9/6 Jacks or Better on Spin Poker, use the same 9/6 Jacks or Better playing strategy that would use for a standard game. You'll also get the same 99.54 percent expected return with perfect play as you would in the standard game.
You can play Spin Poker (or Spin Poker Deluxe and Super Times Pay Spin Poker) for fun by going to www.videopoker.com. Additionally, the Video Poker for Winners computer software training program includes Spin Poker, which allows you to practice your playing strategy while you play Spin Poker. (The program will alert you when you make a playing mistake.)
Just as you would for any conventional video poker game, you should try to play the full-pay version of your favorite game on Super Poker. To find which casinos offer the full-pay version of any Spin Poker game for any region in the US, go to www.vpfree2.com, or the Best Video Poker page on www.lasvegasadvisor.com (for Las Vegas area casinos). You'll also find a listing of casinos in each state the offer Spin Poker at www.videopoker.com.
Spin Poker will definitely get your adrenalin flowing when you play it. If you get lucky and are dealt a royal flush on the initial deal with nine active lines, you will win a whopping 36,000 coins—that's nine grand for a quarter player. Moreover, on the draw, it's possible to get more than one royal flush per round. Now that's an exciting possibility.
Tamburin Tip of the Month
When you play Spin Poker, you should always play the maximum number of coins per active line to benefit from the bonus payout on a royal flush (the default is usually five coins.) If you activate all nine lines, you will be wagering 45 coins (that's $11.25 per game for a quarter player.) Spin Poker is very volatile, which means your bankroll will take big positive and negative swings. If you have a modest bankroll, you could tap out quickly if Lady Luck isn't kind to you. My suggestion for players that have a short bankroll but want maximum playing time is to play Spin Poker for lower stakes (nickel instead of quarter denomination) or activate less than nine lines, but always with five coins wagered per active line.
————————————————————————————————————-
Henry Tamburin is a blackjack and video poker expert. He is the host of the smartgaming.com website and the editor of the Blackjack Insider newsletter (for a free three-month subscription, visit www.bjinsider.com/freetrial).  For a free copy of his Casino Gambling Catalog, which contains books, strategy cards, and software for video poker players, call toll free 1-888-353-3234, or visit the web store at smartgaming.com.