What I Liked About the Gaming Show – Video Poker
My annual rundown of next year's best video poker games
by Bob Dancer
Every fall the biggest gaming-industry trade show of the year takes place in Las Vegas. Global Gaming Expo (G2E) attracts thousands of manufacturers and vendors hawking everything from new slot machines, table games, uniforms, architectural services, chairs, surveillance systems, consultants of every stripe, and a host of other casino-related products.
I look most closely at the machine games-of-skill. These games don't have to be video poker (a few years ago I saw a checker game I liked), but usually they are. This year, of the five games I liked best, three have a connection with Texas hold'em or other form of live poker, trying to take advantage of the public's new-found fascination with this game.
My evaluation has little to do with "can I make money playing this machine?" That will indeed be my criteria once the games find their way into the casinos, but at the show my standard is different. Most of these games will come out with a variety of pay schedules—perhaps 92, 94, 96, 98, and 100 percent—and it's up to the casinos to decide which one to offer. At the show, the games often have the highest pay schedule available (so they appear to be a lot of fun), plus you have the ability to "gaff" the next hand so you can easily see what happens if you're dealt a royal flush, four aces, or whatever other good hand pays bonuses in this game.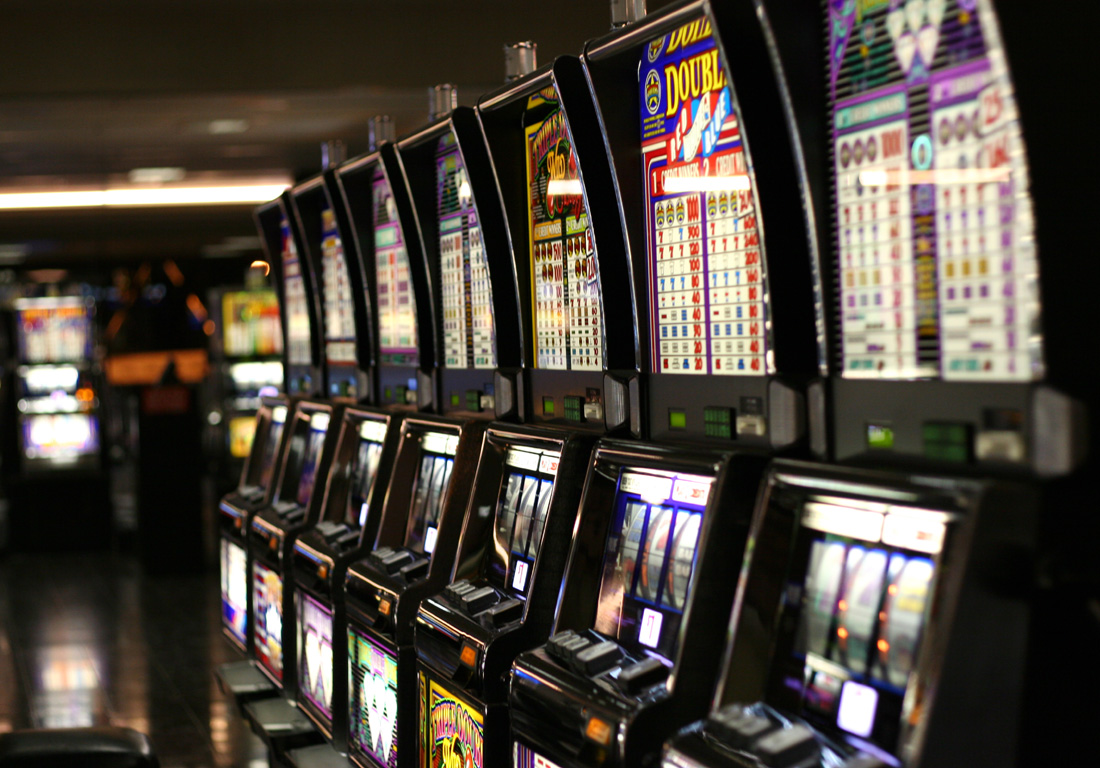 International Gaming Technology
IGT owns about 85 percent of the video poker market, so it should be no surprise that they have the most new games every year. Several of the new games shown this year are actually hybrids of familiar games, such as Multi Strike Super Times Pay, Super Times Pay Spin Poker, and Double Pay Spin Poker.
World Poker Tour Multi Strike Video Hold'Em—As in the regular version of Multi Strike, this is a four-line game where you bet all lines at the start and only make it to higher lines by winning on the lower ones. The returns on the upper lines are multiplied by two, four, or eight times to compensate for the fact that you only move up about half the time from the line before. On each line, you choose between two two-card "hole cards," and then, like in Texas hold'em, you get five additional cards. If you end up with two pair or higher, you move up.
Most of the choices aren't too difficult, once you get used to the fact that you're going against a pay schedule and not another opponent. This means, for example, that starting with 5h 6h is much stronger than Ad Kc (better chances for both straights, flushes and straight flushes), even though you'd make the opposite choice in the live version of the game.
Adding to the fun are multipliers (up to 10x) when you are dealt the big hands: AA, KK, QQ, JJ, or two suited high cards. Since these are on top of the regular multipliers, you can reach 80x on the top line—and when you do get this multiplier you're already starting with a hand that's likely to score.
Opponent Poke—In this game you're playing a form of draw poker (Double Double Bonus at the show) against two opponents. You bet five coins on your hand and another five coins against your opponents, who start with the same cards as you do and tell you in advance what they are going to hold. Cards are drawn randomly to fill in the hands.
For half of your bet, you get paid as in regular video poker. To win the other half, though, you have to beat the other two, very much like the skins game format in golf. But if two or more players tie for the top hand, the jackpot money goes into the pot. Let's say you're dealt four 5s. You hold them (of course) as do your opponents. You get paid 250 coins for your 5-coin bet, but another 750 coins (250 from each of the three opponents) go into the pot and will go to the next undisputed winner. You can cash out your share of the pot, if you like (250 coins in this case), or you can gamble it up. I'd gamble—because I have play options that my opponents don't.
Let's say you're now dealt 4h 5h 6c 7h 8h. Proper strategy (if you're only concerned with the payout on five coins) is to hold the straight, which your two opponents will do, and they will tie. If you hold the 4-5-6-8, though, you have a 9/47 chance of getting another heart, which will give you a 750-coin bonus if you do—in addition to the 30 or 250 coins you'll win for connecting on a flush or straight flush. If you miss (which you will 38/47 times), you only give up the 20 credits you would have received for the straight, and the 6.67 coins that represent your share of the 20 coins that didn't go into the pot.
Bally Systems
Royal Draw Poker—This is a game with a bonus round, which is triggered by hitting any natural four-of-a-kind (which happens every 400 hands or so). In any suit of your choice (let's say hearts), your randomly dealt five cards. You hold any number of these cards and draw again, randomly. You are now paid for a flush (which you must have at a minimum), a straight flush, or a royal flush—where you receive the same amounts you receive in the game. In the version at the show, this was 30, 250, and 4,000. Figuring out the play for the bonus round isn't difficult. Assume a bonus of 220 for the straight flush (which is the additional amount you receive over the 30 coins for the default flush) and 3,970 for a royal. On a hand like 7h 8h 9h Ah Kh. If you hold the 7-8-9, you have three chances (56, 6T, TJ) out of 28 to get the 220-coin bonus—so that's worth about 24 coins. Holding AK, you have one chance out of 144 to get the 3,970-coin bonus—so that's worth almost 28. Therefore, always pick a two-card royal over a three-card straight flush.
Ace on the Deal Bonus Poker—This is a game where you pay a sixth coin to get a heavily-bonused payout for five coins (i.e. four aces receive 2,000 and four aces with a 2, 3 or 4 kicker receive 3,200). Part of what you're paying for with that extra coin is that you always start with an ace in the center position. The other four spots are filled in randomly—and then you hold and draw cards as in normal video poker.
This ace-in-the-center creates big hands (specifically four aces, four aces with a kicker, and a royal flush) much more frequently than other games. The pay schedule is such that you lose between big hands at a very fast rate. This is not a game for the timid!
WMS Gaming
World Series of Poker Final Table Bonus—This is a game played like regular draw poker until you get to the bonus round, which happens about one hand in 45. Once in the bonus round, you play Texas hold'em against a succession of single opponents, where tying your opponent counts as a win for you. You'll receive 25 coins if you lose the first round, up to 3,500 coins if you beat all nine of your opponents. To make it even better, if you don't like your two starting cards, you can change them once or twice without penalty. The machine makes suggestions whether you should keep your cards or redraw, and the suggestions looked pretty accurate to me. This usually gives you a 60-percent-or-higher advantage for each round. But as any Texas hold'em player knows, even the best starting hand (AA) can be cracked by the worst one (an unsuited 32), depending on the five communal cards you receive.