COLOR COORDINATED
An Insider's Guide to Color Match Royals
By Mike fields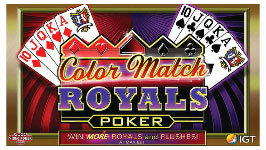 My heart just skipped a beat. I thought I had a Royal Flush (RF). An elusive RF, a hand we rarely see but LOVE to hit.
Ace, king, queen, 10 of hearts and a nine of hearts. So close. Of course, I zeroed my attention on the nine of hearts and as my finger hovered over the Draw button, I visualized the jack of hearts dropping in. After what seemed an eternity, probably five seconds, I hit the draw button and BOOM… in drops the jack! A red jack. Just the wrong one. It was a diamond. "One jack off" the bartender muttered smiling to herself. Man, I was irritated. So close.
Thus was born "Color Match Royals."
How many of us have had this happen to us? Surely it should pay something more than a straight? In our mind it should pay more than a measly 20 or 25 credits for a straight. And in an exciting new game Color Match Royals, it does! Two thousand credits to be exact. Any red or any black Royal Flush (RF) pays half as much as a natural RF. 2,000 credits is a meaningful jackpot and in this game it happens over six times as often as aces with a kicker, a hand we all love and covet.
It doesn't stop there, because to a lesser extent, many of us have had the same experience with straight flushes. In fact, straight flushes are the one hand most players agree just doesn't pay enough.
In Color Match Royals, a natural Straight Flush (SF) pays 1,000 credits and a red or black SF pays 300. Both of these are premium jackpots. In Color Match Royals, a red or black SF occurs about 14 times more frequently than in a normal game.
In addition to natural flush pays, this game pays you 20 credits for any red or black flush. Basically, playing for red or black hands is the way to go as you play through sessions working for red or black Royal Flushes.
The game is a lot of fun and has a five coin side bet per hand to qualify for the many jackpots described above. One of the things I love about this game is that some simple adjustments to your play strategy will pay immediate dividends in the form of more playing time, lots of comp points, and hopefully, some nice red and black royals.
We typically prefer games that don't require strategy changes, but in this game the strategy changes are pretty simple, the game is fun to play, and it pays a handsome 2,000 reward on black and red royal flushes!
Here are some of the general adjustments to play:
– You should almost always hold four black or red cards.
– The 20 coin flush pays keep you in "ammo' to play. One exception is if you have four to a straight flush or royal flush.
– If no winning pair is present, but you have three red or black cards, hold the three same colored hands.
– If dealt a red or black flush, hold it unless you have four to a SF or RF
These general modifications will help you easily "get" this fun game, as well as some good play time.
You can practice and play this game for free right now on videopoker.com. Please look for or ask for it at your favorite casino. If you want to know where to find it in casinos, check videopoker.com's free "find-a-game" feature.
The first time you get a 4 heart, one diamond Royal, you'll be hooked!
Mike fields has spent nearly 20 years developing and commercializing video poker games including five years with IGT where he established the IGT Video Poker Department and 11 years managing Action Gaming's Video Poker interests including Videopoker.com, founded by legendary game inventor, Ernie Moody.