Variations On A Theme
Making sense of different Deuces Wild games
By Henry Tamburin
AStrictly Slots reader sent me an email about several different deuces wild games that he saw at his favorite casino, and wanted to know which one is the best to play. There are, for sure, a plethora of different deuces wild games; some are good, some marginal, and some awful. Here's the scoop on these games.
Full Pay Deuces Wild (FPDW)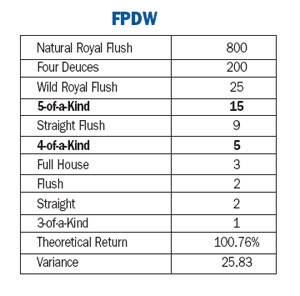 This is the granddaddy of deuces wild games because it has a theoretical return for perfect play of 100.76% (meaning, if you play every hand perfectly, you'll have a 0.76% advantage over the casino). You won't find the term "Full Pay Deuces Wild" on the screen of a video poker machine. It will usually just state "Deuces Wild." What makes a deuces wild game "full pay," is the pay table, which is as follows:
The key to the FPDW pay table is the 15 and 5 coin return for 5-of-a-Kind and 4-of-a-Kind respectively.
Years ago, this game was very popular in Las Vegas locals' casino. (I once counted 63 machines that had FPDW at the Sun Coast casino.) But alas, as players started mastering the playing strategy for this game, casinos started to either short the pay table or eliminate the game completely. Nowadays, FPDW is rarely offered outside of Las Vegas, and only a handful of casinos in Las Vegas still offer this game. (According to vpfree2.com, the casinos that offer FPDW include Aliante, Boulder Station, Fiesta Henderson and Rancho, Green Valley Ranch, Palace Station, Red Rock, Sam's Town, and Santa Fe Station. Check vpfree2.com for denominations, and where to find this game in these casinos.)
Not So Ugly Deuces Wild (NSU)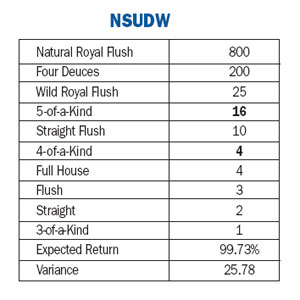 The late Skip Hughes (writer and player) created the name for this game because it wasn't as bad as Short Pay Deuces Wild but not as good as FPDW. This is a good game to play because it has a 99.73% theoretical return and many casinos offer it.
Notice that compared to FPDW, the return for 5-of-a-Kind, Straight, Full House and Flush are increased, but the 4-of-a-Kind is decreased. The resulting pay table yields a very good 99.73% theoretical return, which when combined with casino multiple point promotions often leads to a return over 100%. (This is one of the games I often play in Las Vegas.)
Loose Deuces Wild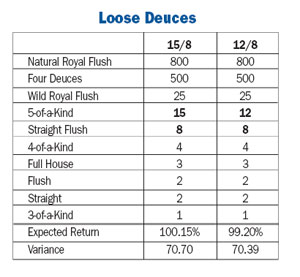 This is another type of deuces wild game that is popular. The deal here is that the return for four deuces increases from 200 to 500 coins: however, this at the expense of shorting some of the other payouts in the pay table. Even though the theoretical return for both popular pay tables of this game (see below) are good, this game has a higher variance than FPDW or NSUDW. (This means the swings in your bankroll, both up and down, will be greater).
(Note: There are several casinos in Las Vegas that offer the 15/8 Pay Table; check vpfree2.com for a list of them.)
There are other deuces wild games out there (e.g., Double Deuces, Triple Deuces, Deuces Bonus, etc.), and my advice before you play any of these games is to check the theoretical return and the variance with the database on vpfree2.com.
Henry Tamburin is a blackjack and video poker expert. He is the host of the smartgaming.com website and the editor of the Blackjack Insider newsletter (for a free three-month subscription, visit www.bjinsider.com/freetrial). For a free copy of his Casino Gambling Catalog, which contains books, strategy cards, and software for casino players, call toll free 1-888-353-3234, or visit the web store at smartgaming.com.
TIP OF THE MONTH
If you want playing strategies for any Deuces Wild game, you can generate it with the Video Poker Strategy Calculator (www.wizardofodds.com). Alternately, you can use a commercial video poker software program to generate a strategy. (The two programs I recommend are Optimum Video Poker and Video Poker for Winners.) The site www.vpfree2.com will also tell you if your favorite casino offers the higher-return deuces wild games and their location within the casino.