THE "OOPS!" FACTOR
The best assumption is that you can make no assumptions
By John Grochowski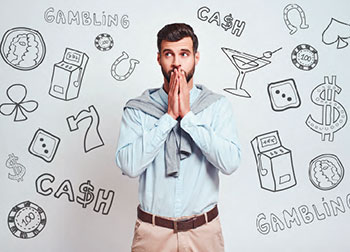 Ever have an "oops!" casino moment, one of those times when things have gone wrong and you know it's your own fault because you didn't check the game rules or assumed a little too much?
I sure have. I've been going to casinos since the 1980s, and I've pulled some doozies. One came at an Indiana casino a while ago, back when most machines were still set to a single coin denomination. The casino was one of the Midwest's first to offer SuperTimes Pay.  I like the game quite a lot, and have no qualms about playing SuperTimesTriple Play on a quarter machine with a decent pay table, even though the $7.50 maximum bet is double that on normalTriple Play, and six times the $1.25 on a standard single-hand quarter game.
Problem: I assumed this was a quarter game.  A natural enough assumption, since my wife was on a quarter machine one spot to the right. It wasn't. When I hit the max coins button, it deducted $30 from my $100 buy-in. Turns out my wife and I were on opposite sides of the dividing line between quarter and dollar games. This wasn't the game for someone of my modest means. I cashed out the rest and moved on to something more bankroll appropriate.
Oops!
I witnessed one of the great "oops" moments in Las Vegas in the early 1990s.The Tropicana at the time had a bank of big-money quarter progressives near the entrance, with a three-coin maximum bet and a jackpot that often reached $250,000.
One morning, I got off the elevator and walked into the casino to be greeted by a host I knew. He directed my attention to a player who was just sitting and staring at the reels on one of the progressives, so motionless he could have been a mannequin.
"See that guy?" the host asked. "He just hit the blue 7s. And he only bet one quarter."
I asked how much he'd won.
"Oh, a few hundred quarters," the host said, shaking his head at what saving 50 cents on the bet had cost in the end.
I didn't check, and that may have been an exaggeration. Maybe it was thousands of quarters and not hundreds. But still—oops.
I put it to other players, asking about some of their "oops" moments:
DAN
I have a couple for you, both on video poker. I usually play dollar video poker but occasionally I go into the high-limit area and play one coin on a $5 machine. I've had success at hitting four deuces. Well, I hit a royal about six months ago. I thought I had hit for $4,000, since that's what a $5 bet would have been on a dollar machine. Imagine my disappointment when I realized the payout was only $1,250. I assumed the same bet size would bring the same payoffs, but you have to bet max coins or else the royal is only 250-for-1. It was a good payout, but I learned a lesson about not playing max coin in! But at the same time, I cannot afford $25 a hand.
The other thing is, when I get up from a machine to go to the men's room, I always cash out, but leave my players card in the machine and cover the screen. In January I came back to my machine and began playing again. I hit four deuces for what I thought  was for $1,000. It turns out the machine had a max 25-coin play instead of the usual five-coin max, and I had forgotten to limit my play to five coins, or $5. So, I ended up with a $5,000 payout instead of the thousand.
That time, I was grateful for the mistake, but by no means am I going to play $25 a hand on my bankroll!
MARGARET
Mine has to be the first time I played video slots. I was used to always playing max coins on the reel slots, and I figured I should do the same on video.  I think it was Reel 'Em In, though I can't remember after all this time. It could have been Jackpot Party or one of the others.
I didn't play the videos at first. I loved my reels. But my girlfriend convinced me to give it a try. It was a nickel game and had nine lines. I figured, OK, this will be a cheap try, 45 cents to play all the lines. I didn't know it would take five coins on each line. I hit max coins, and didn't notice right away how much it had taken. So I hit max coins again, and then again, before I finally noticed that my credits were getting awfully small. I wasn't betting 45 cents, I was betting $2.25! It took a few months before I'd try that again, this time at one coin per line!
CARLA
I don't know if this counts, because it's not playing or strategy or anything, but it was in a casino and it embarrassed me. I'd only played in Las Vegas, and was used to the waitresses bringing free drinks. So I was playing the slots, and the waitress came by and I asked for a beer.
She came back, and said it would be $5. I was shocked, and I was unprepared. I only had $20 to start with, and that was in the machine. My husband and I figured we'd get cash when we got to the casino, and he hadn't come back from the ATM yet.
Anyway, while I was fumbling through my purse trying to come up with $5 in loose change to pay, my husband found me and handed me some money. I paid the waitress and apologized for keeping her. Another couple of minutes and I'd have had to tell her I didn't want the beer after all. Oops!