THE CASE FOR VIDEO POKER
There may not be hold-and-spin bonuses or animated dragons, but video poker is a game where you can improve your odds through knowledge
By Frank Legato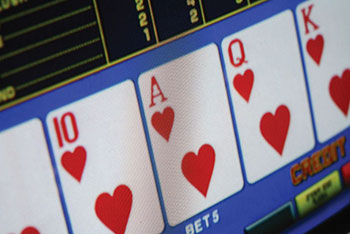 This space has always been devoted to slot machines, but I'd like to broaden the definition of slots this month to include all gaming machines. For our purposes here, that means video poker.
I do play slot machines, and when I do it is normally a traditional three-reel, mechanical-style game in quarter or dollar denominations. But the gaming machine I play more than any other is video poker. If you are a slot player who has never tried video poker, let me give you a video poker player's view of why we love the game.
If you've never played anything but multi-line video slots with lots of animation, hold-and-spin bonuses and free games, the idea of sitting and looking at video representations of cards in a continuous game of draw poker may seem a boring idea. Before I got into the game, I thought the same thing. But in my work for this magazine and others, I eventually got what the actual appeal of video poker is.
The bottom line is that video poker is a thinking person's game. Slots are fun, but all results are based on pure luck. In video poker, by applying strategy, one can improve the overall odds of winning.
What's more important is that over time, the knowledgeable video poker player can increase the long-term payback percentage of his or her game. Put another way, the proficient video poker player can reduce the inherent house edge.
Slot machines, in all, have average payback percentages somewhere around 90 percent, meaning they have a 10 percent house edge. The traditional games I like to play whittle that edge down to 5 percent, maybe even 3 percent. Many of the most popular penny multi-line video slots jack the house edge up to 12 percent, 13 percent or more.
The best video poker games? If played with perfect strategy, the long-term house edge averages more around zero—or less. Some games have an actual player's advantage, returning more than 100 percent overall with perfect play.
Just as an aside, 100 percent payback percentage doesn't mean you win all the time. It means there's no edge to the house. It means that over time, you will win as much as you lose, and the more you know, the more often you will win.
Of course, those payback/house edge numbers assume you use the perfect strategy on those video poker games. That's a difficult skill to master; those who have mastered it often make their living playing video poker. But for the vast majority of video poker enthusiasts, learning about the strategy definitely increases your chances of winning more than you lose.
There are many ways you can learn strategy for video poker. Websites like videopoker.com have tutorials on a wide variety of games. Books like Bob Dancer's Video Poker for the Intelligent Beginner are also great sources. For me, it was software, also created by Bob Dancer, one of the top professional video poker players in the country.
Strategy means knowing what to discard for each hand in a video poker game. When picking a website or software, make sure it is a program that lets you play the game as if you were in a casino, and during play, identifies when your selection of discards is wrong.
If you're a novice, the best games to start out with are Jacks or Better or straight Bonus Poker (the latter is what I always play). These have the easiest strategy to learn, and with perfect strategy, Jacks or Better has a 99.54 percent overall return, and Bonus Poker has a 99.17 percent return. In other words, virtually no house edge on either game.
There is one other proviso to earning those higher paybacks—you need to look for the best pay tables for each game. In Jacks or Better and Bonus Poker, manufacturers manipulate the payback percentage by changing the single-coin payouts on the full house and the flush. The top Jacks or Better pay table returns 9 for the full house and 6 for the flush. In the video poker community, it's known as a "9/6 Jacks or Better" game. For Bonus Poker, the top game has an 8/5 pay schedule.
There's one important difference between these two games, and it's the reason I prefer the Bonus Poker variation. In Jacks or Better, four of a kind returns a straight 25-for-1, or 125 credits at max bet. Bonus Poker increases the quad payout for certain four-of-a-kind hands—four Aces returns 80- for-1, or 400 credits at max bet. Four 2s, 3s or 4s each return 40-for-1, or 200 credits. For me, the thrill of landing one of those bonus four-of-a-kind hands more than compensates for the 0.37 percent difference in payback percentage between the two games.
The top hand, the royal flush, returns 250-for-1 if you're betting less than the maximum five-credit per-hand wager. If you bet that fifth credit, the pay or the royal jumps from 1,000 (four-coin bet) to 4,000, or 800-for-1. That's why you should always, always bet the max when you play video poker.
Yes, bonus features on slot machines are fun. Animated dragons, pigs, buffalos and knights on horseback are fun. But there's a definite satisfaction and fun at learning a video poker strategy and applying it to the game for winning sessions. And if you do learn the strategy well, there will be a lot of winning sessions.
For the diehard slot enthusiast, IGT, the top video poker supplier in the business, has come out with a variety of video poker games that employ multipliers, credit bonuses and other mainstays of the multiline slot to video poker. These games are relatively new, although one of the best, Ultimate X Poker, has been available for quite some time.
But start with the basics. Go to a website, buy a book or software, and learn the games with easy strategy. (Deuces Wild is another game with easy strategy, by the way.) Master the easy games, and then have fun both with these and the more slot-style video poker games.
Slots are fun. But video poker will allow you to expand your horizons in the casino.
Ocean Casino Resort Debuts Atlantic City's Largest Collection of Buffalo Link Slot Game
Casino players across the U.S. are stampeding for Aristocrat Gaming's new Buffalo Link slot game. Now Atlantic City players can enjoy the city's largest collection of Buffalo Link games at Ocean Casino Resort.
"We are thrilled to offer our customers the largest collection of Aristocrat Gaming's newest and most exciting title, Buffalo Link, in Atlantic City," said Steven Pfann, senior vice president of gaming operations for Ocean Casino Resort. "As we advance towards what is expected to be a very busy and successful summer here at Ocean, the addition of this highly anticipated slot product will only serve to bolster our casino floor."
"Player response to Buffalo Link has been absolutely incredible, and they love how the traditional fun of Buffalo meets the thrill of Lightning Link and Dragon Link," Aristocrat Gaming's Senior Vice President of Commercial Strategy and Business Analytics Jon Hanlin said. "Now to bring Atlantic City's largest collection of Buffalo Link games to Ocean Casino Resort is exciting for us as we play a role in the city's full reopening."
Buffalo is the gaming industry's most popular theme, and Buffalo Link combines the theme and features of Buffalo with the thrill and functionality of Aristocrat's legendary Lighting Link and Dragon Link. Buffalo Link brings the popular Hold & Spin functionality and five denominations to the Buffalo brand, and staying true to the legacy of Buffalo, Buffalo Link retains its classic free games feature along with exciting, new enhancements.
In additon to the new Buffalo Link games, Ocean Casino Resort has a summer full of great promotions and events. In the casino, Ocean is giving away $1,000 every 30 minutes every Thursday in August and on August 29, all cardholders will receive 10X Free Play.
In the Ovation Hall, don't miss the Summer of Love Concert, celebrating the music of the Woodstock generation, through the end of August.