The Best Versions of Video Poker
The best Double Double Bonus game I can find in the casino where I play returns 8 for the full house and 5 for the flush. In your Winner's Guide, you give both a recreational and basic strategy for 9/5 DDB, but none for the 8/5 game. Which of these strategies should I use for the 8/5 game?
No strategy at all. The 8/5 DDB game returns less than 97 percent. No strategy works well on a game that returns so little. Run away from that game as quickly as you can.
If you must play (perhaps someone has a gun to your head, and you're positive the gun is loaded), then play one coin at a time V-E-R-Y S-L-O-W-L-Y. This isn't a winning strategy, but at least it will allow you to lose less. I advise taking frequent long breaks, and walking around your chair at least 20 times between plays.
I want to earn $500 a week gambling. I live near Lake Charles, LA, and plan to play there. If I learn Jacks or Better well, can I make that much money?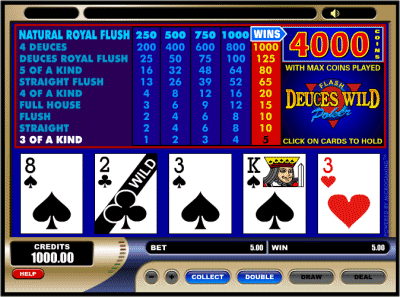 I don't think so, but I really don't know. And the reason I don't know is because I'm not familiar with the slot clubs there.
The best version of Jacks or Better returns 99.54 percent, which means the casinos have the advantage. To offset that, the casinos offer you cashback from the slot club, and offer special promotions. The cashback rate is easy to calculate, but how each casino treats its better customers takes some time to figure out.
Do they send you $300 in the mail each month? Do they offer regular players extra multiple-point days? Do players in the highest tier earn more cashback than other players do? Networking with other players is sometimes a good way to find this information, but however you get it, the information is critical. Successful players know as much about the slot clubs where they play as they do about the games.
Last time I was in Lake Charles, at least two of the casinos had NSU Deuces Wild. This is the game that returns 16 for 1 for five-of-a-kinds and 10 for 1 for straight flushes. This game returns 99.73 percent when played well, meaning you are a lot closer to positive territory than if you played Jacks or Better.
I've won seven trips in a row. Does this mean that I'm ready to move up in stakes?
I have no idea. The stakes you should be playing depend on a variety of things: How large is your gambling bankroll? Are you comfortable with the normal swings at these stakes for this game? Are there any significant slot club differences for the different stakes? Is the pay schedule better at one stake than another? Do you need to play a certain amount to get the comps you desire, or perhaps qualify for some special benefit (like, perhaps, your airfare being refunded or maybe being invited to a special event)?
If your current gambling bankroll is $12,000, for example, then you should base your decision on that. If it used to be $8,000 and you've won recently or it used to be $18,000 and you've lost recently isn't particularly relevant. It's the current total that matters, not how you got there.
I'm practicing Deuces Wild on the computer. When I get dealt two pair, it tells me to hold only one. For example, if I'm dealt 5-5-K-K-6, it will tell me to hold the fives, although as near as I can tell holding the kings would be equally good. Does the fifth card make a difference in which pair you hold?
When full houses return 3 for 1 in Deuces Wild, the correct play from two pair is to hold one of them. It doesn't matter at all which one you hold. A computer program has to choose one of them, but it really doesn't matter. WinPoker, for example, selects the one that starts second, so from 4-6-8-8-6 it selects 8-8, and from 4-A-4-6-A, it selects A-A. If you select the other pair, you do not get flagged for an error because the program recognizes that they are equivalent.