Video Poker Revisited
Three new IGT video poker games inject extra rewards to top-returning pay tables
By Frank Legato
International Game Technology is credited with inventing video poker as we know it today back in the 1970s and early 1980s. And, it is IGT that keeps reinventing the game.
Whether a video poker expert or simply a fan of the game, it's likely you know the payback percentage—known in the trade as return to player or RTP—of your favorite game or games. That's because, with little training (as simple, often, as reading this magazine), you can spot the top pay schedules.
That's information that is easy to remember—usually by looking at a few single-credit payouts in a game's pay schedule. In the most basic Jacks or Better game, a payout of 9-for-1 for the full house and 6-for-1 for the flush means a payback percentage of 99.54 percent. The formula adjusts a bit for all the video poker variations, but it's usually easy to remember, and thus, to pick out the best- paying version of your favorite game.
The fact that there are so many variations—from Bonus Poker to Double Bonus, Double Double Bonus, Deuces Wild and the rest—rises from IGT's many reinventions of the basic video poker game.
IGT offers casinos the same versions of these games it has offered for the past 40-plus years, but these days, there is a growing number of variations on the variations, in the form of bonuses added to those basic games—slot-style multipliers, special wild cards and other extras that give players money on top of what they normally win.
It is a fact that bonus features like these have to be funded somehow through the game itself. In many past examples of bonuses in video poker, the special awards were funded by taking something out of another part of the game—normal pays for certain hands would be lowered. Two pair, for instance, would pay 1-for-1 instead of 2-for-1, to pay for the bonus.
IGT doesn't do it that way. Specialty video poker games like Super Times Pay, Ultimate X and others keep the traditional top pay schedules intact, paying for the extras via an extra per-hand wager. A max bet for a single hand will be 10 credits or 6 credits instead of the normal 5 credits. That allows video poker games to have special bonus features while still giving the player those familiar high- returning pay schedules.
"That's the transparency that IGT video poker has always had," says Brad Fredella, senior product manager, video poker content for IGT. "Transparency is the ability to look at a pay table and very easily math it out. You can put it into an app or you can look it up online easily, and you can tell exactly what the RTP is. So when we bonus a poker game, we're always very cognizant to make sure that we maintain those base video poker pay tables for the first five-coin bet, and then any amount that you have to bet over that for the bonus."
Older specialty video poker games that altered the pay schedule for the bonus were generally flops, simply because video poker players as a group know when their favorite game has been changed.
"One of the worst things you can do in game design is reduce the payback to the player as the bet level increases," Fredella says. "So we make very sure not to do something like that. When we take our base five-credit pay table, and we add a bonus onto it, that player who decides to go up from that 5 credits and play that bonus can rest assured that they are always getting a benefit in RTP when they do that."
The extra wager is akin to an ante or side bet at a table game, with one major difference—table- game side bets invariably increase a game's house edge in exchange for a shot at bonus payments. The extra bets in video poker actually increase the player's return. "Our bonus games take the base pay tables and the paybacks that the players are used to, and we give the players a little bit of a bump on that RTP, because they are playing more money per hand when they're playing our games," Fredella says.
"It's the complete opposite of table games, where those bonus bets raise the house advantage. For poker, it just doesn't work that way. And IGT learned that early on. We've always seen the value in giving players more back for a higher bet level. Players should be awarded for playing more per hand or playing higher denominations. It's something those players expect, and deserve."
IGT has added variety in the array of bonuses out there, normally variations of awards adding multipliers or pay-level increases. "You have bigger jackpots and more slot-like payouts on some of those mid-level hands," Fredella says. "It makes the game more fun, certainly more exciting."
LATEST AND GREATEST
Fredella points to three new games that will be in a casino near you this year as the latest examples of this philosophy in action. One of them, Lucky Suit, is out in casinos already. The other two will be appearing in the coming months. All of the new games are offered in the multi-hand formats of Triple Play Poker, Five Play Poker and Ten Play Poker.
Here are the highlights:
Lucky Suit Poker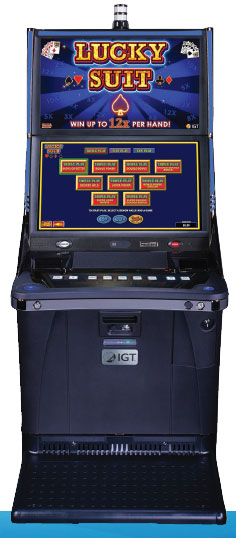 Bonus activated with 5-credit side bet
This is a simple proposition. The player picks a lucky suit out of the four card suits at the beginning of play. If the first card dealt is in the lucky suit, wins on that hand are increased by a random multiplier of up to 12X. That's on all hands played, regardless of the outcome of the draw on each of the three, five or 10 hands.
Pat hands provide the most fun. Say you're dealt a full house in your lucky suit for a 45-credit payout on Ten Play Poker, and draw the 12X. That's 45 credits times the 10 hands, times 12. A win of 5,400 credits for a full house. Not bad for a 10-credit per-hand wager.
"It's unique in the fact that the player gets to choose the suit, and so has somewhat of a say in when that multiplier is going to come out," says Fredella. "And it's unique in the fact that you only have four suits, so the bonus has a very high hit frequency. One in every four hands on average, the player is getting a multiplier." The game is out in casinos now.
Bonus Wild Poker
Bonus activated with 5-credit side bet
Another easy bonus to understand, this game uses hit frequency as the award. To be specific, on random hands, a wild card will be added. This is another bonus activated by a 10-credit-per-hand wager, but it's well worth it, since this is the only game where there are wild cards that do not otherwise diminish the normal video poker game.
Games like Deuces Wild and Jokers Wild have depleted pay schedules compared to traditional games, to pay for the player's advantage of wild cards. This game does not. Any winning hand formed by a wild card still pays the normal pay-table amount, all the way up to a wild royal flush.
Beyond it, in fact. A wild card means there's an extra winning hand—five of a kind. And here, that payoff beats a royal flush—five of a kind returns 4,700 credits at max bet.
The bonus happens with great frequency as well. According to the manufacturer, depending on the multi-hand version being played, a wild card appears between one in three hands and one in eight hands.
"Players will enjoy the ability to make it a little bit easier to fill in those three-of-a-kinds and turn them into four-of-a-kinds while playing your exact base pay table," Fredella says. "It gives the player the opportunity to play like a Deuces Wild–type game, but still use a standard pay table. That wild card will make it a lot easier to hit those bonus hands."
Bonus Wild is slated to be in casinos by this spring.
Poppin' Multipliers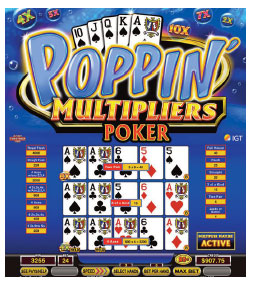 Bonus activated by 3-credit side bet
Slated for release by this summer, Poppin' Multipliers is a supercharged version of a multiplier bonus in the style of IGT's Super Times Pay video poker. The good news with this game—other than the lower 8-credit-per-hand qualifying wager—is that the bonus can happen on the draw as well as the deal.
On the deal, a random multiplier of up to 10X can be won, applied to all hands in play. If no multiplier appears on the deal, random multipliers can appear on the draw for any of the hands in play. According to the company, multipliers hit once every 3.5 hands on average for Triple Play Poker, every other hand on Five Play Poker, and one in 1.5 hands on Ten Play.
"You've got the ability to earn multipliers in two ways, and with that 8-credit bet, we felt we found the sweet spot," says Fredella, noting that the ante wager is just enough that "multipliers are always popping up on the screen."
That's without changing the player-favorite pay schedules. "That transparency, that fairness, we've managed to carry through our product line," says Fredella. "We're acutely aware of that, and we'll continue that going forward."