A BRIEF HISTORY OF VIDEO POKER
How the game evolved into a mainstay of modern casinos
By Jerry "Stickman" Stich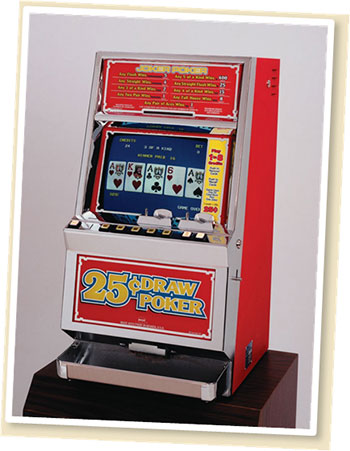 Today's casinos have a plethora of video poker machines. They come in denominations ranging from a penny to $100, and beyond. There are scores of variations ranging from the basic Jacks or Better, through bonus games and wild card games such as Deuces Wild and Joker's Wild. There are multiple action games where the initially dealt and saved cards of a hand are played three, five, 10, 50 and even 100 times. There are video poker "action" games such as spin poker (a combination of video poker and slot machine), and multi-strike poker where a winning hand leads to up to three additional hands that each double the payback of a winning hand from the previous winning hand. If that isn't enough variety to set your head spinning, there's even a multi-play version of multi-strike poker.
How did things get to this point? Well, when you trace the history of video poker, you'll find that its evolution has been closely related to that of slot machines. To properly understand the development of video poker, we must start with some forerunners of the game.
In 1891, the Sittman and Pitt Company of Brooklyn, New York invented an early poker machine. It contained five drums, each having 10 different playing cards. Once a coin was inserted and the handle pulled, the drums would spin. Each drum would eventually stop on a card, making up the final poker hand.
In 1898, Charles Fey, commonly known as the father of the slot machine, created the Card Bell. This poker machine could automatically pay cash prizes to the winner, the largest of which was 20 coins for a royal flush.
In 1901, Fey created a poker machine called the Skill Draw which had a "Hold" feature. After the initial spin created a poker hand, the player could hold some of the cards and re-spin the un-held cards in an effort to improve the hand. This was the first 5-Card Draw Poker machine.
During the early 1900's, Sittman and Pitt also began manufacturing machines with the draw feature. They became so popular that they couldn't be manufactured fast enough. These machines were available in almost every liquor store and smoke shop throughout the United States.
Poker was already the card game of the people; the introduction of the draw feature provided a reason for poker payers to start playing the machine versions. It was no longer simply blind luck, but a contest that involved a certain amount of skill. (But since gambling was not legal in most of the country at that time, winning hands were usually paid off in prizes such as drinks or cigarettes.)
The player was under the impression that the machine used a full deck of 52 cards. However, these machines held only 50 cards. In most cases, the 10 of spades and jack of hearts were eliminated. Although the players didn't realize it, this cut the possibility of a royal flush in half, since a royal was not possible in spades or hearts. Nonetheless, these machines were very popular, and they led to modern video poker as we know it today. (Some of the original machines are still on display at the Liberty Belle Saloon and Restaurant in Reno, Nevada.)
It wasn't until 1970 that Dale Electronics introduced the first video poker machine. It was dubbed Poker-Matic, and it was installed in virtually every casino in Las Vegas at the time. It was not, however, a big hit with players.
In the mid 1970's, a distributor for Bally Gaming named Si Redd pitched an idea to the company's executives in Chicago: a game called Video Poker. The executives rejected the idea since they didn't want to branch out from slot machines and take a chance on a new, untested style of game. In what was probably one of the biggest mistakes made by Bally, they agreed to let Si take the patent. Within months, he made a deal with Fortune Coin Company in Reno to form Si Redd's Coin Machines (or SIRCOMA, for short) to mass produce his patented video poker machines. While interest in the games grew slowly, by 1981 this new game was the most popular addition to casinos.
The earliest version of Draw Poker required at least two pairs for a winning hand. By changing the lowest winning hand to a pair of jacks or better the game's popularity dramatically increased. These original machines were quite primitive by today's standards, with screens very similar to televisions at the time.
Soon after, Si took the company public and changed the name to International Gaming Technology (IGT), which is now the world's largest gaming machine manufacturer.
Throughout the 1980s, the popularity of video poker grew. People who felt intimidated by casino table games gravitated towards the ma- chines. The invention of video poker actually improved the popularity of video slot machines. Early video slot machines didn't catch on with players because they were used to seeing the reels spin, but with the acceptance of video poker, spinning reels were no longer as important to people.
Today, there are hundreds of different video poker variations, and thousands of different pay tables. New and exciting versions continue to be released. And it all stemmed from a mechanical poker machine introduced in 1891, which then evolved over the decades to capitalize on new technology. The biggest factor in video poker's success, however, has always been the ingenuity of the humans who made it all possible.