Are Players Winning Less Jackpots Than They Used To?
If it seems like you're seeing fewer jackpots than before, here's why
By H. Scot Krause
In the older days, casinos were much smaller and players were crowded together—which enhanced the sensation that jackpots being hit all around us. (Unfortunately, the big wins were rarely my own.)
When I talk to veteran slot players these days, one question always seems to come up: Are casinos paying fewer jackpots?
"I just don't see the lights flashing, and hear the bells and whistles, as much as I used to in the old days," one player lamented.
The simple answer to this question is no, the casinos aren't paying fewer jackpots. If you want proof, you can review published reports by the various state Gaming Commissions and the charts in the back of this magazine. Paybacks on slots haven't changed much in recent years.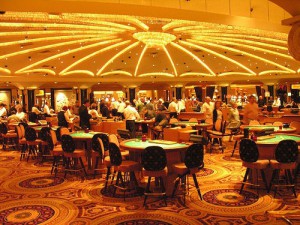 Other factors, however, have changed. These factors include the style in which we play; new technologies that have been introduced; and even the casino environments and the layout of their slot floors. Let's start with some changes in the casinos to better understand why you may not be seeing and hearing those jackpots like in the "old days."
If you've been playing the slots for many years, the biggest change was the industry move away from coins to ticket-in, ticket-out technology. We no longer hear coins gushing into metal trays, which created the perception of more winning. There are no longer any change personnel on the floor filling machines with bags of coins, which made it seem like the casino floors were a hotbed of activity and more jackpots were being delivered to big winners.
Nowadays, we insert bills and cash out with a ticket—a process that is far smoother for the casinos as well as players, but eliminated some of the audio/visual excitement that we used to associate with slot floors.
Next, most machines no longer "lock up" for jackpots under $1,200, which means we see fewer handpay jackpots with "Call Attendant" flashing on the screen while customers wait to get paid. This is another reason to suspect that we aren't "seeing" as many casino winners as we used to.
I'd say another factor is that most slot machines now feature the "slam" button. On most slot and video poker machines, a player can instantly rack up credits by hitting the "play" or "spin" button, unlike the "old days" when credits would tick off at a steady pace until tallied. We would stand and watch a machine where someone's credits were adding up and believe we were seeing more jackpots. Today, in reality, those same jackpots are still being hit—but the rapid speed of instantly adding those credits doesn't let us see as many jackpots around us being won.
(Note: A quick money management tip for slot players is to slow down your play and not use the slam button. Let your credits add up the old fashioned way. Lightning-fast play often results in larger overall losses.)
One final thought to consider is the sheer size of modern gaming megaresorts. In the older days, casinos were much smaller and players were crowded together—which enhanced the sensation that jackpots being hit all around us. (Unfortunately, the big wins were rarely my own.)
Today, the casinos are so massive—with players spread out over thousands of games— that we actually witness fewer jackpots around us. The numbers, however, remain the same.
Stay In The Game With These Fresh Fall Promotions
"Pumpkin Patch Pick," Coast Casinos' popular Las Vegas fall cash giveaway, is returning to Sam's Town, Suncoast, The Orleans and Gold Coast. Through October 30, B Connected card members can earn entries into Saturday drawings at each of the four properties, with a total of 200 players getting a shot at up to $10,000. In the Pumpkin Patch Pick game, contestants punch out one of 36 spots on a board. Each spot contains a cash prize ranging from $250 to $10,000. Some cards offer winners an additional "punch" in the form of extra giveaways.
Slot and video poker players earn one entry at a property for every 50 base points earned, while table game players will receive an entry for every $5 wagered.  Each Saturday in October five entries will be drawn twice a day at each of the four Coast properties, with winners being invited to play the Pumpkin Patch Pick game.  Players must be present to win, and drawing times vary by property. Complete contest details and rules are available at the B Connected booth at the four participating properties.
M Resort in Las Vegas will host its second annual Italian Festival on Saturday, October 23 and Sunday, October 24 from 11 a.m. to 9 p.m. poolside at the Villaggio Del Sole. The Marnell family is bringing their Italian tradition back to the M for two days of food, fun and entertainment. Also, get $5 in free slot play or a free T-shirt when you sign up as a new iMagine Rewards slot club member.
Bring your sweet tooth and try your luck at the $10,000 Chocolate Payoff at the Venetian and Palazzo in Las Vegas. Play your favorite slot games from November 1-5,  and for every 500 points you earn, you'll receive a chocolate bar with a prize ticket inside. Golden tickets are sweet, with Slot Credits and Slot Reward Points awarded on every ticket, but the purple ticket is the tops, with a grand prize of $10,000 in cash. Stop by the Grazie desk for complete details.
The Red Hawk Casino in Sacramento is offering several October promotions for its Red Hawk Rewards members, including a chance to win a share of $500,000 every Friday and Saturday evening through October 30, and up to $1 million by correctly picking winners of NFL football games. Club Members 55 years of age and older are also eligible for special slot tournaments and discounts at Red Hawk Casino's restaurants throughout the month.
The Horseshoe Casino in Chicago has announced its World Series of Poker Circuit event schedule for October 15–October 28. The casino's WSOP circuit tournament will have buy-ins ranging from $150 up to $10,000 for the No-Limit Hold' em finale. There will also be a four-day regional tournament starting on Monday, October 25. For more information, visit www.chicagohorseshoe.com
Happy slot clubbing!
H. Scot Krause is a freelance writer, gaming industry analyst and researcher. He reports, researches and specializes in writing about casino games, events, attractions and promotions. He is a former entertainment director and a 15-year resident of Las Vegas. His work is regularly featured in gaming publications and the annual American Casino Guide Book. Questions or comments for Scot may be addressed to: krauseinvegas@cox.net
Are Players Winning Less Jackpots Than They Used To.