IS IT THE SAME?
Video Poker Questions for players new to online gambling
By John Grochowski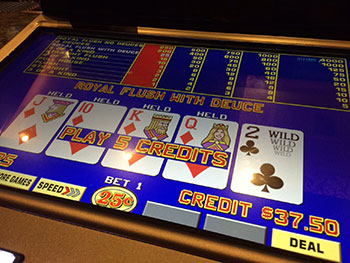 A flurry of questions about video poker has crowded my in-box in recent months. Many have been prompted by the health- care emergency that has kept us out of live casinos. Players want to know about game availability online, or whether they'll be able to find an online game when live casinos once casinos reopen.
Let's check out a few of the things that are on readers' minds.
QUESTION #1: Is choosing a video poker game online any different than choosing one in a live casino? Years ago, I started walking around the casino first and checking out the video poker pay tables. I didn't play until I found which machines had the best pay tables on the games I liked to play.
Mostly, that's Double Double Bonus Poker, though I like Double Bonus, Super Double Bonus and Super Aces, too. Jacks or Better doesn't do it for me. It bores me with the low four of a kind payoffs, so I'll settle for a little lower payback on a more exciting game.
The other side of the coin is that I don't like the game to be too up and down either. I don't like Triple Double Bonus because it pays only 2- for-1 on three of a kind. But within the group of games I like, I want the best pay table.
ANSWER: The online version of your walk through a live casino would be to visit online sites in your jurisdiction and checking out the video poker pay tables. You'd want to jot down the tables available so you can go back to the sites that have the best versions of your favored games.
I can't give you any shortcuts. Online gambling remains illegal in the state where I live, so I don't have access to legal sites in New Jersey, Pennsylvania and Delaware to compile a list.
Your method of checking out machines before you play in live casinos is smart. I once found 25-cent Double Bonus Poker machines with 10- 7-5, 9-7-5, 9-6-5, and 9-6-4 pay tables in the same casino. At a different casino, I found 9-6 Double Double Bonus Poker with a progressive jack- pot less than 20 feet away from 7-5 DDB with no progressive.
I can't guarantee you'll find differences that large in an online comparison, but it seems worth a look.
QUESTION #2: I was playing video poker for fun on one of those free casino apps, and they had a game called Double Double Jackpot Poker. It looked a lot like Double Double Bonus Poker, but with some key differences.
The jackpot on four aces and a kicker was 1,600 coins (per five wagered), and the kickers were kings, queens and jacks instead of 2s, 3s or 4s.The hands that paid 400 without a kicker or 800 with one were face cards instead of 2s through 4s. Instead, 2s through 4s paid 250 like 5s through 10s. Straights paid 25 instead of 20.
Other than that, it was like Double Double Bonus, with a 9-6 pay table and everything.
I had a good time playing it. I got the aces with a kicker, four queens without, and a couple other four of a kinds. Is this a new game? Do you know anywhere you can play it for money?
ANSWER: Double Double Jackpot Poker is far from new. It was originally marketed in the early 1990s by Sigma Games, which no longer exists.
The pay table you describe returns 100.34 percent with expert play. I'm surprised to hear of its existence even in a free-play venue. I re- member playing it in casinos long ago, but I've not seen it in ages.
Making face cards the kicker cards and the second tier of four of a kind pays behind aces is a huge plus for players. You'll get four of a kind with faces more often than with low cards because you'll often hold a single face but never a single 2, 3 or 4.You'll draw four aces with a kicker more often because you'll often ace-face but never ace-low.
QUESTION #3: How can there be royal flushes more often in some video poker games than others? Do they use different decks with different numbers of high cards for more or fewer royals? That's not really random, is it?
ANSWER: Game makers don't make the difference on how often royals occur. Players and strategies do. Players chase royals more aggressively in some games than others.
Let's use Double Bonus Poker as an example. The best-paying versions pay 7-for-1 on flushes instead of the 6-for-1 or 5-for-1 paid on other games. Because of that, we often save partial flushes that take us out of the running for a royal.
Dealt 8-queen-ace of hearts, a 7 of spades and a 3 of diamonds in 9- 7-5 Double Bonus, the best play is to hold all three hearts. In 9-6 Jacks or Better, with a lower flush return, we'd hold just the king and queen, leaving open the long shot at a royal.
Such strategy differences lead to different royal frequencies: one per 48,035 hands in 9-7-5 Double Bonus, one per 43,423 hands in 25-15- 9-4-4-3 Deuces Wild and one per 40,391 hands in 9-6 Jacks or Better.
Cards are dealt randomly, but player strategies lead to each game and each pay table having its own frequency of winning hands.