Video Poker Innovations
Slots aren't the only games with new options
By John Grochowski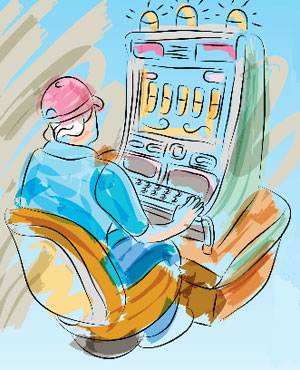 Every year, slot machine manufacturers roll out hundreds of new games in an eternal game of "can you top this?" More innovative use of the reels, more interactive bonuses, more exciting sound and video combinations— more, more, more. And slot players revel in the ever-increasing options.
Video poker is different. The games video poker players love to play year after year are longtime favorites such as Double Double Bonus Poker, Bonus Poker Deluxe and Deuces Wild.
Still, there's innovation in video poker, mainly in multi-hand games. So I was intrigued just before the start of Global Gaming Expo last fall in Las Vegas when a friend asked about a game with a few twists.
"Have you seen a game that's like Triple Play, but you're dealt three different hands at the start?" he asked. "Then the machine picks the best hand, and plays that three times. I was wondering if you could pick your own hand if you disagree with the machine's choice."
I told him I hadn't seen the game, but I'd file away the info for my meeting with IGT video poker content manager Trevor Lynch at our meeting on the last day of the expo. I just assumed it was an IGT game, because most video poker games are. Scientific Games has video poker through its WMS Gaming and Bally Technologies acquisitions, including some fun options such as Winning Streak Poker, in which you keep getting extra hands and multipliers as long as you keep winning. Incredible Technologies has video poker with a cool "Pro Tip" feature with which you periodically can ask for a tip on how to play a hand. But it's IGT that dominates the video poker segment to the tune of 95 percent of the market.
My assumption was correct. In fact, when I saw Lynch, the first game he steered me to was Super Hand Poker.
Super Hand Poker uses the standard video poker game families— Jacks or Better, Double Bonus Poker, Double Double Bonus Poker and more, the proven player favorites. The maximum bet is 10 credits per hand, so betting the max takes 30 credits instead of the 15 you'd bet on a standard Triple Play game. IGT refers to games with that bet configuration as "five plus five"— five credits per hand on the base game, plus five credits per hand for the special feature.
Play starts with three hands being dealt. I took a trial run with Lynch.
"The computer assesses which has the best expected value, and presents that as the Super Hand," Lynch explained.
Sure enough, one hand with a pair of Queens moved into the prime spot to serve as the base for three draws.
"You look at all three of those hands, it sees a pair of Queens, and that's the best hand, so that's the hand you're going to draw to," Lynch said.
The natural question is, "What happens if you disagree with the machine's choice of hands?"
"If you want a different hand, there's a 'swap' button," Lynch said, demonstrating. "Maybe you have an Aces goal, and you want to go for four Aces. Maybe you have a different strategy. If you want to use a different hand, you just touch that button."
He flipped back and forth between hands, showing how any of the three could take its place as the Super Hand. In the end, he went back to the machine's choice, so all three hands started with a pair of Queens. The draw didn't improve two of them, but one hand drew a third Queen, so the game paid off twice for high pairs and once more for three of a kind.
An added feature is that Super Hand Poker pays on both pre-draw and post-draw hands, with separate pay tables for the two parts of the game. Lynch demonstrated with an initial deal that had a flush on one hand and three of a kind on another. Both are winning hands on the predraw pay table, so we were paid on both. Then the game presented the flush as the Super Hand, so we held all five cards and received post-draw payoffs for flushes on all three hands.
It was a quick demonstration before we moved onto other games, but I wanted to see more on my own. There have been attempts to put automatic hold options on video poker machines since the 1990s, but early autoholds had accuracy problems. I once wrote a column about a multigame machine by a different manufacturer that had autohold activated on both video poker and blackjack. I found some of its plays were incorrect on both games and recommended readers who knew basic strategy should make their own plays and not blindly follow the autohold recommendation.
With that in mind, I was curious about how often the Super Hand was really super. So I went back and played 20 hands on my own near the end of the day. Super Hand Poker correctly identified the best pre-draw hand on every hand. That's still a small sample that by itself can't guarantee that you'll never need to switch the hands, but no red flags were raised. The selection of the Super Hand looks solid in a game that offers some fun features away from the video poker norm.
During my video poker tour, Lynch took me to see two more games, Power House Poker and Super Draw 6 Card Poker.
Video poker rarely uses the top box as part of game play, as slot machines do. That makes IGT's new Power House Poker a ground breaker. It's also a five-plus-five game, but you can select Triple Play, Five Play or 10 Play options on standard video poker game families.
Whenever you have dealt winners, it gives you additional hands in the top box, meaning extra winnings and extra chances to improve the hand. On a Triple Play trial, a pair of Aces triggered three additional hands in the top box. Now instead of three chances, there were six chances to draw the fourth Ace or to fill out a full house. The extra wager increases your risk, but you also get extra rewards on any dealt winner from a pair of Jacks on up.
"What I like about this game is that it triggers all the time," Lynch said. "It triggers at a pair of Jacks or better, so you're getting the feature roughly 40 percent of the time."
With that, it was on to Super Draw 6 Card, "my personal favorite," according to Lynch.
Super Draw 6 Card, is just what you'd expect – you get six cards instead of five. It's also a five-plus-five game, available in Triple Play, Five Play and Ten Play with standard video poker game families.
You start with a five-card hand, but on the draw you get a sixth card with each active hand. It pays on traditional five-card hands, so the sixth card gives you extra chances to form winners. It also pays on some new six-card winners, including two three of a kinds, four of a kind with a pair, and six-card straights, flushes and royal flushes. On a trial run, a six-card flush paid 125 coins, "so a six-card flush pays like a Jacks or Better four of a kind," Lynch pointed out.
Among them Super Hand Poker, Power House Poker and Super Draw 6 Card bring creative new twists while allowing video poker players to choose from the traditional games they love. It's the best of both worlds for the multi-hand set.