Smarter Gambling In 2011 – Slot Games
Tax tips, hot promotions and practical advice to help you pocket more winnings
By H. Scot Krause
Make sure your card is inserted properly and recording your points as you play. Check it periodically to make sure it's still functioning properly. You'd be surprised how often I see card readers flashing "Reinsert Card," without the player even noticing!
If you've followed my column over the past year, you know that I constantly stress the importance of joining the slot clubs if you're going to play in any casino. In addition to all of the valuable perks you can earn by playing with your card inserted at the machines, there is another important benefit that you can utilize as we enter tax season.
You'll want to request a Win/Loss statement, sometimes referred to a Tax Statement, from each casino where you played over the past year. These statements can be used to help you prepare your taxes, especially if you were a winner in 2010 and want to be able to declare your losses against your wins when you file your returns. While the government will not accept these statements as your only proof of wins and losses (they also want a gaming diary, in which you recorded your gambling sessions), they will help as back-up evidence.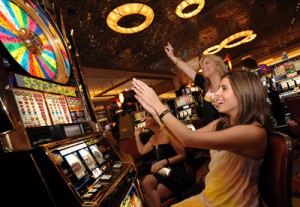 While I'm not qualified to offer much tax advice, I can recommend that you request the statements from every casino you've gambled in during 2010. You'll be amazed at what you'll see! (Note: The results of every statement are not always completely accurate, and may not match your own records.) Then consult with your tax preparer, accountant or an attorney for sound legal and financial advice.
Some casinos offer your Win/Loss statements online. For example, Boyd Gaming offers your statements by logging in to your B Connected account at: https://www.bconnectedonline.com/
Since a New Year is underway, let's also make some resolutions to gamble smarter. First of all, map out a calendar so that you visit casinos on the best promotional days each month. Take advantage of bonus point multiplier days, special gift offers, drawing days, and so on.
Take a few seconds to make sure your card is inserted properly and recording your points as you play. Check it periodically to make sure it's still functioning properly. You'd be surprised how often I see card readers flashing "Reinsert Card," without the player even noticing!
Ask to see a slot host this year. Requirements have loosened up over the past few years due to the economy, and marketing departments (and hosts) are digging further into their data bases for new players and returning players. Now is a good time to ask what they can do for you!
Even if you're strictly a slots player, take advantage of those matchplay table games coupons that are often included in your mailers and room packages. These coupons are to your advantage over the long run, and any table games dealer will assist you in making a bet.
Ask "what's new" when you visit your slot club. Many changes in slot clubs happen with the start of a new year. Changes may have occurred since your last visit to that particular casino. And make sure your information with them is current—if you've moved during the past year, or changed your phone number or email address, now is the time to update that information with your slot clubs.
Let's all resolve to be better, smarter gamblers in 2011!
Also, check out these new promotions get this year started with a bang:
Purchase a ticket to see Crazy Girls at the Riviera and you'll receive a Crazy ACE card. After the show, redeem your ACE card in the Crazy Girls Passion Pit. The card will act as the first card dealt to you in a game of blackjack—which means you're starting with an Ace! Or, join Club Riviera and receive a Crazy ACE card for joining. This offer is valid on Thursday, Friday and Saturday nights beginning at 9 pm. The Crazy Girls Passion Pit at the Riviera features sexy showgirls as well as "Bottoms-up Blackjack," where both dealers' cards are always showing. For tickets to Crazy Girls call 877-892-7469, or go to: http://www.rivierahotel.com/entertainment/crazy_girls.asp
Kid's Quest at several Stations Casinos in Las Vegas now offers a 5% discount on your total bill when you show your Boarding Pass upon check-in and check-out. They're also offering a half-price day on Valentine's Day, February 14 (with special events planned for the kids as well), so you can drop the young ones off and enjoy some one-on-one time with your significant other. Watch for other last-minute Valentine's Day promotions popping up at your favorite casinos—this is always a big day for themed promotions and giveaways. (I like when the video poker machines offer a "Heart Royal Flush Bonus.")
Last year, the Cannery Casino & Hotel opened the first enclosed nonsmoking slot parlor in North Las Vegas. It's located where the poker room used to be. (The poker room has been moved to the center of the casino floor.) The Nonsmoking Slot Parlor is equipped with over 100 slot and video poker machines in various denominations.
The Golden Nugget in downtown Las Vegas has unveiled the first "GOLD to go" vending machine in the area. The legendary hotel-casino is the second location in America to feature the Gold ATM, which dispenses 24-karat gold bars of various weights ranging between one and 250 grams. It also sells traditional gold coins and signature gold bars featuring the Golden Nugget logo.
To celebrate their opening, the new Denny's Restaurant inside Buffalo Bill's Resort & Casino (Primm, NV) is offering a special $3.99 price for the world-famous Original Grand Slam Breakfast. The Grand Slam, known as one of America's favorite breakfast menu items, includes two buttermilk pancakes, two bacon strips, two eggs, and two sausage links. The super-low price will be available thru March, 2011.
Happy slot clubbing, and have a fabulous, lucky New Year!
H. Scot Krause is a freelance writer, gaming industry analyst and researcher, originally from Cleveland, Ohio. Scot reports, researches, and specializes in writing about casino games, events, attractions and promotions. He is a former entertainment director and a fifteen-year resident of Las Vegas. His work is regularly featured in gaming publications and the annual American Casino Guide Book. Questions or comments for Scot may be addressed to: krauseinvegas@cox.net
Smarter Gambling In 2011 – Slot Games.