Slow Down!
Breakneck speed will eat up your bankroll
By H. Scot Krause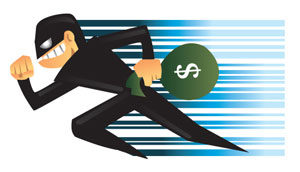 My tip this month is to slow down!  Your enemy in the casino is playing too fast for too long, especially on slots where your gambling bankroll will often dwindle away the faster you play.  Slowing down your play is a way to conserve your bankroll and ride the tide a bit longer.  Perhaps that elusive jackpot will come along the way too!
As a very simple example, if you spend $100 on a 90% payback machine, in theory you would get back $90.  Of course, it doesn't always happen that way but over time for every $100 spent on that machine it will average a return of about $90. Some will win more and some will win less.  But following the example, once you've got your $90 back and run that through you would only get 90% of that $90 back and you'd have $72 left and so on until it was gone.
So…tip #1.  Look at the credit meter and with the touch of your finger change it from credits to cash.  In other words, on a penny machine, once you insert a $20 and it shows you have 2000 credits, change that to it showing a cash value of $20 instead. Psychologically cash has a much more powerful meaning mentally than credits. Credits can be deceiving.  Money is very real!
One money management tip for slot players is to slow down your play. First, look for a speed button, sometimes found on the game menu screen on games like keno and some slots. Secondly, do NOT use the "slam button."  The slam button is hitting the spin button to add credits quickly sending it into turbo mode.  Instead, let the credits add up the old fashioned way, savor some time with your win or the jackpot and slow down the incredible lightning speed of your slot play—which often results in bigger overall losses. During a bonus round, watch the line pays, enjoy the graphics and the music and allow the game to play through on its own rather than trying to speed it up.
Take a win! Switch games! Cash out often! Order a drink! Take breaks! Doing all of those things will slow down your play and stretch your bankroll. If you're a regular slot player, give video poker a shot.  You have to make decisions so that alone will slow down your play. The paybacks are better. Even without knowing all of the perfect play strategies you will most likely have a better payback than you'd get on most slot machines. If you really want to slow down your play in the casino and last all day, try a live keno or bingo game.  Both games have the worst house advantages of all casino games but the action is extremely slow!  If you played $1 or less a game on keno, you'd most likely get a good day's worth of play on $100 with maybe a few hits along the way and some comp drinks to boot.  Look for additional promotions in the keno lounge or bingo room that could may the plays even better.  Sometimes you'll find a comp meal with a certain buy-in and you can watch your keno numbers and dine on them at the same time! Make sure you're getting credit for keno and bingo play by giving them your slot card on buy-ins too!
Good luck, good gaming and happy slot clubbing!

Summer Promotions
Your player rewards card at Mohegan Sun in Connecticut is also now accepted at Mohegan Sun at Pocono Downs in Pennsylvania and Resorts Casino Hotel in Atlantic City.
Atlantic City's Tropicana has launched its all-new Trop Advantage Card, which boasts significant benefits over the Diamond Club it replaces. For starters, Trop Advantage offers more recognition tiers, allowing players to achieve status levels of Green, Copper, Gold, Platinum and Black. Trop Advantage members can now earn comp dollars on their retail purchases at Tropicana's owned dining, shopping, and nightlife outlets including FIN, Il Verdi, Golden Dynasty, Signatures, and Boogie Nights. Plus members will earn one-for-one comps while playing slots or tables and redeem their comps throughout the resort. Additionally, Tropicana is refunding new and inactive Trop Advantage card members 150% of their slot losses up to $1,000 on eligible slot machines. To participate, guests must sign up for a Trop Advantage card and register at a comp machine. They will receive their losses back at 150% value in four payments over four consecutive weeks following the close of their trip. Visit the Trop Advantage Center for complete promotion details.
The Amazing Race Auditions will be held Friday, Aug. 30 at Trump Taj Mahal. The auditions are being held on the casino floor from noon-3 p.m. and are open to the public.  If you've dreamed of traveling the world and winning big, here's your chance to audition for the popular CBS Reality Show. You will have the opportunity to audition on video and tell them why your team should be the next contestants on the show. Participants must be U.S. legal residents, 21 years of age and over, and must answer the question: "Why do you want to be on The Amazing Race?" Participants must also have completed applications and eligibility forms.
In Las Vegas, it's time to "Pup" the corks again for Silverton Casino Hotel's Annual One Drunk Puppy Wine Tasting Event, Saturday, August 17 to benefit five local animal rescues. Have a fantastic night out (6-9 p.m.) for a good cause: A portion of the proceeds from the event will benefit five animal rescues offering rehabilitation, adoption services and more in Southern Nevada. Party-goers will enjoy complimentary appetizers, entertainment and a wide selection of international wines, featuring luscious varietals and many opportunities to sample new flavors from Southern Wine & Spirits. A silent auction offering unique packages to support all the organizations will be available. Enjoy the bold flavors while supporting a great cause inside Veil Pavilion. Admission cost: $35 in advance and $45 day of.
The LVH (Las Vegas Hotel) announced the grand opening of its new Poker Pit.  The new pit, located in the main casino near the Tempo lounge, offers a full array of games, including hold'em, stud, stud 8 or better, Omaha 8 or better and other games upon request. An interesting menu of tournaments will also be offered including Survivor Tournaments, Ladies Tournaments, No Limit Tournaments and HORSE Tournaments. Tom McEvoy, World Series of Poker Champion and the most published author on poker, is the LVH's celebrity poker host.  Players will be able to sit next to him on most days in the Poker Pit. For further information on all of the games and limits offered and all tournament details, visit www.thelvh.com/Hotel/casino/poker or visit the LVH Poker Pit on the casino floor.
H. Scot Krause is a gaming industry analyst, researcher and journalist. He is a former entertainment director and an 18-year resident of Las Vegas.  His work is regularly featured in Casino Player, Strictly Slots and Gaming Today as well as other gaming publications, including the annual American Casino Guide Book. Questions or comments for Scot may be addressed to: krauseinvegas@cox.net