Kid Poker
Daniel Negreanu gives Casino Player his thoughts on poker scandals, playing to win, and the 2012 WSOP
By Sean Chaffin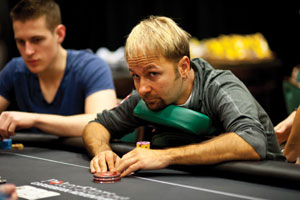 Poker pro Daniel Negreanu has racked up an impressive record on the felt. With four World Series of Poker bracelets, two World Poker Tour titles, and nearly $15 million in lifetime tournament wins, there isn't much Kid Poker hasn't accomplished. Negreanu has been a PokerStars pro since 2007, and since then he's become one of the biggest names in the game.
While his performance at the 2011 World Series of Poker was underwhelming, Negreanu recently blogged about his goals for 2012 and it was quite a list. A couple of his goals included: winning $1 million in 2012; taking home a WSOP bracelet (he hasn't won one since 2008); regaining the top spot on the all-time WPT money list; and accomplishing one major tour win outside of the U.S.
Negreanu kicked off his year with a couple of nice efforts, and came close to some big tournament wins—including a fifth-place finish at the PokerStars Caribbean Adventure in the $100,000 Super High Roller event for $250,900 and then a sixth-place finish at the Latin American Poker Tour's $3,700 Grand Final Main Event in Sao Paulo for $28,177.
No stranger to controversy, Negreanu made his opinion known a few years ago when Russ Hamilton was charged with cheating as part of the Ultimate Bet "super-user" controversy. A report by the company found that Hamilton, who won the WSOP Main Event in 1994, was part of a group that had been cheating on the site and was forced to refund eventually over $22 million. Negreanu argued that Hamilton should be ostracized from the poker community, and recently spoke with Casino Player on a wide range of issues including his well-publicized feelings on the Full Tilt Poker controversy.
How have things been going? How was PokerStars Caribbean Adventure?
It was really fun this year. I definitely had a good time.
You get to do anything interesting?
Yeah, but nothing PG [he says laughing].
What's a random day like for Kid Poker? Do people ask for photos and autographs?
It depends on the place, the country and the situation. If I'm not walking pretty fast, occasionally I'll get recognized. If somebody notices you, and they take a picture, then other people notice them taking a picture and someone else will say, "Oh I know that guy!" And that makes them a little more brave, and they'll ask you.
Do you find it strange that some poker players have become celebrities?
I don't really buy into the celebrity B.S. I've met some celebrities, and I know some of those people, and I don't think you have to have a fascination with people on TV whether they're actors, or what have you. They're talented at what they do, but that doesn't make me want to meet them any more, that doesn't want to make me get an autograph or a picture. I don't really buy into it, and I think that's one of the reasons I've stayed relatively grounded. I don't see myself as all that special.
What's your feel on the future of Internet poker?
It seems like the government is starting to come around on understanding there needs to be regulation, and it will happen. It's just a question of what it's going to look like. It's happening all over the rest of the world. PokerStars is booming in virtually every region of the world. It's only a matter of time before the U.S. wakes up and realizes there are potentially billions of dollars in tax revenue to fund programs that some of these politicians talk about doing.
If nothing has changed on that front in a few years, would you consider moving back to Canada full-time?
I don't think it's possible that nothing will change. Something will change. Having said that, I've set up shop in Canada. I am Canadian, so I'm able to play when I'm outside of the United States.
What would be your ideal situation if you were made the government's Internet poker czar?
I would hate to be put in that situation because I really don't want a job (laughs). I think it's very important to give people freedoms to do what they want in the privacy of their own home, as long as they're not hurting anyone or doing anything legitimately criminal. It should be an open market so that customers and consumers can have the best opportunity to pick and choose from different sites and companies, whatever they like the best, kind of like every other business. You can pick from Verizon, Sprint, AT&T – and the same could be true with online poker down the road. We still have to figure out a way to tax the companies that are making a profit in the country and potentially even the players who are professional will have to pay a tax on (their profits). So I would probably set up something along those lines. I don't know the numbers, but that's what I would do.
You recently detailed many of your 2012 goals on your blog. How important is setting goals to professionals, but also for lower bankroll players?
I think goals are kind of fun and interesting because at this point I've succeeded in a lot of areas, but I like to be relevant and continue to win. For me, it's important to create mini-goals that I can try to achieve. Michael Jordan sort of got bored with basketball and he was like, "You know what, I'm going to try baseball." He did that for a while, and he went back to basketball. I'm not comparing myself to Jordan in those regards, but I like to find ways continually to, like a video game, try to get as many achievements as possible in poker.
You've been very honest about your views on people and issues within the poker world—including a few years ago, when you spoke about former WSOP Main Event champion Russ Hamilton, who was at the center of the UltimateBet cheating scandal. After the Full Tilt Poker debacle, do you think FTP board members Chris "Jesus" Ferguson, Howard Lederer, and CEO Ray Bitar should be treated the same way if it's proven they knowingly stole player funds?
Well, the poker world is a different place, and Las Vegas is a different place than it was in the old days—where people were taken out into the desert and were buried or beaten up. I guess the appropriate punishment would be for them to be taken out to the desert and pull their pants down and have every single poker player who had money on there gets to give them one swift baseball bat to the nuts. I think you should get one shot for all three of them. They probably wouldn't have any children, but that's probably a good thing. And I'm OK with that. That's old vigilante justice.
You're not holding anything back on this issue…
Why would I? (laughs) Why start now after all these years? They deserve to be ostracized, as does anybody who has taken advantage of players like that.
Do you believe there should be an official ban on those types of players, at the WSOP and WPT?
That's a tough spot, because it's not the businesses' faults – the WSOP's or the WPT's. If they created a governing body for poker players, something along those lines to sort the bad apples out, maybe down the line. I just think from a players' perspective, you've got to ostracize them…they don't deserve to feel comfortable after what they did.
Back to the felt, are there any events at the WSOP this summer that really intrigue you?
There's one really cool new event that I think is going to be great. It's an antes only event. There's no big blind and there's no small blind, and the antes start out relatively small and the antes escalate. It creates a much more post-flop game because it's less pressure on the two blinds, and everyone plays more hands. Let's say typically you play 20 to 25 percent of your hands. In a tournament like this, you need to be playing 60 to 70 percent of your hands. It creates a new dynamic that promotes post-flop skills.
PokerStars has been running these for a few years online, and this is really the first opportunity at the World Series. I helped them along with the structure and a way for it to work. I'm excited to see how the players love it.
What are your thoughts on the $1 million Big One for One Drop this summer at the WSOP and a tournament with such as massive buy-in?
It looks like they're going to have a really big group of players. I'm hearing over 30 people confirmed already. For me, the fact that $111,000 from each player is being donated to the One Drop Foundation—that's the real win. One Drop is really a great organization, and they do really good work. There's one thing that we all need, and that's water. Without water you can't cultivate crops, you can't have a village, you just die. And what the One Drop Foundation does is, they create water wells in impoverished countries in areas that don't have access to water to give these people a chance at a decent life. It's a really good cause.
Are you planning on playing in the event?
Yeah—that's the plan. Hopefully, I'll have the money by then. (He's said that he is trying to raise $600,000 from backers and fans on his blog, FullContactPoker.com or through Twitter, @RealKidPoker. Backers will earn a share of his winnings.)
You weren't happy with your 2011 WSOP, but you've had a good start to 2012. What's your advice to players about getting out of a rut and turning things around?
The number one thing you've got to focus on is what you can control, and not what you can't. You can control the decisions you make at the table, and you need to try your best to make sure that you're focusing on what you're doing right, and continue to do that. And if things that are out of your control keep happening, there's nothing you can do about that. I think it's more difficult when you have other stresses in our life, whether it's drugs or a woman who's cheating on you. Those are the things that make it a little more difficult. You really need to focus on the present. The biggest mistake people make when they're having bad luck is that they're still focused on what happened yesterday, or what happened the day before. That's completely irrelevant to the hand that you're in now, and you need to focus on the hand you're in. And if you do that every single time, you'll beat that curse of playing worse hands during a rut.
Daniel Negreanu offers poker advice at his training site, www.PokerVT.com.
Sean Chaffin is a freelance writer based in Rockwall, Texas and he's the editor of www.PokerTraditions.com, devoted to poker history, lore, lifestyle, and people. For more information on his work, visit www.seanchaffin.com. Do you have an interesting poker tale? Email sean@PokerTraditions.com.