Gamble Online – Getting Started
Becoming an Online Gambler
There's a lot more to online gambling than casino games. Anyone who has followed the Worlds Series of Poker for the past few years knows that slowly but surely online poker players have started to creep in from anonymity and take center stage. They've even had the audacity to win the main event for two years running.
But online gambling isn't just poker, either. It's everything. Every form of gambling you can imagine (and more than a few that you can't) from progressive slot machines to bingo halls, international lottery drawings and sportsbetting. There are even more than a few sites where you can bet on the winners of reality television shows or what the last digit will be at the closing bell of the Dow Jones.
The point is, that before you even dare to venture into the cyberspace void in search of new gambling adventures, you'd best know what you're looking for and how to find it.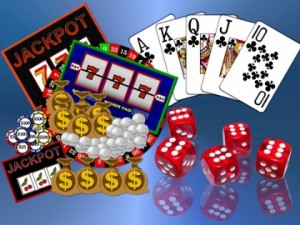 Getting Started: Finding the Best Sites
Although becoming a successful online gambler involves many steps, the most crucial one is also the most obvious – finding a place to play. Or rather, finding a good place to play.
Despite the Internet so often being likened to the "Wild West," online gambling itself is a far cry from those wicked saloons of old. The increased competition, a higher level of player awareness, and the development of "watchdog sites" that patrol the online gambling industry has made it a relatively safe medium. However, just because it's safer that does not mean it's devoid of risk. Nor does it mean that all sites are created equally. Sometimes, even the most well-intentioned site may not be quite up to par, resulting at best in an unsatisfactory experience and at worst a complete fiasco.
Luckily, avoiding such problems is relatively easy – it just takes a little effort and a little bit of homework. Below are some of the basic steps you need to follow when looking for a new online gambling site:
Make sure that the site is reputable. Always find out everything you can about a site before depositing a cent. Read site reviews in respected gambling magazines, visit gambling portals such as WinnerOnline.com and Casino.com and check out what's being said about the different sites. You might also consider visiting online gambling forums or chat room (available on many gambling portals) where players meet to discuss gambling topics. There you'll find first-hand accounts of player experiences that may help steer you towards – or away from – a particular site.
Ask yourself: Does this site fit my needs? Although choosing an online gambling site requires a lot of objectivity, it is also a matter of personal taste. It doesn't matter if the site is praised on every forum and in every magazine – if it doesn't have what you're looking for it's pretty much useless. For example, if you're the sort of gambler who likes to mix it up, playing a little blackjack then maybe a couple of pulls on the slots while waiting for the results of the Yankee game, you need a site that caters to both casino gamblers and sportsbettors. On the other hand, if bingo is your only love, you'll need to refine your search to include only sites that offer it.
See for yourself. Once you have narrowed down your selections to a manageable level, begin visiting the sites and examining them. Really study them. Are the graphics top quality? Did the designers put some thought into the site's development or does it have that "thrown together" look? Does anything about the site make you feel uncomfortable or wary? Your answers to these questions will help to determine if the site is a worthwhile contender for your business or just some fly-by-night operation. For a little extra insight, consider calling the site's customer services department with some basic questions to see what kind of a response you get. If the associate is hesitant or unable to answer your questions, seems uninterested, or is just plain rude, consider that this might be the type of service that you're likely to receive should a real crisis arise.
Now that you have found a place worthy of your attention, the next step is getting down to the business at hand: becoming an online gambler.
Becoming a Player
In days past when the number of online casino could easily be counted on a single hand, getting online, downloading the software and establishing an player account was a tedious series of events that made the trip to the local casino more than worth it. But as technology advanced, so too did the entire process and what we're left with is the streamlined progeny of those early pioneers.
In this next section, we'll discuss the technical side of online gambling including computer requirements and software options as well as how to open and fund your player account.
The Proper Tools: Hardware & Software
At its most basic level, gambling online requires two critical components: a computer compliant with gambling software and access to the Internet. If you bought your computer within the last five years, chances are that you're already equipped with the necessary hardware to gamble online. (As a rule of thumb, if you have Internet access your system is ready.)
While you don't need to have the latest, state-of-the-art computer in order to gamble online, if you're working with an older model system, you will need to check to see if your computer is up to the task. Most online gambling sites provide a list of the minimum requirements needed to handle the software. This information can be found typically under the "Frequently Asked Questions" (FAQ) page and sometimes on the "Download" page itself. Generally speaking, however, the typical minimum requirements are:
Windows XP/2000/98/95/NT
64 MB of RAM (Random Access Memory)
256 color VGA monitor
30 MB of Hard drive space
14.4 Kbps modem
In addition to these minimum requirements, you'll also need an Internet browser such as Microsoft Explorer or Netscape. If you're system does not have a compatible browser, updates may be downloaded from the Microsoft or Netscape web sites.
Having established that your computer meets these minimum requirements, the next step is to install the gambling software from the selected site onto your system. This software contains all of the information your computer needs to allow you to gamble. In essence, the software IS the casino, or poker room or bingo hall – whatever type of site you have chosen to play. (Note: Sportsbooks typically don't require any software, only an active, funded account.) The software is always free of charge and accessible directly from the site or sometimes via a CD-ROM that can be requested from the site.
While the majority of sites favor downloadable software (software that requires its key components be downloaded directly onto the users computer) many sites now offer software platforms that allow users to skip the download process. Platforms such as Java or Flash are designed to allow players near instant access to the games with minimal hassle. Unfortunately, these platforms often (though not always) sacrifice realism for convenience with the end result being a less-than-perfect simulation. Happily many sites now offer players the option to choose the version they would prefer to play.
Once you have selected a platform, the rest is easy. For a downloadable software package, click the link that says "download" and the computer basically does the rest. For the other versions, simply choose the appropriate Flash or Java option and get ready to play.
Opening a Player Account
The final steps before you can become an online gambler are to register and fund your account. To register, simply fill out the registration form provided by the site after the software has been installed. This form requires basic personal information (name, address, etc.,) as well as a selected user name and password so you can access your account. Always remember to keep this information in case your forget it.
Once you have registered, you may begin playing "For Fun" (free) if the site has such an option, or you may deposit funds and begin playing for real. While banking options vary with the site, the process is generally the same. Click on the "Deposit" option, select one of the methods (i.e. credit card, electronic check, pre-paid ATM, etc.), choose an amount and transfer that amount into your player account. Bear in mind, however, that depending on your selected method, initial deposits into an online gambling account may require you to do a little more "paperwork." For example, you may opt to open an account with an online money transfer service such as NETeller or Firepay. In that case, you'll need to open an account with them first, fund that account and transfer those funds to your player account. While this requires a little extra effort, it provides even more protection for your sensitive financial information and is well worth the time.
Once the funds have cleared and are in your player account – this can range from immediate availability to several weeks, depending on the deposit method – you can begin playing for real. Congratulations, you've become an online gambler.
An Expanding Industry
You've now learned what it takes to become an online gambler. While at first it may sound complicated, it's really nothing more than finding a site, getting the software, and getting cash into the account.
Of course, it really doesn't end there, does it?
Just as any gambler learns and grows, so too does the online gambling industry. Sites are always evolving, developing new and faster software with more realistic games, or creating specialized VIP and comp programs that provide patrons with bigger bankrolls and higher rewards. Some companies are even expanding into new directions such as mobile gaming and interactive television that will allow gamblers to play their favorite games just as easily as making a call or changing a channel. There's truly no end in sight.
So while today you may be playing at the perfect casino or poker room, tomorrow may present you with an even better version with more realistic games, greater accessibility and even better selection.
Becoming an Online Gambler.