DON'T BELIEVE THE HYPE
When a "winning system" sounds too good to be true, odds are it is.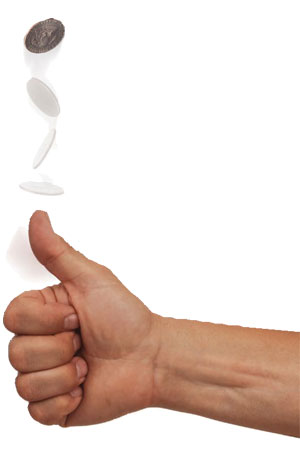 Some self-proclaimed casino experts will tell you about "betting systems" that will give you an advantage over the house. One of the most infamous systems is the Martingale, which has been around for many years—and has wound up crushing a lot of players foolish enough to stake their money on it.
The idea behind the Martingale is simple: you make a bet and, if you lose, you double your bet. Lose again, and you double your bet again. You keep betting this way until you win a hand. Then, you revert back to your original bet and begin again.
Some players experience success with this system at first, and become convinced that it's a surefire way to win (or to at least get even every time they lose a few hands). But inevitably, this method winds up kicking their ass.
The problem with the Martingale (and other similar betting progressions) is that when you hit an extended losing streak—which happens to all of us, at times—the results can be disastrous. You never know how long a losing streak is going to last. You can lose eight hands of blackjack, or spins of the roulette wheel, in a row—and if you're doubling your bets each time, your entire bankroll can get wiped out in a hurry.
Let's say you sit down at a blackjack table and place a $5 bet. You lose, and following the Martingale system, you then bet $10. You lose again, so your next bet is $20.Then $40, and so on, until you've lost seven hands in a row. Now, your next bet needs to be $640… and you're $1,275 in the hole! If you win this $640 bet, you're still down $635, and you're now supposed to revert back to your original $5 bet. When you hit an extended losing streak, you see how truly awful this strategy becomes. (Plus, there's a good chance you wouldn't even be allowed to make that $640 bet; many $5 tables have a $500 maximum.)
Other believers in the Martingale use it at the roulette table, betting on either black or red. This is just as stupid. And with a roulette wheel, you can see how possible it is to lose many times in a row, since most of them have display boards attached to them that show the results of the 20 previous spins. See for yourself how many times in a row it's possible for either black or red to appear. Using the Martingale, if you were to bet on the wrong color 17 times in a row— which is not unheard of—your original $5 bet would now call for a $327,680 bet!
While the Martingale is the most well known betting "system," there are many others out there. Take all of them with a grain of salt. The most absurd so-called systems are the ones involving slot machines. You'll occasionally see these systems (scams, really) advertised in the back pages of gambling magazines, or sold over the Internet, claiming to be able to tell you how to recognize the machines that are ready to pay off.
It's all nonsense. As we've explained before, no machine is ever "due" to pay out a jackpot, even if it hasn't yielded one in weeks. A computer chip inside each machine, known as the Random Number Generator (or "RNG"), determines the outcome of each spin, and each and every spin is a completely random, independent event.
If you flip a coin and it comes up "heads," does that mean there's now a greater chance of getting "tails" next time? Of course not. The same principle applies to slot machines and the way their computer chips work.
After a thousand losing spins, the odds of the next spin coming up a winner are exactly the same as any other spin. Likewise, after a machine gives up a jackpot, the odds of it happening again are the same on the very next spin.
This doesn't stop many players from believing otherwise. Be- fore they sit down to play, they'll ask the slot machine attendants which machines are hot, or cold, or due to fork over a jackpot. They'll hand out tips in exchange for this "inside information." While the attendants appreciate the gratuity, they have no more knowledge of this than you do.
One final word on betting systems: you can be assured if there ever was a foolproof system for winning money, the casinos would catch on quickly and figure out a way to counteract it. Play smart, have fun, but don't look for a "magic method" because it does not exist—and it will probably cost you more money in the end.