Advantage Play – Slot
How to capitalize on slot machines that give you the edge
By Frank Scoblete
Once you've identified a slot machine that has a positive expectation, there are certain rules you must follow to maximize your wins. The following rules for play are not suggestions—they are requirements.
Editor's Note: This column is excerpted from Frank's new book Slots Conquest: How to Beat the Slot Machines.
This chapter will show you specific machines that can actually give the player an edge over the casinos at slots. These machines have been discovered by Jerry "Stickman" Stich, a columnist for Casino Player, and have been put through extensive computer studies and casino play. Stickman analyzed the minimum bankrolls that are needed for each machine, and also figured out which machines are most volatile—that is, which machines have the greatest swings between wins and losing streaks.
The machines I'm about to describe can be considered "banking machines" because they build up redeemable credits, objects or multipliers that are not wiped out when one player leaves the machine and another player replaces him. In fact, you will need these other players to play these machines in a negative mode so that the banking credits build up for you.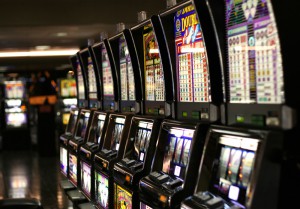 This is because at a certain point the "accumulated bank" causes the machine to become positive for any player who plays the machine from that point onwards. In short, more money will come out of the machine from that point than goes in the machine. This is when you want to be playing it.
Now let's get the obvious question out of the way for the dreamers in the land of slots. Yes, while some of your wins can be fairly big, most of them will be modest. But every win is a reason to smile, because you'll be doing something very few players have ever done—getting an edge over the casino at the slot machines.
Keep in mind, you can also lose, since even a machine in positive mode can take your money if you're unlucky. In poker, it's called a bad beat; you have a great hand, and still lose. But overall, if you play these machines the way you should, more money will flow from the machine than you put in.
The advantage slot machine is similar to progressive slot machines in the sense that something builds. It's not a jackpot dollar amount, though. Instead, something else builds. It could be coins, hats, gems, fruit or even firecrackers.
On these machines, the pool of items builds when a special symbol or some combination of symbols appears on the reels. This can be one particular symbol, a combination of symbols, or even the absence of symbols (sometimes called "blanks" or "ghosts.") For example, if a cherry appears in one of the nine positions that are visible on the reels, a cherry might then be added to the corresponding section of a pie. Each different machine that uses this type of format has its own criteria.
Once a certain combination of symbols appears, or a section of the collection area is filled, a bonus is paid that is proportionate to the number of hats, gems, fruit, or whatever symbol that's been banked. For example, a diamond is added to one of three columns corresponding to the reel that contains a diamond. When a column is filled with diamonds, a bonus of 10 credits is collected and the column is emptied.
The more things that are in the collection, the better chance the game might be positive. And this chapter will show you which games can become positive as well as when they become positive. It will give you the best method to play them and let you know how much money you should have available once you decide to play a given advantage machine. A proper bankroll is absolutely necessary to give yourself the best chance to win.
Once you've identified a slot machine that has a positive expectation, there are certain rules you must follow to maximize your wins. The following rules for play are not suggestions – they are requirements.
Here goes:
Only play when you have an advantage.
Have the required bankroll in your pocket.
Once a machine becomes positive, it remains positive until someone collects the bonus and then the collection is reset and the positive machine is no longer positive.
You must play until you collect the prize and if you don't do this then you are purposely giving up your advantage.
Quit playing when you no longer have an advantage.
Once you collect the bonus, verify if you still have an advantage. There are times when you will continue to have an edge even after collecting a bonus. Most games lose the advantage once you collect the bonus; most, but not all. When you collect, look at the game. Do you still have an advantage?
Here is one such advantage-play machine from the book:
S&H Green Stamps
How it Works
This is probably the most widespread of advantage slot machines. As you play, whenever a green stamp appears on the reels it will be added to your "book." The stamps have a multiplier (1X, 2X, 5X) that multiplies the number of stamps that are collected. It takes 1,200 stamps to fill a book. Once a book is filled, you are given the option to continue collecting, or play the bonus games.
What to Look For:
If the game has 600 or more stamps in a book, the game is positive. One stamp is displayed in the book for each 100 stamps collected, so look for six stamps. Six stamps is one row, or half a book. The actual number of stamps is also displayed near the books.
How to Play:
Play 25 lines at one credit per line until you play the free games. This amounts to 25¢ a spin for a 1¢ machine, 50¢ a spin for 2¢ machines and $1.25 a spin for 5¢ machines. Once you fill a book (1,200 stamps), you will be given a choice to play free games or to continue filling another book. Play the free games! DO NOT continue filling another book.
Bankroll Requirements:
Your minimum bankroll must be at least 2000 credits. This amounts to $20 for a 1¢ game, $40 for a 2¢ game and $100 for a 5¢ game.
Comments:
Most S&H Green Stamp games have a feature where you can immediately stop the spinning by hitting the spin button. Take advantage of this feature to minimize the time spent playing this game. The faster you play, the better for you. Get your winnings and leave.
This game is fairly volatile. You will tend to have many smaller wins and losses with occasional fairly large wins and losses. Don't let a losing game tempt you to stop play before you collect the free games.
Frank Scoblete's newest books are Slots Conquest: How to Beat the Slot Machines, featuring advantage-play slots; and Casino Craps: Shoot to Win, which comes with a DVD showing unedited controlled throws. Cutting Edge Craps: Advanced Strategies for Serious Players and Beat Blackjack Now are all available from Amazon.com, or at your favorite bookstore, or by mail-order by calling 1-800-944-0406. You can also call that number for a free brochure.
Advantage Play – Slot.