Winning The Big One in Poker
The WSOP Mints Another Millionaire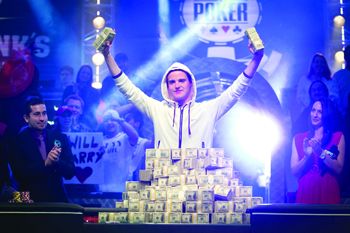 At the conclusion of this year's World Series Of Poker, the last man standing was a 22-year-old student and professional poker player who made history as the first German resident to win the gambling world's richest and most prestigious tournament. Pius Heinz, of Cologne, was just the second German ever to make a Main Event final table. His first-place finish earned him the most coveted trophy in all of poker—the World Series of Poker gold bracelet—along with $8,715,638.
Heinz outlasted a Main Event field of 6,865 players from 85 different nations, who ranged in age from 21 to 91. He went into the Main Event as a significant chip leader, though the lead changed hands several times over the following hours. Ultimately, Heinz sealed his victory when his ace of spades and king of clubs held up against the runner-up Martin Staszko's 10 of clubs and 7 of clubs
Staszko, 35, also made history as the first player from the Czech Republic to make a final table. He collected $5,433,086 for his second-place finish.
The thrilling conclusion to this year's WSOP was carried nearly-live (with a 15-minute delay) on ESPN. Each player paid $10,000 to enter the Main Event, creating a massive $64,540,858 prize pool.
When asked how his victory would be received in Germany, Heinz replied: "I can only imagine. I think it's going to be huge when I get home."