Wild Nights – Power Stacks
Multimedia's "Power Stacks" feature gives players a wild ride
By Frank Legato
Multimedia has figured out a way to incorporate expanding wilds, also commonly known as "stacked wilds," into a reel-spinning slot machine.
If anything in this country is certain, it's that slot players still love those spinning reels. We're still transfixed by those mechanical wheels that whir and spin home, even if we can't have all the bells and whistles video permits.
But what if you could get some of those bells and whistles? It's a question asked and answered by a new group of slot machines from Texas-based Multimedia games.
Meet "Power Stacks."
The rise of the multi-line video slot over the past two decades led to a lot of neat tricks within the video version of spinning reels, but one of the most popular is what could be called the "wild wave." Reels will spin to a given result, and suddenly, wild symbols sprout up on the screen to improve the result, whether by some magical character flying across the reels, or the more popular gimmick—wild symbols "expanding" to occupy entire reels.
Multimedia has figured out a way to incorporate expanding wilds, also commonly known as "stacked wilds," into a reel-spinning slot machine. The Power Stacks series of games, which just launched with three individual titles, employs an age-old gimmick of reel-spinners to achieve the stacked wilds: Remember the "nudge?"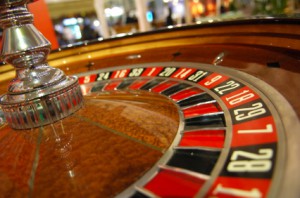 The wild symbols in these five-reel games each are tall enough to cover all four symbol spots in a reel. (It is a four-by-five matrix—four reel spots on each of five reels.) Of course, when they land just right, that entire reel is wild. However, with great frequency, just the top or the bottom of one of the wild symbols will touch an active payline. When that happens, the entire symbol "nudges" into place—again, making the entire reel wild.
What's really cool is when the wilds go viral. When one wild reel lands, any wins resulting from the initial spin are paid, and the wild reel then locks into place. All non-wild reels then re-spin, and the player is paid again for any wins. If a wild symbol touches an active line on the re-spin, that reel locks into place for another re-spin with two wild reels. This can go on until all five reels become wild.
"It's a very cool mechanical feature that has a video feel to it," says Mick Roemer, senior vice president of sales for Multimedia. "The excitement of having a Power Stack wild symbol on a mechanical game makes these games unique. It brings the five-reel video experience to the mechanical reel-spinning slot."
What makes it even better is how these reel-spinners are built. They are on Multimedia's new wide-body cabinet, with full-sized reels that appear extra-wide in a five-reel format. The reels are back-lit and colorful, and the lively lighting surrounding the reels themselves mingles with the attract animation on the top monitor in the dual-screen setup. The overall visuals on these games are striking. The lighting on the reels is extremely attractive," says Roemer, "and because it's on that wide-body cabinet, the reels appear extra wide. Graphically, these games are stunning. I think it's the best-looking five-reel game out there."
Three to Start
Those visuals are enhanced by great artwork within the individual game themes. The Power Stacks series is launching with three themes initially, and you will be able to find the games both in the traditional setup and in electronic bingo versions for the Class II Native American casinos.
The three initial games are called "Koi Pond," "Super Rubies" and "Wild Tornado." All three are five-reel, 50-line video slots with a top line jackpot of 250,000 credits at max-coin. On the penny version—according to Roemer, that will likely be the most common denomination—that's a $2,500 jackpot for a wager of $2.50 per spin. (The manufacturer is making it available to casinos in penny through quarter denominations.)
All of the games in the series have the Power Stacks re-spin feature. The main difference between the games is the aesthetics of the themes. Koi Pond has a soft, aquatic color scheme with koi fish and flowers as the main jackpot symbols. Super Rubies is just what it sounds like—different-colored gems join the traditional poker symbols on the reels, and the reds and greens of those gems dominate the visuals. Wild Tornado is dominated by the green image of a whirling tornado.
According to Roemer, as spring approaches, the manufacturer will begin launching the series in casinos throughout the country. However, that's only the beginning of what stands to be a long-running series. "We've dedicated a good part of our game development strategy to adding titles to this game series," Roemer says, adding that Power Stacks is only one of many games to be launched in the wide-reel format.
"Maximum Lockdown" will be the next release on the wide-body cabinet. It has a three-reel, high-denomination base game with bonus reels on either side of the main screen. The middle three reels each have three spots, but the outer reels display one symbol each. When that symbol matches the three on the main reels, it is a "Lockdown," launching a free-spin bonus paying left-to-right and right-to-left for winning combinations.
Also in the next few months, look for great three-reel mechanical slots from Multimedia, including "King Richer" an "Wild Wheel," both to be released this month. King Richer has a funny medieval cartoon theme surrounding a free-spin event in which wild symbols on the second and third reels lock in place for all remaining free spins. Wild Wheel is a three-reel mechanical slot with a multi-level hybrid mechanical/video wheel in the top box.
Next month, look for a fantastic game feature to be launched on Multimedia slots. Called "Side Action," it adds several side games to the screen of video slots, involving both poker and dice. For a minimum 25-credit side bet, you get to play the side game at the same time as the main game.
One of the first games you'll see with this new feature is the popular Multimedia game "Texas Tornado," a nine-reel, 32-line game that features a bonus round with flying tractors and farm animals in a funny sequence. Next month, watch for new versions of the game including a side wager on a five-card stud poker hand that appears in a window on the right of the game screen. Odds on the side bet are true to the game of poker—right up to 600,000-to-one for the royal flush. (It's straight stud poker; there is no card draw.)
It's all part of a game development blitz begun two years ago by Multimedia Games. Roemer says the company is committed to releasing at least 50 new titles a year.
If Power Stacks is any indication, it looks like the next few years are going to be fun indeed. •
POWER STACKS
Multimedia Games
Game Titles
Koi Pond
Super Rubies
Wild Tornado
Slot Type
Five-reel, 50-line mechanical reel-spinning slot; stacked wild symbols with nudge feature; re-spin bonus feature; penny, 2-cent, 3-cent, nickel, dime and quarter denominations
Payback % Range
85%—98%
Average Hit Frequency
Approximately 33 percent
Top Jackpot
250,000 credits
Availability
Approvals pending at press time: AZ, CA, CO, CT, FL, IL, IN, IA, KS, LA, MI (tribal), MN, MS (tribal), MO, ND, NM, NV, OR, SD, WA, WI
Power Stacks.