Vegas 101
Everything You Need to Know to get the Most Out of Your Trip
By Barney Vinson
You've just arrived at your favorite Las Vegas hotel. Good thing you phoned the hotel months ago and found out about the special $89 room rate—most people just call the hotel's 800 number and never learn about special deals like the one you got. Another nice touch was how you checked into the hotel at midmorning. Lines can be as long as an hour on weekday afternoons or on weekends. You're one classy world traveler.
The first order of business is to check into your room. Don't lug your suitcases through the casino like so many others do. Right off the bat you'll look like a cheapskate—or even worse, a tourist. Use a bellhop. He'll take you right to your room, show you how everything works and answer any questions. A dollar a bag is the standard tip.
If your room isn't up to expectations, call downstairs right away and complain. Don't wait until you check out. Some hotels will upgrade your room or comp your breakfast simply because you voiced a complaint.
Before hitting the slot machines, take a deep breath and relax. Sure, you've been looking forward to this trip all year, but remember the casino is open 24 hours a day. Make dinner reservations, find out where the shops and pool are. Join the casino's slot club, which puts you on the casino's mailing list for special deals throughout the year. (Midmorning is the perfect time to avoid lines at the slot club or gift redemption counter. If you still encounter a line, exclaim loudly, "Hey! I just saw Madonna in the coffee shop!")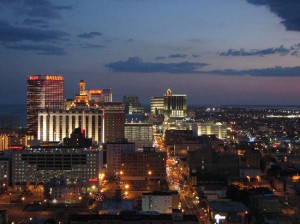 You can also use your slot card for identification when you're playing the table games. Give your card or any other form of ID to the supervisor. You'll be rated just like the high rollers are, and entitled to the same special treatment.
Don't expect the casino to shower you with gifts, free meals, and discounted room rates, however. Comps are based on three factors: average bet, length of time at the game, and the game's house edge. These three numbers are calculated to arrive at the casino's "theoretical win." Generally, the casino is willing to give back 25 to 40 percent of that amount in comps. In other words, they'll give you back up to half of what they expect to win from you. Another tip: Concentrate your play at the casino where you're staying instead of spreading your money around. If you give your name every time you play, all that information is entered into the casino computer, and it makes getting a comp that much easier.
We all want something for nothing, especially when we're gambling our hard-earned money against the casino's seemingly limitless bankroll. Over $1 billion in comps are passed out to gamblers each year in Nevada casinos, so how does the average Joe get aboard this gravy train? The easiest comp to get is the casino buffet. It's usually the cheapest—for you and the casino. A breakfast buffet may cost you $3.95, but it costs the casino about 60¢. It's also easier to get a comp in a large casino, because smaller casinos work on a lower profit margin.
Don't be afraid to ask. Getting something for nothing is what put Vegas on the map in the first place.
Here's how one fellow did it. "Can I get a comp?" he asked the pit boss.
"A comp to what?"
"Anything!"
Of course, this tactic can backfire. One time, a man was playing craps at a small casino on the edge of the Las Vegas Strip. After three hours at the tables, he asked the casino manager for a comp to the buffet. The casino manager studied the man's rating slip and finally said, "OK, you can eat in the buffet. But you can't have any meat!"
When it comes to gambling, there's an old saying that you should bet with your head, not over it. You should also put yourself on a budget, just like you do at home. Allot yourself a certain amount for gambling each day, then stick to it. At the slots, cash out your winnings often so you don't get hypnotized into playing off all your credits. At table games, try to get your money out of action as soon as you can. It's a lot more fun when you're gambling with winnings.
Know the games you play. Many books and tapes are available to help you, and some casinos even offer free lessons. Concentrate on the game you like best, and stay away from the others. It's better to become a good player at one game than an average player at all of them. And at the table games, use a money management system when you gamble. It doesn't have to be some kind of complicated slide-rule diagram. In fact, the easiest and safest system is going up one unit each time you win, and going back to the minimum when you lose. That way, you'll take advantage of winning streaks, and won't get hurt by losing ones. After all, you can't make the same bet every hand and expect to win in the long run.
For sports bettors, always shop around for the best line. The odds and point spreads change from one casino to the next, and that half point will come in handy more times than you think. And never mix drinking and gambling. There's plenty of time to party later, so don't booze it up while you're gambling. Likewise, don't gamble when you're sleepy, tired or bored. The casino is always at its best. You also need to be at your best, by playing with a clear head.
That brings up an important question. Which games should you play? Why, the ones that give you the best chance to win, of course!
Blackjack
It's the most popular table game in the casino, but played incorrectly by most novices. The house edge is 2 percent, but only 0.06 percent if you use optimum basic strategy. Always assume the dealer's hole card is a 10, because there are more 10s in the deck than anything else. Stand if you've got a total of 12 or more and the dealer is showing a bad card (2, 3, 4, 5 or 6). Exception: Hit a 12 if the dealer is showing a 2 or 3. Hit If you've got a total of 16 or less and the dealer is showing a good card (7, 8, 9, 10 or ace). Basic strategy isn't foolproof, but it does lower the house edge to under 1 percent. Why? Because you're playing the same way consistently. The dealer plays the same way every hand, and so should you.
Other key strategies at blackjack:
Always split aces and 8s. Match your original bet and make two hands out of one hand. You're getting twice as much money in the game when the odds are more in your favor.
Double down with 11 unless the dealer is showing an ace. Again, here's your chance to get more money in action. Match your original bet (or anything up to it) and get one more card. Double down with 10 unless the dealer is showing a 10 or ace. Double down with 9 or an ace and any small card (2 through 7) if the dealer is showing a 5 or 6.
Never take insurance.
Tip: If you're a novice, pick up a blackjack basic strategy card in any casino gift shop. Using simple color guidelines, the card tells you how to play each hand, and you're allowed to use the card in most casinos.
Baccarat
This is strictly a game of chance where you're guessing which hand will be closest to 9—the player's hand or the banker's hand. Aces count as one, 10s and face cards as zero, and 2s through 9s at face value. Two cards are dealt to both player and banker. Only the last digit counts, so if player has a 9 and 4, the total is 3. Player takes a third and final card if the total is less than 6. Exception: If the first two cards by either player or banker add up to 8 or 9, it's called a "natural" and no more cards are dealt.
Banker will win slightly more than half the hands (because player's cards are turned over first and this sometimes determines whether banker will take a third card), so a 5 percent commission is charged on winning bank bets. The house edge is around 1 percent no matter which hand you bet (banker 1.06 percent, player 1.24 percent).
Baccarat can be intimidating. After all, no one likes to play a game where the dealer is dressed better than the players are. You might want to play mini-baccarat instead. It's the same game, only the mini-version is played at a regular table in the regular casino with regular people just like you. Table limits are usually lower, winning commissions are paid after each hand, and the dealer deals the cards so the game goes faster.
Craps
It's the most exciting game in the casino, and also the most confusing. The complicated layout is enough to scare even Indiana Jones, but keep in mind that both sides of the layout are the same, and the battery of bets in the middle of the table are all long shots. Your best bet at this game is the pass line, where you're betting the shooter will roll a winner. Seven or 11 wins on the first roll. Two, 3 and 12 lose on the first roll. (These are known as craps, which is how the game got its name.) Any other number becomes the point, and the shooter must roll that number again before rolling another 7.
Once the shooter has a point number (4, 5, 6, 8, 9 or 10), then take odds by placing an additional bet behind your wager on the pass line. By taking odds, you're getting the true payoff for that number, giving the casino no advantage over you for your odds bet.
Equally as good is a come bet, where your bet "comes" to the next number that rolls, and then take odds on that bet as well. Most experts agree that a bet on the pass line with the odds and two come bets is the wise way to play, giving the house an advantage of 1.41 percent for your pass line and come bets, and only 0.8 percent for single odds. There are only six point numbers, and by making three bets you've covered half of them. Stay away from the proposition bets; the house edge on these can climb as high as 17 percent.
If you simply must play the slots, consider video poker, the machine that lets you decide whether you win or not. The best of the bunch is full-pay Deuces Wild, which offers a payback of 100.7 percent long-term when you use optimum strategy. (Full-pay means that a full house pays nine coins; a flush pays six coins.) The beauty of this game is that a royal flush pays $1,000 when maximum quarters are played, and four deuces gives you a nice secondary jackpot of $250. The simple strategy is simple. On the deal, keep deuces, any three cards to a royal flush, any four cards to a straight or flush, three of a kind or a pair. The drawback is that anything under a royal flush pays less than other video poker machines.
Which bets should you avoid making in a casino? There's a battery of them lurking in every corner, including parlays and teasers at the sportsbook; keno; the big six; betting the extra dollar on the progressive jackpot at Caribbean stud or Let It Ride; betting on a tie hand at baccarat or Casino War; the five-number bet at roulette (0, 00, 1, 2, 3); and nickel slot machines. Casinos generally keep around 15 percent of the "drop" on nickel machines, compared to 3 percent on dollar machines. Here's the reason: Three percent of a dollar is 3¢; 15 percent of a nickel is less than 1¢. In order for the casino to make the same percentage on a nickel machine, it would have to hold 60 percent! At 15 percent, you're getting off easy.
Of course, there's plenty to do in Las Vegas without gambling. There are scores of great restaurants, top-notch nightclub acts in just about every casino showroom, and enough shopping malls to satisfy even the most hardened consumer. Since most of us only have four days and three nights to do it all (according to the Las Vegas Convention & Visitors Authority), spending that time wisely is a priority.
Remember to make reservations in advance for shows. The concierge in your hotel can handle it for you. If your hotel doesn't have a concierge, then go to VIP services. Remember, though, that tickets for Siegfried & Roy or an extravaganza like "O" will run you around $100 a person.
Instead, you might want to put that time to better use (and save a coupla hundred bucks in the process) by taking in a free show. Just about every casino in Las Vegas has a "hook" to get you inside its towering walls. The best of these include
Sea battle at Treasure Island between a British frigate and a pirate ship. Every 90 minutes after 4 p.m. (Watch from across the street where it's not so crowded.)

Dancing fountains at Bellagio on the eight-acre lake fronting the hotel every 30 minutes.

Volcano eruption outside The Mirage, every 15 minutes from dusk to midnight, weather permitting.

Masquerade Show in the Sky at the Rio, an interactive extravaganza with a parade of sky floats on an overhead track looking down on the casino. Every other hour throughout most of the day and evening.

Festival and Atlantis fountain shows at the Forum Shops at Caesars Palace. Every hour on the hour. (Get there 15 minutes early for the best spot.)

Fremont Street Experience under a five-block canopy downtown. Programmed by 32 computers, over two million lights create vivid animated images synchronized with music and sound. The seven-minute show starts every hour on the hour, beginning at dusk.

There's also the Bellagio Conservatory with over a thousand bins of exotic plants and flowers (changed seasonally); the Lion Habitat at the MGM Grand; the Elvis Collection at the Las Vegas Hilton; and a battle between a fire-eating dragon and Merlin the Magician every hour on the hour in front of the Excalibur. (Guess who wins?)
If you really want to save money, look for funbooks and coupons which are yours for the taking in Vegas welcome centers or noncasino motels around town. Or, check inside one of those freebie magazines you can find in any hotel lobby. Coupons are redeemable for all kinds of discounts, two-for-ones and free souvenirs. Some travel agents and package tour reps also hand them out when you book your trip.
Ask the hotel where you're staying for a refrigerator. There's usually a minimal charge for this service, and now you can keep drinks, fruit, sandwich meats and leftovers in your room. If your hotel doesn't have coffee makers in the room, bring one with you and save more money by not using room service every morning.
Catch your favorite sporting event in a casino sportsbook. The chairs are comfortable, the drinks are free (sometimes they even have free eats), and you don't have to make a bet unless you want to. Use the CAT (Citizens Area Transit) bus system or trolleys to get around town. The trolleys look like old San Francisco cable cars, and stop right at the entrances to all casinos on the Strip.
Remember, too, that the days of cheap eats in Vegas are long gone. Many of the casino restaurants are leased operations that don't participate in casino revenues. Therefore, their pricing reflects the true cost of operations like it does everywhere else in the country. Buffets are the way to go now, and every casino worth its salt (and pepper) has one. You get to eat as much as you want, and—unlike some gourmet restaurants—you get the food during the same calendar year. Another great food bargain is the early morning breakfast, available in some of the smaller casinos between midnight and 6 a.m. In order to get you inside the casino, these places put out a lavish breakfast for as little as 50¢. Check newspaper ads or hotel marquees.
If you want to do it right, though, plan one special dinner in a special place. It will be a night you'll long remember, even after your trip to Vegas is a distant memory. Not sure which gourmet restaurant to try? Ask someone at VIP services, or another casino employee. Most of them will be flattered if you do. A word of warning: Order iced tea with your dinner, and take advantage of free refills. You'll save big bucks by not drinking wine or mixed drinks, which is where restaurants make much of their profit. Unless, of course, good wine is a priority for you—and there are plenty of great wine lists in town.
Las Vegas is not so much a place as it is a state of mind. Approach your trip with the idea that gambling is nothing more than entertainment, in its rawest and purest form. So if you jet to Vegas expecting to lose a few dollars and have a lot of laughs, chances are you won't be disappointed. Not when you hear an avid blackjack player tell his friends, "It's easy to win, you just have to be the cards." Not when you see a furious pit boss yank the dice off a crap table after six passes and smell them. Not when you watch a slot player put a solitary coin in the money tray before playing… for seed.
Not when you realize that when you buck the casino, you're like David going against Goliath, only Goliath's got the slingshot. Of course, the casinos can quote from the Scripture, too.
"Lo, he was a stranger, and we took him in."

Barney Vinson's new book Ask Barney is filled with hundreds of questions and answers about Las Vegas. It's available at bookstores everywhere, or from Bonus Books at 800-225-3775.
Vegas 101.