The Skill Factor in Slot Machines
Video games and slot machines converge to create a new casino experience
By Rob Wiser
The impact of video gaming has not been lost on slot manufacturers. It's impossible not to notice how the machines have shifted towards flashier, arcade-style presentations, with plasma screens, booming speaker systems and sophisticated graphics. With titles such as Star Wars and Top Gun, the experience is practically cinematic
Today's young adults have grown up with the Internet, gadget-packed cell phones, iPods and other devices that often leave parents scratching their heads. But the high-tech phenomenon that has really exploded with the younger generation is the video game industry. Though video games have been around since the 1970s—whether in the arcades, or played at home on your Atari—their popularity has soared due to blockbuster game titles released for the PlayStation, Xbox, and other state-of-the-art home consoles.
Video games have, in fact, begun to dominate the U.S. entertainment industry, generating nearly $20 billion in sales last year (including playing consoles and accessories). Back in September 2007, the game Halo 3 grossed a staggering $170 million in U.S. sales in its first 24 hours, making it by some reports the largest debut in entertainment history. By comparison, the biggest Hollywood blockbuster that year, Spider-Man 3 generated $151 million over its opening weekend.
The impact of video gaming has not been lost on slot manufacturers. It's impossible not to notice how the machines have shifted towards flashier, arcade-style presentations, with plasma screens, booming speaker systems and sophisticated graphics. With titles such as Star Wars and Top Gun, the experience is practically cinematic—and the action goes far beyond tapping a button and watching the reels spin.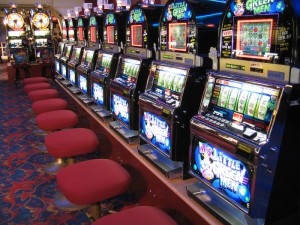 Targeting the Next Generation
Casino guests are getting younger. In Las Vegas, ultra-hip nightclubs draw thousands of young people to the Strip every weekend—and they travel with plenty of disposable income. Yet slot floors remain pretty predictable, if only because slot players, who tend to be older, demand a certain level of familiarity. The randomized spin is still the standard game after more than a century. Technology inspires innovation, but underneath it are the same devices we've been playing for years.
What will happen as the older generation of players is replaced by younger customers who have different expectations when they spend money on entertainment? Can the allure of a Blazing 7s machine compare to playing Halo on a giant home theatre system? Or can the two be merged?
Behind the scenes, this question is already being addressed. Skill-based (or "fully interactive") games, which combine the thrill of chasing jackpots with a video game-style experience—in other words, rewarding manual dexterity or mental acuity—are on their way. This defies a long-standing misconception that all slot machines must be games of chance. Most people are under the impression that skill-based video games would not be allowed in a gaming floor.
Early attempts at skill-based slots (the more accurate term is "perceived skill") have included titles like Battleship from Progressive Games International (formerly Mikohn), which arrived in casinos back in 2000. With this machine, the internal random number generator selected a field of several possible results, and the player used his wits to find the best bonus. As in the famous board game, ships were placed in predetermined locations on a grid, and the player had to find them and sink them to win the bonus amount. In Progressive's Ripley's Believe It Or Not! game, correct answers to multiple-choice trivia questions yielded higher bonuses.
Games like these gave the illusion of being skill-based. The outcomes of the bonuses were predetermined, and you had to be lucky to reach the bonus round in the first place, so it wasn't as if being a trivia wiz or a great board game player guaranteed you a profit.
Amusement game laws vary by jurisdiction, but usually prohibit wagering on the outcome of a game. You feed coins into the machine simply for the experience of playing; if it paid out winnings, it would fall under the category of a gambling device. Slot machines, however, are gambling devices—each state designs its regulations to ensure a fair gamble, and even defines what constitutes a "gambling device."
Historically, this has meant that slot machines are games of chance, and video games involve skill—but it doesn't necessarily mean it is illegal to combine the two elements. Most gaming regulators are receptive to slot machines that include a skill component. In Nevada, Gaming Control Board member Mark Clayton remarked that he was "dumbfounded" that manufacturers hadn't yet presented skill-based video games for consideration, in light of the soaring popularity of home video games. "There is no formal policy that would preclude skill-based games," he says.
Fact is, the slot manufacturers have already gotten started. Last year, Bally introduced a slot machine version of the classic Atari game Pong, in which players knock a ball back and forth between two paddles. The casino version plays like a typical slot machine until the player reaches the bonus round. This triggers a 45-second game of Pong, with the player competing against the computer. The amount of the bonus depends on how well you play.
This simple bonus feature, based on the most primitive of video games, is an industry milestone. Pong is the first slot machine that allows hand-eye coordination to affect payout. It was approved by Michigan's Gaming Control Board and installed in Detroit's casinos, as well as Connecticut's Mohegan Sun. Before the Nevada Gaming Commission approved it, they wanted to make sure the bonus round offered some type of minimum payout, regardless of the player's ability. That only seemed fair for a bonus round, after all.
Bridging Two Worlds
From a technical standpoint, incorporating a skill element wouldn't be a big leap for slot manufacturers. Some of the biggest names in the industry have been involved with both types of games for years. Bally Technologies originated with a pinball game called Ballyhoo, and in the late 1970s and early 1980s, its former subsidiary Midway Gaming brought to the United States two of the most popular arcade titles in history: Space Invaders and Pac-Man.
Bally has kept up its involvement with traditional arcade games, but its focus is on slot machine development and casino management systems.
The Konami Corporation has also had success with both gaming formats. The Japanese-based company originally rented and repaired jukeboxes in the early 1970s, and over the following decade it developed classic video games for the Nintendo console, including Contra, Metal Gear and Castlevania. Konami entered the casino world in the late 1990s, applying its creativity and technical know-how to supply popular slot machines.
IGT, the biggest slot manufacturer of them all, has never been in the video game industry, though it has introduced many of the high-tech innovations that have made slot machines more of an arcade-style experience. The company has secured several patents that relate to "perceived skill" games, which appear to reward players based on how well they perform a certain action, although the outcomes are predetermined. Last year, IGT partnered with Sega Gaming, a major video game developer, to create a slot game called Three Kingdom Wars. We could see more of these partnerships in the future.
Cyberview Technology is another company that is actively developing video-slot games. In one of its titles, called Galaxium, the buttons normally used to draw or hold video poker hands are instead used to move a spaceship from side to side, or forward and backward. In another pinball-style video slot, The Big Score, the buttons are used to control left and right flippers. With these two games, the player purchases a set amount of time. As the pinball or spaceship comes into contact with various objects, the machine registers a win or a loss. The goal is to keep racking up points while your credits tick down for every second that elapses.
A highly skilled player is not guaranteed to make money—these are still slot machines. By playing well, you experience an average result closer to the odds of the game, while less skilled players will experience more volatility.
Another Twist on the Technology
Las Vegas-based Shuffle Master has also combined slot technology with a skill element, but in a different way—by installing random number generators in table games. Titles like Rapid Roulette, DigiDeal's Digital 21, and Novomatic's TouchBet roulette combine the excitement and social interaction of table game play with the high-tech graphics and automation of slot play. Some of these electronic blackjack and roulette tables feature a pre-recorded, life-size image of a dealer, while a random number generator determines the cards you are dealt or the outcome of the spinning wheel.
Although they play like tables, the technology behind these games makes them slot machines. This has enabled casinos in states where regular table games are not allowed to offer a table-playing experience.
As slot machines take on more arcade-like qualities, one aspect will remain constant—all of the new concepts and titles will be subject to strict testing and oversight. This makes it unlikely that we'll see any dramatic leaps forward in the near future. There is also concern among gaming experts and manufacturers that players will need time to grow accustomed to the idea of skill-based slot machines.
It's going to require a considerable amount of time before skill-based slots make a significant impact on gaming floors. Patenting, developing and testing these games of the future—and getting them licensed—could take years. But once these games begin to arrive, it could be a watershed for the industry. For future generations of slot players, the reel spinners we enjoy today might seem as primitive as Pong.
Video games and slot machines converge to create a new casino experience.