Swimming With The Sharks poker tournaments
Finding and capitalizing on the best Las Vegas poker tournaments
By Kevin Blackwood
"Headhunter" tourneys are quite fun and actually provide advantages for sharp players, since many participants aren't aggressive enough in trying to knock their opponents out to win the bounty.
In my home state of Oregon, there aren't many options for live poker tournaments. Other than a few big events that I play each year at Spirit Mountain Casino, it's fairly slim pickings.
In contrast, Las Vegas offers a wide buffet of tournaments. Besides the major events throughout the year that draw top players from all over the country, there are also smaller daily tournaments in nearly every casino. With that in mind, I decided to join two friends of mine for a trip to Sin City to try our luck in these daily tournaments.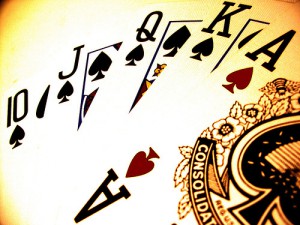 The first tourney I played was at Harrah's on the Strip. It has a fairly small poker room that is slightly dated, but despite the old-school look it had a nice ambience. One thing I really liked was that it didn't have a steady stream of loud announcements interrupting the music piped into the room.
This was a $60 bounty tournament with one optional re-buy for $40 more. The field was small, just four tables, and consisted of mostly tourists. It's fairly easy for savvy players to get an edge against this type of competition and I ended up cashing in third place.
The next day I decided to check out the Wynn. I had never played poker there before, but knew it was a beautiful property from my blackjack days. On the weekend its daily tournaments are $300 plus a $30 fee.
The poker room at the Wynn is fairly small but nicely designed and very classy. I expected a bigger crowd at this hip and happening casino, but again the field was fairly small with only 42 players starting out.
One nice feature of this tournament is that you play with deep stacks, which made a huge difference for me since my pocket aces were cracked on the very first hand. But even though I lost $10,000 in chips right out of the blocks, the large $30,000 chip starting stack gave me enough of a buffer to fight my way back. I eventually reached the final table in third place, and once it got down to six players, we did a chop with each of us winning $2,000.
The money was nice, but one thing I didn't like about this tournament was that up to eleven players were allowed per table. Consequently, seating was rather cramped and the extra spot at the table slowed down the pace of play.
After taking a day off to try some cash games, we decided to enter the Venetian's noon tournament. This was a $150 buy-in event and it had a much larger field than other Vegas dailies. I played on a Monday and 144 players had signed up.
Things started well and I seemed to be headed for another payday until my aces ran into trips. It's always disappointing to crash out that way, but overall I had a good experience at the Venetian. The tournament was extremely well-run and very organized. Despite losing, this is a tourney I will definitely play again.
The last daily tournament I tackled was at the Treasure Island Casino. Its poker room is small, but the staff is friendly and the atmosphere inviting. The event was a $100 buy-in with a $25 fee. An interesting feature of this tournament is that half of your entry fee goes into the prize pool and the other half goes toward bounties. So every time you knock out a player, you win $50.
These "headhunter" tourneys are quite fun and actually provide advantages for sharp players, as many participants aren't aggressive enough in trying to knock their opponents out to win the bounty. I ended up finishing third and this is a tourney I would like to play again. However, the one negative for the Treasure Island tourney is that the vig of $25 is pretty steep, particularly since it has a re-buy option and the $25 rake is charged each time.
—————————————————————————
Poker By The Numbers
There are several good Web sites that can give you schedules for Las Vegas tournaments. The site I used was allvegaspoker.com. It has up-to-date information for nearly every daily tournament in Las Vegas.
One great thing about this site is the truckload of details it provides. Click on any casino and you can find out the blind structure, starting stacks, average number of players, and approximately how long the tourney should take. This is valuable data and helps ensure that you can find the best tournament for your bankroll and schedule.
—————————————————————————
Play Like The Pros
By Blair Rodman, guest contributor
In most casinos, out-of-turn action is binding at the poker tables. It generally occurs when someone isn't paying attention, but it is sometimes done deliberately, which can create a serious ethical breach.
I was playing at the Aussie Millions a few years ago and made a bet into two players. The next player to act was considering his options. One factor he had to consider was what the player to his left might do—that is, until that player got up and walked to the bathroom, abandoning his hand. This made my opponent's decision much easier and made me very angry. You should always respect the game and your opponents.
Blair Rodman has won a WSOP bracelet and is the co-author of the popular poker book Kill Phil.
—————————————————————————-
Deal Or No Deal?
One area where you might get a big edge in the daily tournaments is near the end when players around the table are anxious to make a deal. If you are stronger than your opponents, in most cases you should turn down deals and play for first place.
However, I was shocked at the deal offered in our tournament at the Wynn Casino. The two chip leaders wanted to split the prize pool six ways, even though they were way ahead of everyone else. This was a bonanza for the two short stacks at the table. Such inequitable splits can happen if players are not focusing on the long run and are overly concerned with locking in some profit for the day.
——————————————————————————
Kevin Blackwood has written three books, including Legends of Blackjack and Casino Gambling For Dummies. More information about his books can be found at www.KevinBlackwood.com.
Finding and capitalizing on the best Las Vegas poker tournaments.