Sun, Sand and Straight Flushes in Poker
Cruises create a poker player's paradise
by Len Butcher
Sun. Sand. Straight flush. What more could anyone who loves traveling and playing poker want? And that's just what Classic Gaming Cruises offers, including a lot more, for those looking for the perfect vacation.
Classic Gaming Cruises have been operating for more than 10 years, building an excellent reputation along the way and creating many memorable moments for its passengers. Cathy Maura, director of cruise operations for the company says business has never been better and looks forward to their 2007 lineup of five exciting cruises.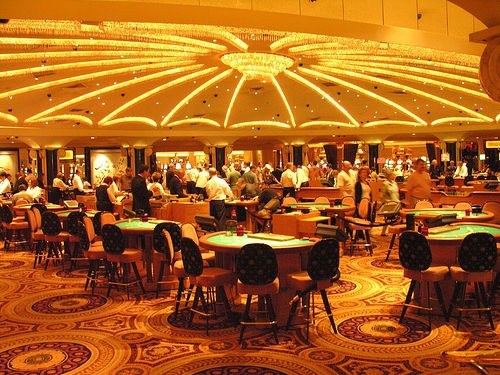 "We've added a slot cruise for the first time this year, which sails February 11 out of New Orleans to the Western Caribbean for seven days. We're very excited about this as all of our cruises until now have been poker cruises."
The poker cruises begin March 25 with a 7-day exotic Caribbean cruise out of Miami aboard the Carnival Valor. This is followed by another 7-day cruise from New York that takes players to the Bahamas and Bermuda aboard the Norwegian Dawn. In August, you'll head in the opposite direction for seven days as you sail on the Norwegian Pearl from Seattle to Alaska. And the last cruise of the year begins in Los Angeles about the Norwegian Star that will take you on an 8-day tour of the Mexican Riviera. Lots of variety. Lots of fun.
Maura, who takes care of all the operations from beginning to end, including contracts, setting up cruise dates, staffing, functions on board for the players, says the company uses Norwegian Cruise Lines, but the first poker cruise this year will be aboard the Carnival Valor. "The reason for this," she says, " is that the prices are unbelievably good, begining at only $425. That's hard to beat for a 7-day cruise."
The poker cruises will draw anywhere from 200 to 250 people. "We have had fewer," says Maura, "but it's usually in that 200-250 range. We bring seven to 10 tables, depending on how many have signed up for the cruise, so our players always have a table available. This is why we limit the number of players. We don't want them waiting to get a seat."
Gene Trimble, poker room manager at the Palms Casino & Resort in Las Vegas, acts as poker room manager on board. and all our dealers are very experienced, many of them from Las Vegas poker rooms. He says he's been managing the Classic Gaming Cruises poker room at sea since 1994, "when we did our first one out of New Orleans. We use experienced dealers, many who work in Las Vegas poker rooms. These cruises are the best and cheapest vacation a person can get. Being able to play poker on a cruise is a big plus for those who play poker, and over the years, we have had enough past cruisers that they seem like reunions. It's a great way to spend a vacation."
Maura agrees, pointing out that the poker players are still a part of the whole ship, getting all the amenities provided for the other non-poker playing passengers. But they get extra with us as we have welcome and farewell parties, gifts and of course, their own room to play poker whenever they want.
"We offer two to three poker lessons a week for beginners," says Maura, "followed by low-limit games ($2-$4) for them. We also usually have three tournaments. One is what we call a past cruiser tournament, which is free. Once you've cruised with us, you become a past cruiser. Then we do two buy-in tournaments—one is for a $125 buy-in cash tournament. The second is a $150 buy-in tournament and that's for one of the $10,000 seats in either the World Series of Poker or one of the World Poker Tour tournaments. The other $10,000 seat is won through a drawing at the farewell party.
"When they initially book a cabin, they get 25 tickets and as they play in the poker room, we give out additional tickets for different things. So some people end up with 75 to 100 tickets and your odds are great because if there's 200 people on the cruise the odds are only 200 to one to win a $10,000 seat in the richest poker games in the world." she points out that Classic Gaming Cruises is the only company offering poker cruises that gives away two $10,000 seats.
As for the type of people who sign up for the poker cruises, Maura says, "We get a real mixture of players, from beginners to those more experienced and all ages. We very seldom get pros on our cruises so players don't have to worry that they're going to be playing against world-class poker players.
"Most of them just want to take a vacation, but because they love playing poker, this is the perfect cruise for them. The only time they can't play is when the ship pulls into dock at the different stop-off ports. These are fun poker players as opposed to hard-core poker players."
The poker room stays open as long as anyone's playing, so if there's players up at three or four in the morning and want to play, "we accommodate them. The poker room has bar service all day long, and food is set up from morning to end of play so that they don't have to leave to get something to eat or drink if they don't want to."
However, if the players do want to take a break and feast on the sumptuous food served on board, they can dine whenever they want. It's called freestyle dining which means there are no set times for breakfast, lunch, dinner. "This is one of the reasons we use Norwegian Cruise Lines."
Maura says "40 percent of our players are past cruisers so they've become like a family and it's very comfortable for them as well as a lot of fun. It really is a great way to travel and at an affordable price."
Here's a tip: If you book within 185 days of the cruise, you receive a gift from Classic Gaming Cruises, which could be his and her leather bags, jackets, or a good pair of binoculars for the Alaskan cruise. If you don't decide until the last minute, Maura says you can book up to a few weeks before the cruise as long as she can get cabins, but it's best to book as early as possible.
To take advantage of any of these great cruises or for more information, call 702-740-2256, 877-736-8516 or email cmaura@casinocenter.com
Cruises create a poker player's paradise.