Strolling the Boardwalk
The two latest "Monopoly" slots from WMS Gaming continue one of the most successful franchises in the slot world
by Frank Legato
Some brands never grow old.

     Placing branded themes on slot machines began in earnest during the late 1990s, and a few of those first few big-name themes, like "Wheel Of Fortune" and "Jeopardy!," survive to this day in a variety of new slot machines.
But no brand among those first few themed slots has had the legs of the one based on a Depression-era Atlantic City-themed board game that everyone remembers from childhood.
"Monopoly" from WMS Gaming has been a slot subculture since 1998, when the first four Monopoly slots—two reel-spinners; two video slots—brought the classic Monopoly board to slot machines for the first time.
As it turns out, Monopoly was tailor-made for a long run as a slot theme—the characters, scores of outcomes, mystery prizes and iconic sub-categories like Chance, Community Chest, railroads and utilities are still providing ideas to slot developers. In the more than 40 Monopoly titles that have been released since 1998, there is remarkably little repetition in how the Monopoly board game translates into a bonus event.
All of them draw on the central bonus feature, a replica of the game board from the classic Monopoly. "Monopoly is really a deep license," says Jamie Vann, principal game designer of "Monopoly Party Train," one of two new Monopoly slots from WMS. Vann and Shawn Collette, principal game designer for "Epic Monopoly," the other new release, say there is always a new Monopoly game on their design schedules, and there is never a shortage of new material.
"Every time we approach the theme," says Vann, "we seem to find some aspect of the actual board game we haven't done—or haven't done for a long time. We've been doing it so long that it's great to sometimes use the new technology to revisit some of the things we've done in the past."
Brad Rose, executive director of game development for WMS, adds that player research has helped improve the Monopoly games. "We're constantly asking players what they want to see, what features they want to play," he says.
Invariably, the answers have one thing in common—they revolve around the basic experience of the board game. Players love going around that Monopoly board. "Players love being able to roll the dice and have the opportunity to run around the board and get all the things available there," Rose says. "It makes it a new, fresh and unique experience every time."
Latest and Greatest
The latest two additions to the series add fresh variations of that Monopoly bonus experience, in classic five-reel and new "Super Multi-Pay" base games. The cabinets provide a grand stage for the bonus events, with standard-size reel displays triggering large, portrait-style vertical LCD monitors for bonus rounds.
Monopoly Party Train is a title used in a couple of past Monopoly slots, but never in a game that is packed with this many bonus events. The main theme centers around the railroads of the Monopoly board, and free-spin bonuses can be enhanced by the player's position on the board when the bonus is triggered.
Randomly after any base spin, a cow can appear on the board to initiate a bonus called the "Move" feature. The player moves clockwise around the Monopoly board in the top screen until randomly stopping on a property for a credit award, or one of several "mini-bonuses." If passing a railroad, the player  "switches trains" to ride that railroad until the end of the feature or until they pass another railroad.
There are seven possible mini-bonuses, each based on a different part of the Monopoly board. Landing on "GO, "Jail," "Just Visiting" or "Free Parking" triggers a screen in which you select five cards for a multiplier up to 100X. A wheel then spins to a credit amount to which the multiplier is applied.  "Community Chest" awards a multiplier up to 20 times the base game award, plus a credit bonus. "Chance" adds from two to 15 wild symbols to the reels. "Electric Company," "Water Works," "Park Place" and "Boardwalk" each have their own card-picking events. Landing on a railroad will trigger the free-spin bonus.
When the free-spin bonus is triggered (in the Move Feature or a base-game combination) the player gets two rolls of the dice to move around the Monopoly board in the top screen, starting at GO, Just Visiting or Free Parking (the starting point depends on the number of triggering symbols). The spots the player lands on the board determines the number of free spins, but the free spins are enhanced depending on which railroad the player is riding when the free spins are triggered—higher board values for Reading Railroad; two wild reels for every free spin on the Pennsylvania Railroad; up to a 20X multiplier for every free spin on B&O; a third dice roll to start the bonus when riding on the Short Line.
The railroad feature essentially allows for four different free-spin events, each with a unique look. "Every train has its own look, so the game will look different according to what train you're on," Vann says.
Before each spin in the bonus, players select from six options to enhance the spin with a wild reel or multiplier. If two or more bonus symbols appear during a free spin, the player gets another dice roll for more free spins, with that multiplier or wild reel in place for the additional free games.
Epic Monopoly is the first multiple-array style game to be placed on the Monopoly series. The base-game screen displays four reel sets—one prominent screen and three smaller ones. Each is a 20-line screen, but when all are active, it is an 80-line video slot. Wild symbols and bonus symbols appearing on the main reel set transfer to the three smaller screens. A minimum bet activates all four of the reel sets for 50 credits. (Sorry to those who like to bet lower than 50 cents a spin; WMS wanted everyone to get the full effect of this game.)
With all four reels going, the hit frequency is almost 60 percent, so it's quite an enjoyable base game. Retro art on the big bonus screen starts any of six different bonus and special reel features. Randomly, Mr. Monopoly appears on the screen to award up to five "Epic Wild Reels." The wild reels on the main screen are duplicated on all three smaller reel sets. Or, Mr. Monopoly could award "Epic Multipliers," which randomly awards multipliers of up to 5X on each reel set.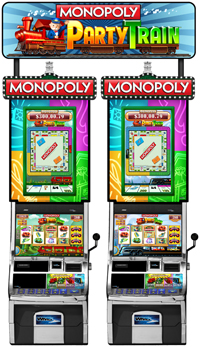 Three or more bonus symbols trigger the "Epic Bonus,' in which the player is given one to four spins on the "Epic Wheel," for credits, "Epic Chance" or "Epic Free Spins" features, or the main "Around the Board" bonus. Epic Chance is a pick from five Chance cards for credits, free spins, multipliers or a dice roll for the Around the Board bonus. The free spins play out on a bonus reel set.
The main Around the Board bonus awards dice rolls to move Mr. Monopoly around the game board, for credits, multipliers and additional dice rolls.
Monopoly Party Train launched last month; Epic Monopoly will launch in January. If past practice is any indication, there will be at least one more Monopoly launch sometime next year. "Approximately every nine months, we refresh the Monopoly brand," says Rose. "Additionally, any time we have a new platform or new technology to launch, we'll put it on Monopoly first."
WMS has traditionally launched new game formats with at least one Monopoly game. The "Community Gaming" networked platform was launched with "Monopoly Big Event." Transmissive Reels was launched with a Monopoly game.
Whenever WMS comes up with a new way to play slots, it seems Mr. Monopoly introduces it to us. "This is one of the leading brands in the industry," says Rose. "With any opportunity we have to come out with something new, Monopoly is going to lead the pack."
Rose says the next 12 to 18 months will see WMS launch "groundbreaking technologies, new hardware, techniques that will change the slot floor."
And of course, he says, "Monopoly will be right out front." •
Visit WMS on YouTube (www.youtube.com/wmsslots <http://www.youtube.com/wmsslots> ) and Facebook (www.facebook.com/wmsslots <http://www.facebook.com/wmsslots> ) to learn more about the latest Monopoly slots, and use #MonopolySlots to discuss the new games on Twitter.
Monopoly Party Train SLOT TYPEFive-reel mechanical slot with "Transmissive Reels" video technology; wild reel feature; random multipliers; video top-box picking bonus; free-spin and picking "mini-bonus" features; penny denomination 
PAYBACK % RANGE
86%—96%
AVERAGE HIT FREQUENCY
44%
TOP JACKPOT
Progressive: $250,000 reset
Non-Progressive: 600,000 credits
________________________________________
Epic Monopoly
SLOT TYPE
 "Super Multi-Pay" video slot with four sets of five reels; 20 paylines each reel set; wild reels feature; picking and free-spin bonus events; penny through $50 denominations
PAYBACK % RANGE
86%—96%
AVERAGE HIT FREQUENCY
59.65%
TOP JACKPOT
30,000 credits