State of the Art Slots
The industry's top manufacturers unveil their latest innovations
By Rob Wiser
If you want to peer into the future of casinos, look no further than the slot floor. While the most popular table games have remained virtually the same for decades, each year brings eye-popping innovations, clever new concepts and technological breakthroughs to the world of slots. The modern slot floor is a showcase for the latest in video and audio technologies, as well as the hottest trends being embraced by players.
Behind the scenes, the top manufacturers are spending millions to develop new products that capture the attention of players. No detail is overlooked in trying to provide players with the ultimate experience—from high-definition video, to plusher seats, to slot adaptations of game shows and Hollywood blockbusters.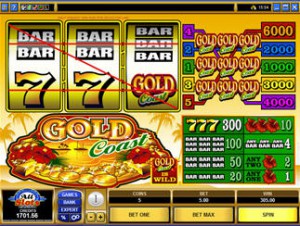 Competition among the manufacturers is fiercer than ever. Room for new titles on casino floors is scarce, and if a game doesn't strike a chord with players it could just as quickly be retired to the slot graveyard. To this end, the top companies in the industry employ teams of game designers to create titles that are tested exhaustively, picked apart by focus groups, and analyzed a thousand different ways before they ever arrive on casino floors. This process results not only in hit games, but in important breakthroughs that raise the bar for the overall industry.
Strictly Slots spoke with a number of major slot manufacturers to learn about their latest breakthroughs, as well as their predictions for what the future holds. In the coming months and years, slot floors will be transformed in a number of ways. The next big revolution on every manufacturer's mind is "server-based" gaming, which would allow casinos to control every slot on the floor from a central computer server. With the touch of a button, any machine on the floor could offer any type of game at any denomination.
But don't think the slot floor of the future will consist of endless banks of identical-looking cabinets. The manufacturers also point out that the success of Wheel of Fortune Special Edition Super Spin, currently the biggest attention-grabber on any slot floor (we'll discuss this game more in a moment), is sure to inspire more "multi-player" games that are changing the very nature of what it means to play slots. Since the beginning, playing a slot machine has been a solitary pursuit: you versus the game, a completely different experience from participating in a game of blackjack or craps. But even this is changing as the industry rockets forward into the future.
From Concept To Creation
Leading the pack is the billion-dollar juggernaut IGT (International Game Technologies), which is constantly rolling out new games and products that often become widely emulated. "We have a Product Development group that steers the creation of the software, hardware, video and audio for the games," explains Jean Venneman, vice president of product management for IGT. "We also have an IGT Labs team that is envisioning and creating products years into the future. IGT uses a casino field test for its new games called 'Power Score'; we [compare] our new games against all the most popular themes already on casino floors, so we know the new games will measure up earnings-wise before they're released for sale."
Another leading slot manufacturer, Bally Technologies—an innovator for the past 75 years, responsible for hit titles including Blazing Sevens, Bonus Frenzy, Quick Hits, Monte Carlo and Hot Shots—favors a "studio environment" where "all the required disciplines come together with a focus on game development," according to Michael Mitchell, the company's vice president of game development.
"Game ideas can come from the game producer, and/or the engineer," he explains. "Each studio has approximately 10 developers all working together to create compelling games. Bally also has a 3rd Party program whereby game inventors can work together with us to develop their ideas. The program has different levels; [in some cases] an inventor submits a game concept to Bally, and we handle the design, development and engineering. Or, a qualified designer might complete the design, development and engineering using our Developer's Kit. Each studio has an embedded tester who tests the game from the early development stages through release. The game then also goes through another rigorous and separate evaluation before it's released to Compliance."
In 2006, IGT's painstaking development process yielded a grand slam: Wheel of Fortune Special Edition Super Spin, which took the concept of the most popular slot machine in history and "supersized" it to create a unique interactive experience. This huge contraption, which attracts not only players, but crowds of curious spectators, allows up to nine players to sit around a giant spinning wheel and chase massive progressive jackpots and free spins together.
IGT has a long history of introducing revolutionary ideas and products. "Our company came into being with the success of video poker, [which was then] a truly innovative gaming concept," Venneman recalls. "We invented it, and we took it into a new realm through our Action Gaming partnership with the multi-hand approach of Triple Play Draw Poker. IGT then introduced the themed slot machine with games like Red, White and Blue and Double Diamond, which are still on casino floors.
Our Megabucks wide-area progressive, the first of many MegaJackpots games to follow, made million-dollar jackpots possible for all players, and for all casinos. Another IGT slot innovation was the use of a licensed entertainment theme in conjunction with a game. With the addition of a bonus wheel in the top box, that idea resulted in the magical recipe that is Wheel of Fortune."
New Sensations
Recent IGT technological innovations include the M-P Series multi-player experience—first seen with the Wheel of Fortune Special Edition Super Spin product—along with multi-level progressives on a spinning-reel platform, which has made their Red Hot Jackpots series a hit with players. Yet another envelope-pusher will be an IGT concept called "Guaranteed Play," which will be introduced on video poker games. "It's a revolutionary idea that lets a player buy a set number of hands or games for a fixed price, instead of purchasing machine credits," says Venneman.
Bally Technologies, meanwhile, is achieving breakthroughs with video technology, equipping their games with high definition "wide screen" formats. Bally's Cinevision cabinet combines the use of a 26″ wide screen display to create what it calls a "play station," immersing the player in the gaming experience.
"Both Cinevision and the soon-to-be-released Cinereels offer the player a comfortable and secure setting, with high-quality sounds and graphics," says Mitchell. "The combination of modular hardware, Alpha OS, and our experience with reel spinning games has lead us to the S9000, which has been well received by both casino operators and slot players.
"We're seeing dual-screen, high definition wide-screen products becoming increasingly more important as gaming floors prepare for multi-game [machines] and downloadable and server-based gaming," Mitchell adds. "The reel-spinning slot machine is also very strong at the moment, as they can now provide the players with many of the same game attributes and experiences as video. And Bally is offering casino operators great flexibility, with our modular cabinetry along with our common Alpha operating system."
Many of these advances were introduced at G2E, the industry's biggest trade show, held in Las Vegas each year. "We debuted our 'Tri-Innovation' of products at G2E [in 2006], based on foundational technologies which provide a unique experience unlike any other currently on the floor," says Rob Bone, vice president of marketing for WMS Gaming. "Our first foundational technology is our Big Event server, which is utilized in our 'Community Gaming' category of products. The server communicates with each game on the bank and enables communal bonus events that allow all eligible players to partake in a bonus round, together as a group."
The first WMS title to boast this technology is called "Monopoly Big Event." Upcoming titles like "Press Your Luck" will build upon the group experience that promises to become a staple of casino floors.
"Our second foundational technology package is our next generation processor board, CPU NXT2, and our Bose 3Space audio system," Bone continues. "These technologies are combined within our 'sensory immersion' category of products, which allow for real-time 3D graphics and a multi-sensory audio experience unlike any offered before. The debut product in this category is 'Top Gun,' where players can feel as if they are in the cockpit of an F-14 in a quest to collect pays and achieve Top Gun status. Our next sensory immersion title will be 'Wizard of Oz,' which will take all the benefits of CPU NXT2 and the Bose 3space audio system to another level."
At G2E, WMS unveiled a new category of titles which feature a revolutionary technology called "Transmissive Reels Gaming." These titles combine the best of mechanical and video reel game design into one package. "This is accomplished through 3D graphics that are displayed all around the mechanical reels, as well as on top of the reels, to allow for unlimited mathematical outcomes and opportunities to win," says Bone. "This category of product is truly one that you have to see to believe."
Players will see WMS' Transmissive Reels games, along with their new title "Monopoly Super Money Grab," this summer. "Each of these technologies and corresponding product designs are 'category creators,' providing unique experiences that players have never been offered," Bone states.
"Slot games are getting more entertaining for the player, with more intense graphics and more interactive bonus rounds," says Krista Colonna, marketing manager for Atronic. "In addition, players are seeking more ways and opportunities to win. Atronic is capitalizing on this trend by introducing games with more vivid graphics, exciting bonus rounds, and varying degrees of volatility."
Atronic also knows the value of basing a slot theme around a famous brand name—especially one that involves America's hottest game show. The company pulled off a coup by licensing the rights to create a slot based on the hit TV show "Deal Or No Deal," which has been a terrific success on casino floors. "The bonus round is modeled after the show," explains Colonna. "The player selects a suitcase and goes through elimination rounds where the banker offers them credits for their suitcase. They can either take the deal or not, and they proceed through the rounds until they accept an offer or reveal the credit amount in their own suitcase. When a player reaches the bonus round, it's fun to see others gather around and try to coax them into choosing the deal, or no deal."
While striving to win over players, Atronic—like other leading manufacturers—is also introducing new technologies that make their games more efficient for casino operators. "Look for our Hot Link and Mystery Magic progressive banks on casino floors soon," Colonna says. "They allow the casino to choose from any of Atronic's new core titles to put together their own unique local area progressive. The theme of the bank will be completely up to the casino. Hot Link titles require that five winning symbols appear on an active payline for the player to hit the jackpot, while Mystery Magic titles have a 'mystery trigger' for the jackpot, with no winning combination required. Any bet is eligible to win the progressive."
Atronic is also introducing new titles that offer more lines for play. The manufacturer is particularly excited about its new 50-line title, Crimson Fire, which Colonna describes as "a mystical game with a dragon and treasure theme that features intense graphics and high volatility." Another Atronic title, The Game of Life, was recently introduced in North America. Based on Hasbro's popular board game, the game features a five level progressive and an interactive bonus round. "The player actually gets to play The Game of Life during the bonus round, moving around a game board to reach each level of progressive," says Colonna. "The bonus round hits often to keep players interested; it's truly a fun gaming experience."
"Apart for the obvious low denomination/high volatility trend, we continue to see multi-tier progressives and 'bonus bank' product segments expand," says Bone. "Every manufacturer displayed new versions of these type of products at G2E and ICE, with new twists to catch the players' eye. Our new multi-tier progressive 'Life of Luxury Progressive' and our 'Instant Winner' bonus bank products are key examples
of upcoming products that have well-known brand recognition and will capitalize on these trends. With all the competition and clutter on a casino floor, players are looking for [greater] entertainment and opportunities to win."
"Social" Slots
Players can also bet on seeing more interactive slot titles that allow multiple players to participate in a group experience. Casinos may soon be making room for other giant-sized games, similar to Super Spin, that invite groups of players to "team up" against the house. "The energy generated around the opportunity for a group win is electric," says Colonna. "I believe more manufacturers will invest in producing games that create such a player experience."
"Gaming has become much more social in nature," Bone agrees. "The new multi-player and communal designs are allowing players to interact and win together. We'll continue to leverage our technology into product designs that allow for 'table game excitement' in the form of a slot. Nothing beats a rowdy blackjack table on a Friday night, where everyone is rooting for the dealer to bust. We feel confident in our ability to replicate this in slot form."
"The potential and popularity [of multi-play games] is undeniable," Mitchell adds. "Bally was one of the first to offer a multi-game play experience with [the title] Auction Fever, and we have several game concepts in development targeted at this segment."
Asked whether IGT's Wheel of Fortune Special Edition Super Spin is going to inspire more multi-player titles, Venneman says, "Absolutely. You build on your successes, and that game builds on two of ours: the multi-player approach, and the most popular slot theme in history. Players are enjoying the social aspect of multi-player products, and you can expect to see more from IGT on that front."
Serving Up A Breakthrough
The concept of linking games together via central computer servers has manufacturers and slot floor managers excited, while players can expect greater convenience and flexibility when they sit down at a machine. "Certainly, server-based technology will open new frontiers for casinos and their players," says Venneman.
"All the hype and buzz seems to be around the possibilities of server-based or server-enabled gaming," says Bone. "WMS sees this as a great opportunity to incorporate new forms of technology and intellectual property that will recognize and reward players in different ways…[but right now] we're more focused on the players' experience and finding ways to utilize technology to create exciting and innovative product designs."
Server-based technology also promises to provide players with a more personalized experience. "Based on technological advances, it's foreseeable that a player could put their tracking card into a machine and have it configure itself based on that player's preferences and history," says Colonna.
However, there's no definitive word yet on when central servers and machines with downloadable games will begin to transform slot floors. IGT reportedly has server-based functions in the field trial phase, while Bally has implemented certain server-based functions through its player tracking system. One of the challenges is that regulations have not yet been created to govern server-based operations—at least not in Class III casinos, where all manner of table games and slots are found. (The machines in Class II casinos, which are actually bingo games styled like regular slot machines, are all run on central servers.)
With this next generation of slot machines, some concepts might fail to catch on with players, while others will be tweaked and improved before their manufacturer can proclaim them a hit. Then there will be the home runs, the games that are instant sensations and perhaps create an entirely new category, causing the competition to play catch-up. One thing is for sure: it's going to be fascinating to watch, and more exciting than ever for adventurous players who enjoy trying the newest titles and gizmos.
"You can look for hot trends like Guaranteed Play and server-based gaming to become much more widespread and accepted in the months and years ahead," says Venneman.
"Any new gaming trend—from themed slots to ticket-in, ticket-out technology—takes time to catch on with casinos and players. But those trends eventually transformed gaming as we've known it."
State of the Art Slots .