Sound Advice – Casino Gambling
Some choice excerpts from my book 1,000 Best Casino Gambling Secrets
By Bill Burton
The chance of hitting a Royal Flush when playing Jacks or Better is about 1 in 40,000. This doesn't mean you are guaranteed to hit a Royal if you play 40,000 hands.  Each time you hit the deal button, the odds are the same.
This month I'd like to share some excerpts from my book 1,000 Best Casino Gambling Secrets. The book literally contains a thousand tips spread out over 16 chapters and has helpful hints about virtually every casino games. It also contains quick pieces of advice on many other casino-related subjects. Here are a few excerpts you may find useful.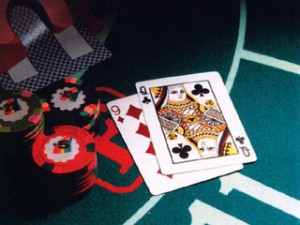 Chapter 1
Play Like a Pro: How Casinos are Run
#24: Be realistic about your gambling expectations. You won't turn $100 into a million. Be happy with small wins and know when to walk away.
#40: Casino hosts work hand-in-hand with the marketing department to bring in players and keep them happy. Hosts can write comps for players for anything from a free meal, to completely covering their airfare and expenses. You don't have to be a high roller to ask a host for a comp, so go ahead and give it a try. The worst thing they can do is say "no."
Chapter 2
Great Expectations: Odds, Probabilities and House Edge
#53: One thing that separates gaming from other forms of entertainment is there is no set price that you pay to play. When you go to a show, you know in advance the price of the tickets. But when you sit down to try your luck in the casino, you don't know exactly how much it will wind up costing you.
#79: The odds of you being struck by lightning are better than your chances of winning one of the big progressive jackpots. Since a portion of all the money played is allocated towards the jackpot, the returns on these machines are even lower than average. Unless you hit the big jackpot, you are just donating money to the eventual winner. Keep this in mind while budgeting your bankroll. These games can be a thrill, but your money will last longer—and your chances of winning will be much better—on regular machines.
Chapter 3
Dollars and Sense: Money Management
#94: Most casinos now have coinless slot machines that use vouchers. One of the ways that cashless machines benefit casinos is that they encourage players to gamble their few remaining credits, rather than walking to the cage with a ticket to collect a small amount of money. Keep in mind that "playing off" a dollar here and there adds up to a lot of money over the course of your casino visits.
Chapter 4
Reel Fun: Slots
#153: If you play the coinless machines, make sure to take your cash voucher. Some of the machines will beep loudly once the ticket is printed. You shouldn't depend on this, because in a noisy casino you may not hear it. Make it a habit to reach for your ticket as soon as you hit the cash out button.
#155: Reading the pay table of the machine can help you judge the frequency of winning spins. If you see there are a lot of combinations that return smaller wins, this machine will usually have a larger hit frequency than one that has only a few large winning combinations.
Chapter 5
In Search of the Royals: Video Poker
#221: Don't automatically hit the maximum coin button. There was a time when the maximum bet on a video poker machine was five coins. Some of the newer machines have a maximum bet of 90 coins. You should check the help screen before hitting the max button so that you are certain what the maximum bet is.
#235: The chance of hitting a Royal Flush when playing Jacks or Better is about 1 in 40,000. This doesn't mean you are guaranteed to hit a Royal if you play 40,000 hands.  Each time you hit the deal button, the odds are the same. You could hit a Royal on your very first hand, or go 250,000 hands without one.
Chapter 13
The Best Things in Life are Free: Comps
#904: Many players think that comps are only for high rollers who spend thousands of dollars each visit, but this isn't true. There are different levels of comps depending on the amount of play you give the casinos. You should learn about the comp policy at the casinos where you play.
#925: Never play at a higher limit than usual, or for a longer period of time, just to obtain a comp. You can easily wind up losing more money than if you'd just paid full price for the meal, show, or whatever you were trying to score a comp for.
Chapter 15
Safety Counts: Protecting Yourself
#949: Purses, cameras and other valuables should never be placed on the tray between slot machines. You could easily forget them, or someone could reach over from the other side of the slot bank and grab them.  Keep your purse wrapped around your shoulder, or set it in your lap, while you play.
Chapter 16
Thanks For the Tip: Who, When, and How Much To Tip
#995: You should tip the hotel maids a couple of dollars per night when you check out. In most hotels there is a card in the room with the name of your maid. You can place your tip by the card. Personally, I look for the maid and hand her the tip myself.
Until next time, remember: luck comes and goes, but knowledge stays forever.
Bill Burton is the author of 1,000 Best Casino Gambling Secrets and Get the Edge at Low Limit Texas Hold'em, which are available online at www.billburton.com. He's also an instructor for Golden Touch Craps: www.thecrapsclub.com
Sound Advice – Casino Gambling.