SLOTS ARE PERFECT EMPLOYEES
Living in an age of machines
By Frank Scoblete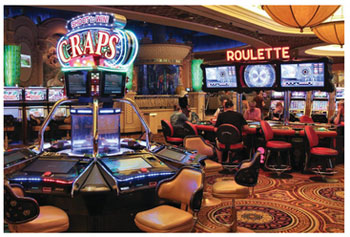 It is no exaggeration to say that if slot machines did not exist there is a markedly good chance that casino gambling would not have spread like wildfire across the United States and Canada.
Slots generally cost far less than a dealer, even those slots which are branded and "rented" to the casinos such as Wheel of Fortune or Megabucks or a host of particular games named after shows or celebrities. Slots don't get sick and when they go a little nutty they are usually quite easy to fix.
There are never personal issues between slots: "You're an idiot!" said one slot to another slot. "Oh, yeah, so is your mother!" said another slot to the first slot. That just doesn't happen.
Approximately 66 to 90 percent of casino play (you might as well add the word "pay" to that) is on the slot machines. Slots are cash cows, golden gooses, pots of gold at the end of the rainbow and the casinos know this and truly cater to the slot player.
I mean right now you have penny slots, nickel slots, dimes, quarters, 50 cents, $1, $2, $5, $10, $25, $100 on up. There are slots that are so expensive that the casino has to have a person at the slot player's machine to record all the hits that are over $1,200. Yes, amazing.
What makes slot machines invincible are its speeds. A player can put an amazing amount of money in a machine without even realizing it. And the more a player plays in a given session the faster he or she plays. The slots are the Flash of casino gambling.
Second, the house edge on slot machines can be quite high, as much as 15 percent. In slot parlance that house edge would be called an 85 percent return. Of course, the higher the denomination the better the return but it is quite rare to see a return of 97 or 98 percent.
Now, on video poker the returns can be far greater but the comps handed out by the casino are obviously not as great as for slot players. Comps are based on theoretical losses and the theoretical losses are usually much greater on the slots than on video poker. Still video poker is also a big money-maker for the house.
If the casino world were a science fiction book or movie, we could reasonably state that the machines dominate it; they've taken over.
But something new is also happening in the world of the slot machines. Table games (of the electronic kind) are being played; actual, real table games such as baccarat, roulette, craps and blackjack – games where the house edges are the same as those edges at the actual tables. That is great news.
Even better, the table minimums are relatively low on these games and the player has almost complete control of the timing of his or her bets. Sitting out hands at these games is quite easy – and the savings on a player's bankroll can be quite profound. The comps would be determined just as they are for other slot machines.
Let's take a look at the approximate average returns on electronic table games and relate them to slot machine returns:
– blackjack at about 99.5 percent (with basic strategy)
– craps from 98.6 percent to 83.33 percent
– American roulette at 94.74 percent
– European roulette at 97.3 percent
– baccarat from 98.94 percent to 85.64 percent
– Three-Card Poker from about 2 percent to 4 percent
In New York some casinos are strictly offering electronic table games and advertising them as a main attraction. Why not? Although the house edges are fairly good on some of these games; again, without having to deal with a live dealer will allow the casinos to spare themselves quite an expense.
It also seems that many players who used to frequent the tables now prefer to play their table games at the machines. There is no dearth of players at the New York electronic table games. One player stated, "I can relax at these games more than I do at a regular table. I think the older you get the better the electronic games become. I don't like standing at craps and other players seem to get annoyed when I bring a chair over to the table. That won't happen at electronic craps."
Another player said, "The players are more laid back and no one bothers you or tries to squeeze themselves onto a game. The chairs are filled and unlike, say table craps, the electronic version is more sedate."
I do not think these electronic games will disappear. More and more players are favoring them. Oh, yes, it is now clear that we are living in the age of the machines.
Frank Scoblete's newest books are I Am a Dice Controller: Inside the World of Advantage- Play Craps!, I Am a Card Counter: Inside the World of Advantage-Play Blackjack! and Confessions of a Wayward Catholic. Frank's books are available on Amazon.com, Kindle, Barnes and Noble, and at bookstores. Visit his web site atfrankscoblete.com.