Riding The Wave
25 years of covering one of the world's most exciting industries
by Glenn Fine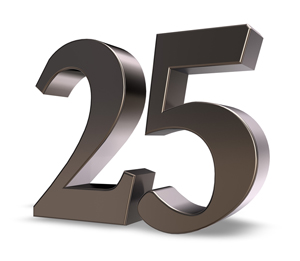 Back in 1988, I never could have imagined sitting down to write an publisher's letter for our 25th anniversary issue. At the time, our "business" consisted of a 32-page newsprint publication geared toward casino industry employees. I was working as a 21 dealer in Atlantic City, and I came up with an idea to start a newsletter for my fellow casino workers, to keep them informed of new developments and opportunities in the young casino industry.
In September of that year, the first issue of The Player (as this magazine was first known) in a square-shaped, no-frills format, on newsprint paper was printed with the help of my family and friends. Entertainer Engelbert Humperdinck was our cover story. Two years later, we switched to a more expensive, glossy cover—quite a bold move for us at the time. In 1991 that publication evolved into Casino Player, a full-fledged glossy magazine to teach gabblers proper strategies at all of the games in the casino. As a 21 dealer, I thought it was tragic how often people lost as they just didn't understand how to play the game well. But Casino Player ended that for its readers!
What began as a homegrown trade industry newsletter grew to become the most popular and comprehensive source for gaming-related news, strategies and entertainment in the country. Casino Player is now a must-read for the moguls whose casinos we write about, as well as for the millions of players who want to avoid the "sucker bets" and make sure all their angles are covered when they take on the casino. (And of course if you want to know about the hottest new shows, restaurants, shops, player's clubs, special events, and everything else casinos offer, we print that, too.)
If gambling had remained confined to Las Vegas and Atlantic City, our little industry newsletter probably wouldn't have made it to a fifth anniversary, let alone a 25th! But as it turned out, we hitched our cart to a horse that was about to explode out of the gate. 1988 was the year that Native American gaming was legalized, which triggered a chain reaction around the country and prompted many different states to permit their own "riverboat" and other types of casinos to be built.  Meanwhile, in Las Vegas, the "mega-resort" era began. This inspired casino companies from Connecticut to California to think bigger, build on a grander scale, and view gaming as just one element of an overall entertainment experience.
Today, millions of people from all walks of life—from millionaire high-rollers arriving on private jets, to families rolling up in their minivans—visit these properties to dine, shop, party, relax, and be entertained. As the industry becomes more competitive every year, the resorts are forever expanding and rolling out new incentives and perks. This is necessary, because today's player is savvier than ever, and knows a rip-off—or a good value—when they spot one. (Some of the savviest experts of all are on the Casino Player staff; in addition to our talented journalists, our columnists include professional gamblers who've spent decades mastering the games they write about.)
One of the Casino Player's most important sections is where we print the monthly Casino Slot Payback Percentages. This is where we show players which casinos have the loosest slots, from 1 cent slots to the $100 machines and which casinos have the tightest machines! Many casinos complain to us about printing this "sensitive" information. But they usually offer players the tightest slots!
Of course, this anniversary issue would not be possible without the support of you, our loyal readers who are passionate about gaming—and very vocal. You wouldn't believe the stack of mail that lands on my desk every month (not to mention the flood of emails) from readers alerting us to a typo on page 73, or challenging one of our writers on the finer points of blackjack strategy.  Indeed, our readers have proven highly knowledgeable about gaming, which is why we created the Best of Gaming, our annual issue that lets readers vote on their favorite casinos, from the best rooms to the best restaurants, customer service and even their luckiest casino. The results of this issue become major bragging rights for the casinos that win.
So to those of you who've been faithfully following our magazine for years, we know you hold us to a high standard as well, and we promise to keep fulfilling our obligation. Like many popular magazines, you can now read your magazine on your computer, tablet or even your smart phone. Our digital editions are available on our web site, www.casinocenter.com. You'll find weekly news, surveys and soon a Bulletin Board where you can ask questions and voice your opinions. Check it out. I promise you'll enjoy our growing digital products!
The coming years are already shaping up to be some of the most exciting this business has ever seen. And we'll be right there to report on it, and we hope you'll continue to enjoy reading Casino Player as much we enjoy carrying on the 25-year tradition that we celebrate in this very special issue.