Ready For Battle – Poker
The WSOP's "November Nine" are heading for the ultimate poker showdown
By Sean Chaffin

Despite the cloud of controversy hanging over the poker world, this year's World Series proved that the poker boom is still raging. The event attracted record attendance, with 75,672 entries from 100 nations creating the largest prize pool ($191,999,010) in WSOP history. The Main Event was also huge, the third-largest in history with 6,865 players.
Last July, after 10 grueling days of poker at the Rio Hotel and Casino in Las Vegas, the 2011 World Series Of Poker's field of players was whittled down to the final nine. These finalists are now nearing the end of the 108-day hiatus before the final table commences on November 5 at the Rio's Penn and Teller Theater. Known as "The November Nine," these players will reconvene next month to compete for the poker's world's richest prize. This year, first place will take home $8.7 million along with poker's most prestigious accessory: a WSOP gold championship bracelet. ESPN will be on hand to film every moment of the action.
No one knew what to expect from this year's 42nd annual WSOP, which included more than 50 tournaments over a month and half. On April 15, known as Black Friday in the poker world, federal authorities shut down the largest online poker sites, virtually eliminating online poker in the U.S. Many wondered if attendance would be down at this year's WSOP, since many players had their funds tied up in their online accounts and there was no telling when (or if) they'd be able to withdraw their money. (The WSOP has a $10,000 buy-in.) Full Tilt Poker still hasn't paid back players, and in late September the Justice Department charged them with operating what they say was a Ponzi scheme. that the company did not have funds to pay back players. According to the authorities, Full Tilt can't release the funds to players, because the money had already been distributed to the site's owners.
Despite the cloud of controversy hanging over the poker world, this year's World Series proved that the poker boom is still raging. The event attracted record attendance, with 75,672 entries from 100 nations creating the largest prize pool ($191,999,010) in WSOP history. The Main Event was also huge, the third-largest in history with 6,865 players.
Another history-making aspect of this year's WSOP was the many hours of near-live coverage broadcast on ESPN. This means the November Nine have a ton of footage to study, if they wish to get a leg up on their opponents.
Just making it to the final table of the Main Event is a huge accomplishment. But actually becoming one of the few who can call themselves a world champion is life-changing—the biggest accomplishment in poker. The stakes are outrageously high and the pressure is intense; one mistake or misread can send a player packing.
As the final table approaches, Casino Player analyzes the November Nine, from the chip leaders to the short stacks. All of them are hoping to go down in history—and win many millions of dollars—by becoming the next WSOP champ.
MARTIN STASZKO – Trinec, Czech Republic
Chips – 40,175,000
Attending his first WSOP this summer, Staszko brought $20,000 to Las Vegas for the 15 events he planned on playing at the WSOP. Amazingly, he cashed in four of those before final tabling at the Main Event, and is now looking for the finish of a lifetime—a Main Event gold bracelet. With a 7,000-chip lead over his nearest rival, he has a strong chance to do just that. Staszko is already the first person from the Czech Republic to make a Main Event final table. The 35-year-old was lured to poker while watching a European Poker Tour event and then began playing online. He's been playing poker full-time for three years, but his live tournament record is shallow, with only a handful of tournament cashes. Does he have the experience and nerves to prosper on the biggest stage in poker?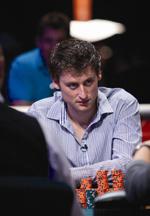 EOGHAN O'DEA – Dublin, Ireland
Chips – 33,925,000
O'Dea hopes to become the second Irishman to win the Main Event. He certainly has a poker pedigree. Donnacha O'Dea, his father, has a gold bracelet from a 1998 Omaha event and has almost $1 million in tournament winnings. The younger O'Dea has found his own measure of success in recent years, and his final table score will help him surpass his father in winnings. In recent years, O'Dea has cashed at many major European tournaments, including a runner-up finish on the World Poker Tour for $378,000 and four previous WSOP cashes. Like many European players, O'Dea was inspired to take up the game after watching the "Late Night Poker" series, the first program to use the "hole-card cam" that helped launch the recent poker boom and inspired the WSOP and WPT to use the innovation. O'Dea is also one of the growing list of young players competing in big-time poker (including this final table), and with his pedigree, experience, and chip stack, this Irishman has a legitimate shot at bringing home the gold.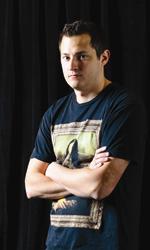 MATT GIANNETTI – Las Vegas, Nevada
Chips – 24,750,000 in chips
Originally from upstate New York, Gianetti has been a professional poker player in Las Vegas for several years. He nursed a short stack in the tournament's final few days, but was able to build his stack into a chip leader. Giannetti, 26, also brings a bit of Texas back to the final table. He attended the University of Texas for two years before dropping out after finding poker success. Since 2005, Giannetti has many major tournament cashes and is also a high-stakes cash game player. One of his biggest finishes came in 2009, when he was runner-up in an online event for $66,500. His lifetime tournament winnings exceed $500,000. With a nice number of chips and a solid poker background, this would be Giannetti's first major poker win. Does he have the finishing skills to make that happen?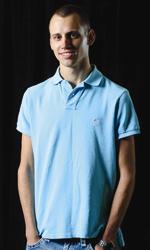 PHIL COLLINS – Las Vegas, Nevada
Chips – 23,875,000 in chips
Right up front, this is not the lead singer of the '80s band Genesis. This is the 26-year-old poker pro and University of South Carolina graduate. (Trivia fact: Collins married his college sweetheart who roomed across the hall from him, and credits her support for much of his success.) During the final hours of tournament play, Collins had quite a boisterous cheering section, and celebrated his success with a couple of beers when play was 10-handed. Collins has been a top-notch online player and amassed more than $1.6 million in tournament winnings. His biggest live tournament win was $29,000, and his largest online prize was $89,000. It will be interesting to see if his Internet poker chops will transfer to the Main Event final table.
BEN LAMB – Tulsa, Oklahoma
Chips – 20,875,000 in chips
Lamb is the biggest name at the final table and sits atop the WSOP Player of the Year standings (which was to be decided at the WSOP-Europe with "Poker Brat" Phil Hellmuth in second). An aggressive 26-year-old poker pro, Lamb was dominant in this summer's WSOP events, scoring his first gold bracelet and placing second, eighth, and 12th in other events. His haul for the 2011 WSOP has already totaled $1.3 million—and cashing in the Main Event is nothing new for Lamb. In 2007, he finished 156th for a win of $58,570 and took 14th in 2009 for $633,000. His lifetime tournament winnings are more than $3 million. Lamb's been on fire for the past few years and is a popular pick to win it all. His recent successes, coupled with a cool and collective persona, give him an advantage. If he finds some traction, Lamb could slay the other wolves and become the next champ.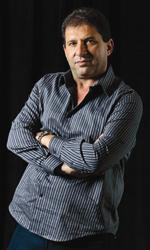 BADIH "BOB" BOU-NAHRA – Belize City, Belize
Chips – 19,700,000
Bou-Nahra, 49, is the "old man" at this final table and the first from the tiny Central American country of Belize. A poker amateur, he's in the wholesale grocery business and divides his time between Belize and Florida. A father of three, Bou-Nahra considers his 24-year-old daughter his lucky charm and she has cheered him on throughout his WSOP run so far. All three of his children will be cheering him on in Las Vegas in November. Certainly a feel-good story, Bou-Nahra has only a few tournament cashes and faces an uphill battle for victory. The same could have been said of a player named Chris Moneymaker in 2003, however, and that amateur went on to Main Event glory and poker idol status.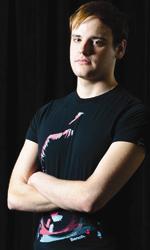 PIUS HEINZ – Cologne, Germany
Chips – 16,425,000 in chips
At age 22, Heinz is the first German to ever make the Main Event final table. This poker young gun left college to pursue a career in poker, and so far things have panned out for him. In his short career, he has not only made this final table, but also took seventh place in a $1,500 No Limit Hold 'em event earlier at the WSOP for $83,000. He also has a win in his only other major tournament, a €1,000 event at the EPT-Barcelona for $25,000. With only a few years of experience and short chip stack, Heinz's path to a WSOP championship will not be easy. However, we've seen younger WSOP champions, and this card shark has nothing to lose.
ANTON MAKIIEVSKYI – Dnipropetrovsk, Ukraine
Chips – 13,825,000 in chips
Makiievskyi is the youngest in the field at age 21, and this was his first trip to Las Vegas and the WSOP. It's been a whirlwind for this young player, who dreamed of being a professional gambler as a child. Makiievskyi briefly studied science and math in college and believes his analytical mind has helped him at the poker felt. He will need those skills, and a generous helping of luck, to be the sole survivor of this final table.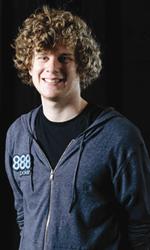 SAM HOLDEN – Canterbury, Sussex, UK
Chips – 12,375,000 in chips
This is also Holden's first WSOP, and he has certainly made it count. The Englishman sits on the smallest stack of the nine, but will not be in immediate danger of busting out when play resumes. Holden has a degree from the University of Kent in forensic science, but has been playing poker full-time. This is his first major live tournament cash after failing in three other WSOP events this summer. A native of Canterbury in the UK, Holden says he has received an enormous amount of support from people in his hometown, including his parents, who originally questioned his career choice and worried he would go broke. If he plays his cards right and rallies for a victory, he'll have quite a Canterbury tale indeed.
The World Series of Poker final table will begin on Nov. 5 at the Rio Hotel and Casino in Las Vegas, and will then air on ESPN.

Sean Chaffin is a freelance writer based in Rockwall, Texas, and editor of www.PokerTraditions.com, devoted to poker history, lore, lifestyle, and people. For more information on his work, visit www.seanchaffin.com. Do you have an interesting poker tale? Email sean@PokerTraditions.com.