Punchy Gamblers: Another rash of slot abuse
By Frank Legato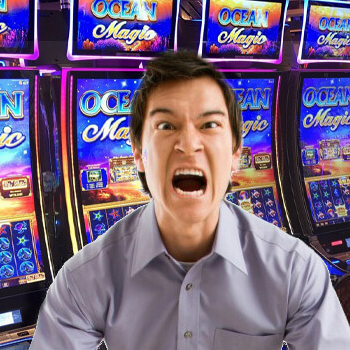 Wow, it seems everyone's beating up slot machines these days.
There was that story on Christmas Day of a gambler who brutally beat the spin button on a slot at Valley Forge Casino in Pennsylvania. He was charged with "criminal mischief," which sounds very tame and nonviolent—like it's the same statute that punishes people who place flaming bags of dog poo on a porch and ring the doorbell. This guy was evidently pummeling that machine, causing hundreds in damages.
Then there was the guy at the Seminole casino in Florida who threw a couple of well-placed punches at a Quick Hit machine (I think he hit it quickly), leaving shards of glass around the floor. That guy was arrested—yes, more criminal mischief.
It seems there has been a lot of criminal mischief this winter.
Even in Spain. By a player from Romania, no less. The Romanian had a miserable session on a slot machine in a Spanish gambling parlor, so he slugged it, and then slugged it again. Then, he picked up a stool and smashed the machine.
Security guards were leading him out the door, but he was still really, really mad, so before they reached the exit, he grabbed another stool and smashed it into another machine—this time, an innocent machine that had never taken any of his money, and was just sitting there minding its own business.
Last month, a judge approved a plea deal for the guy. The total damage he did exceeded $2,000, but he only has to pay $1,200, and in installments at that. Pretty sweet deal, considering he assaulted another machine two months after the first incident. No chairs this time, just a flurry of punches.
Luckily, the second machine, though all bandaged up, was able to pick its attacker out of a police lineup. (No, it was ultimately surveillance video that nailed the guy.)
It makes no sense that someone would take their frustration out by starting a fistfight with a machine made of glass, wires and microprocessors. It seems fraught with physical risk, and guess what? The machine doesn't say "Ouch!" or "You're killin' me!"
Because it's a machine, you know?
I once wrote in a column that slot manufacturers should place a big red rubber punching ball on the button panel of a machine. When you hit it, it would honk like a clown horn, or maybe quack like a duck. That way, if a frustrated gambler started going to town on it, the goofy sound would have him laughing before long.
(As yet, no slot-makers have come forward to buy the patent from me.)
I thought up that idea after writing about a rash of slot abuse that occurred after they opened slot casinos in the New York City area, at a racetrack in Yonkers and an Indian casino on Long Island. I understand local urgent care center workers got really good at removing shards of slot glass from between knuckles.
Now, there are going to be even more knuckle sandwiches for machines around the Big Apple, as New York State is taking bids for three new commercial casino resorts in the downstate region, which includes New York City and Long Island. There are proposals out there now for casinos in Times Square, at the former Nassau Coliseum on Long Island, next to the Mets' Citi Field stadium in Queens, and on Coney Island in Brooklyn.
The latest casino bid is from Saks Fifth Avenue. The famous luxury department store wants to transform its top three floors into a James Bond/Monte Carlo–style casino. The store released renderings showing men in suits or even tuxedos, women in gowns, and beautiful people mulling amid table games.
They would create a separate entrance for the casino, complete with a red carpet opening to a lobby with crystal chandeliers. The casino entrance would be on the ninth floor, "where," according to the New York Post, "servers will be dressed in black tie and hand out champagne flutes to gamblers."
Wow, I never went to a casino where they handed you a champagne flute at the door. (I did drink beer out of a flugelhorn once.)
I didn't see any slot machines in the renderings, so I'm guessing New York won't pick Saks, since they want casinos that, you know, make money. I would think the table drop would be wiped out by the dealer costumes alone.
Maybe I'm wrong. Maybe there will be jet-setting international gamblers that will flock to Saks to leave millions on the felt.
Or, there will be stubbly guys with beer guts in Hawaiian shirts screaming, "Where are the slots?"
Oh, well. At least they won't be punching the tables. •