Playing Just a Bit Longer
Tips for slot players
By H. Scot Krause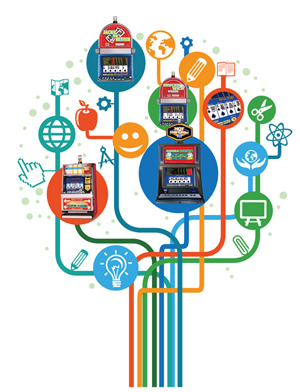 The casino has an edge against every player on almost every game in the casino and especially over slot players.  There is really no way to get an advantage playing slots but there are methods that may help achieve some better overall results and keep you in play a little longer.
In the past I've talked about teaming up with a friend or spouse when playing slots as a means to help manage your gambling bankroll. You can still team play but now we'll talk about some other ways to help your bankroll last and earn some better comps and slot club benefits.
There is always chatter about "money-management." It's not easy to budget money at home, let alone in a casino with the bells and whistles going off and the lights and sounds keeping your adrenaline pumping with each push of the button!  The mentality that "It's gotta pay me sometime!" isn't very effective for money management purposes, whether you have a "gut" feeling or not! All too many times I hear the same casino stories over and over with the same central theme: "If only I would have quit when I was ahead!"
Again, short of some big-time luck, no money management techniques will ever make you a long term winner playing slots.  However, that being said, let's look at few things that many gamblers have found to be helpful for slot play.
First, if you have free slot play given to you in a monthly mailer or your room offer includes slot play, my suggestion is to play it through once and cash out from that offer.  The reason being is that most people will gamble right through the freeplay and never see a dime of it!  They just play it and re-play it until all of the credits are gone.  A surefire way to at least start out ahead is to take the winnings from the free slot play, cash it out, add it to your gambling bankroll or sock it away as a "profit!"  The majority of players are going to play again, so at best it's more of a "psychological" bankroll, a way of at least starting out with more than brought with you.
Even better would be to do something tangible with that profit; buy a meal or a gift; see a show or a movie; or even just gas for the car! You have put it to good use, and that portion of your profits went for something you can physically account for.  Obviously if don't keep playing at some point future offers for additional comps, rooms and freeplay will dry up so this isn't a winning solution for long term gambling. But again, you have done something with the money other than to gamble it through again!
Secondly, try using a stop-loss method as your money management/profit-taking system.
For example, let's say you start with $100 and get a bit lucky and grow that into $200. You can continue to play but set a stop-loss limit for yourself if the credit meter starts a nosedive.  You might set your mental stop-loss at $150 given that situation.  If your credit meter continues to climb—say to $300—re-set your stop-loss to perhaps $200 or $250.  Then stick to your stop-loss limits and cash out when you reach that point. Hard discipline, I know!  There will be many times when you never get ahead, but even $10-$20 ahead and utilizing a stop-loss method will get you out with a small profit instead of giving it all back to the house.
Can you go back to same game you were playing after you cash out?  Sure! If you feel so inclined, the random number generator is still speeding right along and has no knowledge of what will come up again when you push the button the next time.
For the third and final point this month, read your casino mailers, offers and casino signage carefully before and during your casino visits.  If you can take advantage of a multiple bonus points day, all the better in achieving a higher slot return in the form of comps, freeplay or cash back.  Utilize any promotions being offered for drawings, free meals, gifts, senior days, tournaments or whatever that casino is featuring on that particular day's visit.
Good luck and happy slot clubbing!
Summer Promotions
On June 15, hit musicians Andy Grammer, Mac McAnally and Wilson Phillips will take their acts to the Atlantic City beach for a day of free concerts hosted by Resorts Casino Hotel. Staged on The LandShark Beach at Resorts from 1 p.m. into the evening (the last concert starts at 7 p.m.), this major event will "seat" music lovers, beachgoers and gamers on the sand for a series of 90-minute sets interspersed with DJ entertainment, prize giveaways, and more.  Kicking off a summer series of great entertainment at Resorts, the June 15 concerts will celebrate Resorts' enhanced beach vibe and the launch of its $35-million Margaritaville casino and entertainment complex. Among the attractions it will introduce to the Boardwalk is the only year-round bar directly on the Atlantic City beach—LandShark Bar & Grill—just steps across the sand from the concert site.
Now through July 31, play table games or slots with your Red Card at Wynn Las Vegas or Encore to earn points to redeem for "Lucky 8" drawing tickets. Each night eight lucky numbers will be drawn at the Encore Red Card desk at 6 p.m.

Match all 8 numbers and win a $750,000 Luxury Yacht.
Match 6 numbers to win $5,000 in Freecredit.
Match 5 numbers to win $1,000 in Freecredit.
Talking Stick Resort in Scottsdale, AZ, has announced the highly anticipated second season of its popular RELEASE pool parties. Age 21+ guests can again expect mouthwatering drink specials, exciting promotional giveaways and music courtesy of the region's best DJs from the likes of Las Vegas, Los Angeles, San Diego and San Francisco. Since its launch in spring 2012, RELEASE has become a top activity that sexy sun worshipers anticipate during hot weekends in the Valley. The summer bash was named one of 2012's Top Pool Parties in Greater Phoenix and Valley voters also agree that Talking Stick Resort has one of the best pool bars in town. The parties attract hundreds of guests looking to take a cool dip, and be seen. RELEASE takes place every Saturday and Sunday, from 11a.m. – 6 p.m. The DJs perform from 1 p.m. – 5 p.m. No covers are charged on regular weekends. There is a $10 charge for men on holiday weekends. For more information on RELEASE parties, cabana rentals and bottle service call (480) 850-4350 or visit www.talkingstickresort.com.
H. Scot Krause is a gaming industry analyst, researcher and journalist. He is a former entertainment director and an 18-year resident of Las Vegas.  His work is regularly featured in Casino Player, Strictly Slots and Gaming Today as well as other gaming publications, including the annual American Casino Guide Book. Questions or comments for Scot may be addressed to: krauseinvegas@cox.net