One Night of Action in Casino
The best games to play when you have one night in a casino
by Basil Nestor
Overheard recently in a Los Angeles art gallery…
"Let's catch a flick this Saturday?"
"I can't. I'll be in Vegas that day with some friends."
"You're going only for the day?"
"Yup. One night. I'll be back on Sunday. Let's see a movie then."
Only one night to play. It's a common situation. Casinos are scattered across the country, and new ones are popping up constantly. But politics (and resulting regulations) invariably cause these properties to be located many miles away from the majority of their customers.
So millions of vehicles hit the highways. Endless lines of commuter flights soar into the skies. The "casino day-trip" has become a ubiquitous part of American life. Even mighty Las Vegas pulls nearly 30% of its visitors from nearby Southern California.
If you're an occasional day-tripper, then you know the challenge of trying to squeeze an entire casino trip into a few hours. You know the bittersweet feeling of finding a perfect game just as it's time to leave. So here are some tips to help you get the most from one night of action.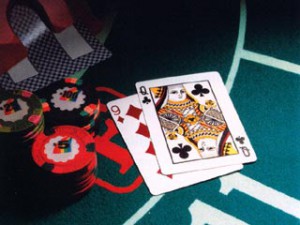 Before You Play
A casino day-trip is bit like being thirsty in the desert and reaching an oasis. You have traveled for a while. Anticipation increases. Suddenly, you walk through the doors of the casino and see thousands of machines and dozens of tables laid out in all their seductive glory. Wow! It is tempting to simply leap right in and play, play, PLAY!
But you should resist that temptation. The danger is that you may get stuck on the first game that catches your eye; you blow your bankroll and find out later that better games (more beatable or more enjoyable contests) are just around the corner.
Instead, you should do what professional gamblers do and plan your session. There are two basic approaches to getting premium action in a short amount of time. Let's say your session will be about four hours.
1. If you have a strong preference for a particular game, such as video poker or blackjack, then you'll want to find the best action for that one game.
2. If you prefer to play many different games, then you'll want to use a strategy that keeps you moving.
We'll cover both approaches in the next few pages, but the important thing to remember here is that it's a good idea to decide before you arrive if you want to play one game or many. You can always change your mind during the session, but an early decision gives you a head start on getting the best action in a short amount of time.
Also, there is an important decision for you to make at the moment you arrive. Look around. How much do you like this casino? Be honest. Be critical. This question is often overlooked when the bells are ringing and the cards are snapping. But hey, if you're on the Las Vegas Strip or the Atlantic City Boardwalk, you can be somewhere else in about five minutes Why play at a casino that is blah (by your taste) when you can have pizzazz? Remember, you have only one night. Don't bore yourself with blah.
Take it All In
Okay, let's say you love this place (or it's the only casino within 50 miles). Great.
When you arrive, take a quick walk around the casino. It costs nothing, and it gives you information that will be useful in the following hours. Do the walk even if you've been to this property before because machines and tables are often moved.
It will take about twenty minutes to go through the major areas. Note the locations of the various games and their denominations, particularly the games you prefer. Pause for a closer inspection if you must, but generally you should keep moving. Voila! Now you won't have regrets at the end of your trip about what you didn't explore. You won't be rushing around frantically just minutes before leaving, wondering what this or that game was like.
At the end of your twenty-minute walkthrough, you'll be able to stride purposefully to your first game (knowing exactly where it is) with your mind clear and focused. You're ready to play.
The Most Beatable Casino Games
You should play what you prefer. But if you're looking for games that are easy to beat, then consider playing these contests and making these bets.
Blackjack: This is one of the most beatable games in a casino, but only when it has favorable rules. Be sure you choose a game that pays 3:2 for a "natural" ace/ten. And be sure to use optimal strategy (also known as basic strategy). You can get a free copy of blackjack basic strategy at smarterbet.com/bjbas.html. Remember that the casino has less than 1% advantage when you play blackjack correctly, but the edge increases to about 5% when you play incorrectly. Also, beware of blackjack on slot machines that claim to pay 2:1 for naturals when the payout is really only 2 for 1, which is actually even money. This little deception increases the house edge to about 3%.
Baccarat: It is easier than it looks. The dealer (or caller) does all the work. Bet banker or player. Never bet tie. When you use this strategy, the house edge is just over 1%.
Craps: If you're not familiar with craps, don't worry. Just skip to the next paragraph for a brief tutorial. If you know the game, here is a simple optimal strategy. Play the pass line or don't pass, come or don't come, and take or lay odds. The total house edge on a bet with odds is less than 1%. Avoid all the other bets on the table except for place 6 and place 8.
Beginners can try this shortcut. Wait for the dice to change hands. When the dice are passed to a new player, put your money on the pass line; it's a long clearly-marked strip that runs the length of the table. A bet on the pass line has a nearly 50-50 chance of winning. If the shooter rolls a 7 or 11, you win. If she rolls a 2, 3, or 12, you lose. If she rolls another number (called a point), then the shooter must repeat that point before she rolls another 7. All the other numbers are meaningless at this stage. If she rolls the point, you win. If she rolls a 7, you lose. End of contest. Craps is that easy.
Video poker: There are dozens of video poker versions, and all of them require that you use optimal strategy for maximum payback. The best games pay up to 101% (which means the player has an edge). If you're up for that challenge, check out The Smarter Bet Guide to Slots and Video Poker. It's a book with easy-to-learn strategies for the most popular games. If you want to play video poker without using an optimal strategy, then that falls into the category of…
Play These if You Must
There are no "bad" games in a casino. But frankly, some games can be quite expensive. So play the following games if you must. Just be aware that the casino is extracting more profit on your action.
Slots: The charts at the back of this magazine tell the story. Slots can eat a lot of money when luck is against you. You'll pay between 5% and 12% of your action for the pleasure of spinning the reels. Likewise, the casino's profit on video poker starts at about 5% and goes up if you don't use optimal strategy.
Roulette: A double zero wheel gives the casino an advantage of 5.26%. If you must play this game, try to find a single-zero wheel. That cuts the house edge down to 2.7%.
Caribbean Stud Poker: The exact house edge depends on the strategy you use, but it never goes below 5%. A simplified strategy for this game is to call/raise with any pair or better. But the best strategy is to pass entirely and go play blackjack.
Three Card Poker: As with Caribbean Stud Poker, the exact house edge depends on the strategy you use. The best you'll get on the basic game is a negative edge of 3.4%. A simplified strategy for this game is to play any hand that is Q64 or better.
Other Table Games: If casinos could get away with it, they would remove all their blackjack, baccarat, and craps tables and replace them with other games (such as the ones mentioned above) that earn more. The general rule is that all other table games have a house edge of least 2.5% or higher. That is not bad compared to slots, but you can always do better.
Poker Passion
But what about poker? Isn't it the most beatable casino game of them all? Technically, yes. But that depends on your skill and the skill of your opponents. If you are quite good and you play against weak opponents, you can have a positive edge of one or two big bets per hour (around $40 per hour on a fixed-limit 10-20 table). And if your opponents make mistakes, you may be able to steal entire stacks. Hello profit!
But practically speaking, most casual players are on the other side of that equation. They lose at a rate of one to five big bets per hour. Or in no-limit games it is usually one or two minimum buy-ins per hour.
Also keep in mind that you may have to wait for a table on a busy night. This is hardly something you want to do if you're looking for maximum action in a short period of time. Then again, if poker is your chosen game…well…grab a drink and settle in.
Moving Around
Do you prefer to play one game? Then do the walk, find the best version of your game, and go for it. On the other hand, if you want the full casino experience, try this approach.
Divide you bankroll into three parts. Let's say you have $900 to risk; that would be $300 for each mini-session. Spend $300 on slots for one hour. Either nuke that $300 or stop playing after an hour. Regardless of profit or loss, put all that money aside. Go to the next $300, and play one or more of the "beatable" games we have listed. Do that for an hour and then stop. Again, regardless of profit or loss, put all that money aside. Finally, take the last $300 and play whatever other games you have missed that catch your eye. That will be three hours. Add your walkthrough and a bathroom break and that will be 3.5 hours. If you have any more time, return to a game that you particularly like and play the rest of the money you set aside until it is time for you to leave.
And of course, if you fall in love with a game along the way, just stay there and enjoy yourself till the end of the trip.
You've done it. You've found the best game for one night of action.
Basil Nestor is author of The Unofficial Guide to Casino Gambling, The Smarter Bet Guide to Blackjack, and other comprehensive gambling guides. Got a question? Visit SmarterBet.com and drop him a line.
The best games to play when you have one night in a casino.