Loosest Slots 2007
Our 14th annual Loosest Slots Awards point to the best payouts in the land
by Frank Legato
Where are the loose slots?
It is a question players ask our slot experts. It is a question they ask slot attendants or floor persons in casinos, holding out a tip for possible direction to those games that pay out the most. Players use old gimmicks like going to the ends of aisles to find the loose slots, or near entrances, or in banks of machines near the front door of a casino. They buy pamphlets on the Internet offering tricks to finding loose slots.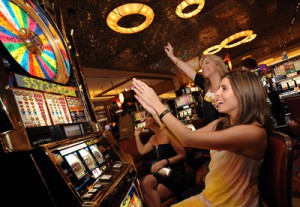 In the end, though, there is only one true gauge of where the loose slots are: History.
One cannot tell where the loose slots are by looking at them or by using some "system." The loosest slots can only be found by examining actual, historical numbers showing the portion of total wagers that were returned to players as jackpots, by a single casino, or by the casinos in a given region.
Looking at the payback percentage charts in the back of Casino Player or Strictly Slots for a single month is not a true gauge of where the best paybacks are either. Anything can happen in the space of a single month; you will often see paybacks exceeding 100 percent in the higher denominations for a month, due to a few huge jackpots being paid out. The best gauge is to follow the charts for several months.
Or better yet, an entire year.
Luckily, every April, we do that for you. In the following pages you will find the top three casinos or casino regions in each market in terms of payback percentages over an entire 12-month period, broken down by denomination and tabulated for overall payback. We have done this every year since 1994, and our April Loosest Slots Awards have provided a record of the most generous casinos in the nation for each of those years.
Casinos wear their Loosest Slots Awards like badges of honor, blaring them from billboards and in advertisements in this and other magazines.
It wasn't always that way. In fact, there was a time when casino officials were livid that a magazine would report their payback percentages. However, eventually, "loose slots" would become a marketing tool—much to the benefit of slot players.
What's 'Loose?'
No one had ever heard of something called "loose slots" before Casino Player began publication in 1988. Shortly after this magazine began, editors decided to take the numbers reported to regulatory authorities—required public reporting of slot "hold," or the amount of wagers kept by casinos after all jackpots were paid—and report them in side-by-side comparisons of competing casinos.
Of course, we take the "hold" numbers and reverse them to report "payback percentage." While casinos objected at first, preferring to keep as much information as possible a proprietary secret, they eventually realized that players were taking the numbers seriously, using them as a factor in their choice of one casino over another in a fiercely competitive marketplace.
Gaming writers had provided the terms—calling high-payback slots "loose" and stingy slots "tight." Casinos picked up on the terms and started advertising that they had "loose slots." Beginning in 1994, Casino Player gave those casinos with the "loosest slots" official recognition with these awards.
Since then, players have been able to get a pretty accurate picture of where to go to enjoy the highest-paying slots in the nation, and the following pages will tell you which casinos have proven themselves most generous in the past 12 months.
Before we begin, though, there are a few provisos we always give you up front—answers to questions that invariably crop up with respect to our Loosest Slots awards in particular and payback percentage in general:
First, you may notice that although our Loosest Slots charts break down denominations, the one denomination rapidly becoming one of the most popular on the slot floor, pennies, are absent. The reason for this is that the regulatory agencies are only now beginning to break pennies out as a separate denomination in their reports of slot hold. Until they are included every month in a preponderance of the reports, we will not be able to break them out in our reports. We can only report what is available to us, and at present, most regulatory agencies still lump pennies into the "Other Denomination" category that also includes dimes and 50-cent denominations.
Secondly, the percentage numbers reflect both regular slot and video poker percentages. Again, this is because we are restricted to reporting the information as it is made available to us. The casinos are not required to separate video poker percentages from slot percentages in their reports to the state regulators, so they do not. However, as our experts have reported consistently, the casinos with the highest overall percentages are almost always the same casinos with the highest-returning video poker pay tables.
Next, you will notice that some of the reports break out individual casinos and others break them down only by region. Nevada and a few other jurisdictions publicly report their percentages by region rather than individual casino. Nevada, for instance, breaks the numbers into regions including Reno/Tahoe in the north, and six sub-regions of Clark County in the south—Las Vegas Strip, Downtown, Boulder Strip, Laughlin, North Las Vegas, and Balance of County. Mississippi, Louisiana, Colorado and Quebec also use regional reporting. As with the other concerns, we can only report as the numbers are publicly reported.
In that respect, it is possible that the jurisdiction in which you play is not included in the listings—particularly if the casinos you frequent are Native American casinos. Not all casinos are required to report their hold percentages publicly, and if they are not required to make those numbers public, the casinos view the percentages as proprietary information, and will not reveal them to us or anyone else.
Finally, a word on the nature of payback percentage: It is a long-term number that does not reflect the odds of any one player of winning or losing in the short term. A 100 percent payback percentage does not mean you win every time. It means that, over time, that machine will return as much in jackpots as it takes in wagers. The flip of a coin is 100 percent payback. Over time, it will come up heads as many times as it comes up tails.
Payback percentage should not be the only reason you choose one casino over another—you should consider game selection, service, amenities and other factors in your choice. However, for a slot player, it is quite possibly the most important factor in choosing a casino, and all other factors being equal, loose slots should be the deal-breaker.
Here's who has the loosest this year.
And the Winners Are…
This year's survey, in a way, validates last year's survey, at least where it concerns the place players can find the loosest slots in the nation. Our 2005/06 survey marked the first year in more than a decade that the state of Nevada did not have the loosest slots in the country.
The casino that wrested that crown from Nevada was a three-deck riverboat casino across the river from Missouri in East St. Louis, Illinois, the Casino Queen.
Casino Queen has done it again—for the second consecutive year, the riverboat wins the distinction of having the loosest slots in the nation. For the 12-month survey period, Casino Queen (which now calls itself the "Home of the Loosest Slots") returned 94.95 percent of all slot wagers to players as jackpots—a couple of points behind the 95.13 percent returned last year, but still enough to top the industry.
Barely enough, that is. The casinos of the Reno/Tahoe area in Northern Nevada returned 94.88 percent of all wagers, only .07 percent behind Casino Queen, and the locals casinos on the fringes of the Las Vegas and elsewhere in Clark County—the "Balance of County" designation—were only .02 percent behind Reno for number three in the nation at 94.86 percent. The Boulder Strip, home of Sam's Town and Boulder Station, were close behind that at 94.77 percent.
What these numbers mean is that Casino Queen, while on top, ended up in a virtual dead heat with the three top Nevada regions for the loosest slots in the nation.
Notably absent from the top three in Nevada was North Las Vegas, once the perennial Loosest Slots winner. While still offering top payback in the dollar denomination (an impressive 97.02 percent) and making good showings in quarters and nickels, the casinos in the northeast suburbs of Las Vegas have largely slipped off the Loosest Slots radar.
There were few surprises elsewhere in the survey. The only jurisdiction in which the Loosest Slots mantle changed hands was Mississippi, where the South River Region (Vicksburg, Jackson) caught the crown with 93.32 percent overall payback, moving up from third place last year to edge out the Gulf Coast, last year's winner, by around 2 percentage points.
Everywhere else in the survey, there are repeat winners. In Atlantic City, the top three were identical to last year's survey, with the Borgata catching its fourth consecutive Loosest Slots crown with 92.63 percent payback. (The casino is four-for-four since opening in 2003.) Trump Plaza and Trump Taj Mahal were again second and third, respectively.
Cripple Creek again took the Loosest Slots crown in Colorado, interestingly, the only jurisdiction in which the top three payback percentages were all higher than last year's returns. (We hope this isn't a trend.)
Elsewhere, more repeats: Mohegan Sun in Connecticut, Argosy Lawrenceburg in Indiana, Prairie Meadows in Iowa, New Orleans in Louisiana, President in Missouri, Lac-Leamy in Quebec.
As always, our Loosest Slots results are certified by the Ventnor, NJ, accounting firm Rimm, Lavinsky, Horowitz and Pollard LLC.
Congratulations to all of our Loosest Slots winners, and, on behalf of all of the slot players of the nation: Thanks for giving us a fair gamble!
2006 Loosest Slots Results
Atlantic City
5 Cent
1) Harrah's 91.09
2) Borgata 91.07
3) Trump Marina 90.59
25 Cent
1) Harrah's 92.96
2) Trump Plaza 92.35
3) Borgata 92.08
50 Cent
1) Trump Plaza 93.73
2) Sands 93.00
3) Trump Marina 92.58
$1
1) Trump Taj Mahal 93.72
2) Trump Marina 93.31
3) Resorts 93.13
$5
1) Showboat 98.07
2) Trump Plaza 96.39
3) Trump Taj Mahal 95.06
Overall
1) Borgata 92.63
2) Trump Plaza 92.09
3) Trump Taj Mahal 91.93
Colorado
5 Cent
1) Cripple Creek 93.43
2) Central City 93.29
3) Black Hawk 93.26
25 Cent
1) Cripple Creek 95.18
2) Black Hawk 94.91
3) Central City 94.82
$1
1) Central City 95.75
2) Cripple Creek 95.23
3) Black Hawk 95.19
$5
1) Black Hawk 95.91
2) Cripple Creek 95.16
3) Central City 94.57
Overall
1) Cripple Creek 94.17
2) Central City 93.90
3) Black Hawk 93.72
Connecticut
5 Cent
1) Foxwoods 89.60
2) Mohegan Sun 88.46
25 Cent
1) Foxwoods 91.07
2) Mohegan Sun 89.82
$1
1) Mohegan Sun 92.60
2) Foxwoods 92.55
$5
1) Foxwoods 94.22
2) Mohegan Sun 93.64
Overall
1) Mohegan Sun 91.37
2) Foxwoods 91.23
Illinois
5 Cent
1) Casino Queen 93.14
2) Alton Belle 92.84
3) Jumer's 92.34
25 Cent
1) Casino Queen 95.18
2) Jumer's 95.00
3) Alton Belle 94.79
$1
1) Casino Queen 96.17
2) Alton Belle 95.44
3) Grand Victoria 94.76
$5
1) Casino Queen 96.89
2) Alton Belle 96.40
3) Empress Joliet 96.15
Overall
1) Casino Queen 94.95
2) Alton Belle 93.91
3) Grand Victoria 93.67
Indiana
5 Cent
1) Majestic Star 93.21
2) French Lick 90.82
3) Belterra 90.76
25 Cent
1) Majestic Star II / Trump 93.98
2) Belterra 93.55
3) Caesars 93.23
$1
1) Majestic Star II / Trump 94.75
2) Argosy Lawrenceburg 94.25
3) Majestic Star 93.89
$5
1) Majestic Star II / Trump 96.50
2) Argosy Lawrenceburg 95.90
3) Majestic Star 95.80
Overall
1) Argosy Lawrenceburg 92.70
2) Belterra 92.07
3) Blue Chip 92.02
Iowa
5 Cent
1) Riverside 94.50
2) Mississippi Belle 2 92.70
3) Dubuque Greyhound Park & Casino 92.63
25 Cent
1) Diamond Jo 94.67
2) Isle of Capri Bettendorf 94.46
3) Prairie Meadows 94.27
$1
1) Prairie Meadows 95.73
2) Rhythm City 95.35
3) Riverside 95.18
$5
1) Argosy of Sioux City 96.44
2) Isle of Capri Marquette 96.32
3) Prairie Meadows 96.20
Overall
1) Prairie Meadows 93.60
2) Diamond Jo 93.08
3) Dubuque Greyhound Park & Casino 92.92
Louisiana
5 Cent
1) Shreveport/Bossier City 91.22
2) New Orleans 90.97
3) Baton Rouge 90.95
25 Cent
1) Baton Rouge 93.32
2) New Orleans 92.85
3) Shreveport/Bossier City 92.43
$1
1) New Orleans 93.99
2) Baton Rouge 93.88
3) Shreveport/Bossier City 93.78
$5
1) Baton Rouge 94.93
2) Lake Charles 94.85
3) New Orleans 94.63
Overall
1) New Orleans 92.13
2) Shreveport/Bossier City 92.12
3) Baton Rouge 92.08
Mississippi
5 Cent
1) South River Region 92.54
2) Coastal Region 92.10
3) North River Region 90.16
25 Cent
1) Coastal Region 94.46
2) South River Region 93.25
3) North River Region 93.23
$1
1) South River Region 95.70
2) North River Region 95.17
3) Coastal Region 94.85
$5
1) North River Region 95.74
2) Coastal Region 95.35
3) South River Region 95.17
Overall
1) South River Region 93.32
2) Coastal Region 93.11
3) North River Region 92.77
Missouri
5 Cent
1) Harrah's N. Kansas City 93.32
2) Mark Twain 92.92
3) Ameristar St. Charles 92.48
25 Cent
1) St. Jo Frontier 94.10
2) Isle of Capri Kansas City 94.03
3) President 93.95
$1
1) Argosy Riverside 95.15
2) President 95.13
3) Harrah's N. Kansas City 94.86
$5
1) President 97.47
2) Harrah's N. Kansas City 96.09
3) Isle of Capri Kansas City 96.05
Overall
1) President 92.61
2) Isle of Capri Boonville 92.30
3) Harrah's N. Kansas City 92.13
Nevada
5 Cent
1) Boulder Strip 94.21
2) Mesquite 93.89
3) North Las Vegas 93.86
25 Cent
1) Boulder Strip 96.22
2) North Las Vegas 95.96
3) Balance of County 94.96
$1
1) North Las Vegas 97.02
2) Boulder Strip 95.99
3) Reno 95.87
$5
1) Laughlin 95.93
2) Reno 95.77
3) Boulder Strip 95.67
Overall
1) Reno 94.88
2) Balance of County 94.86
3) Boulder Strip 94.77
Quebec
5 Cent
1) Charlevoix 91.34
2) Lac-Leamy 91.01
3) Montreal 90.53
25 Cent
1) Lac-Leamy 91.77
2) Montreal 91.56
3) Charlevoix 91.18
$1
1) Lac-Leamy 94.66
2) Charlevoix 93.68
3) Montreal 93.68
$5
1) Lac-Leamy 95.31
2) Montreal 94.59
3) Charlevoix 94.01
Overall
1) Lac-Leamy 92.67
2) Montreal 92.43
3) Charlevoix 92.17
Loosest Slots 2007.