Hot Shot Redux
Bally super-charges one of its most popular games with a 15-reel version
Those 15 reels mean you can get multiple winning combinations of any other jackpot symbol as well—one for each of the 40 paylines, in fact. Imagine getting five 7s, times 40. That's the power of this game.
If you're a manufacturer of slot machines, what do you do to follow up a game that has been a monster hit wherever it's appeared? You do a sequel.
What's the best sequel? You guessed it. More of the same.
That's exactly what Bally Technologies has done with the latest entry in the wildly popular "Hot Shot" series of progressive video slots. You know the game. The original took slot players by storm by incorporating tiny video versions of the most popular legends of the Bally arsenal of games—the slots that defined the classic reel-spinner. The original featured miniature versions of all the iterations of Blazing 7s, one of the most popular slot machines of all time.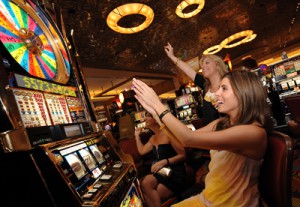 The drill remained the same through a number of versions of the original: When you go into the bonus with three or more triggering symbols, each of the corresponding mini-slots lights up and spins, hopefully for the player, to either a line jackpot—there's a mini-pay table too—or the slot's top jackpot, which is a progressive amount that increments on each mini-slot as you play the game. You could win two or more progressives in a bonus round—even all five.
Players went bonkers over this game, and they continue to do so. More new versions were inevitable, so Bally researchers went directly to the players to find out what they would like to see in a new version. Players said they like their Hot Shots game as it is, thank you very much. The new version would contain features enabling a heftier dose of what players already like about the game.
People like being able to have a shot at up to five progressives. How about up to 15? The newest Hot Shot game, Hot Shot Progressive 15 Reel, does just that. "The original Hot Shot was based on the game-in-game bonus feature," explains Mark DeDeaux, director of game operations at Bally. "On the original five-reel version, you can play up to five of those game-in-game events. On Hot Shot 15-Reel, we've made it so you can get up to 15 game-in-game events in the bonus feature. We've already seen that players love this feature."
The reason you can get up to 15 of those mini-games, each with a shot at a progressive jackpot, is that each reel spot you see on the screen—three rows of symbols, five reels—is a complete reel in itself, with all the game's available symbols.
On a standard slot machine, each reel simulates the reel strip on a traditional slot—a long row of symbols wrapped around a cylinder. Thus, each symbol in the game appears only once on each of the five reels. When you have a complete reel strip available to each spot appearing on the screen, the same symbol can theoretically land in all three spaces on each of the five reels. And in this game, once you pass three Hot Shot symbols, each of those symbols leads to a progressive mini-game.
Hot Shot 15-Reel could have had a separate teeny slot machine for each of those 15 spots, but again, the idea was to give players more of what they love. And that meant the five versions of Blazing 7s that were on the original game. If you land more than five progressive bonus symbols, you simply get more than one spin on one or more of the five mini-slots, up to three spins on each slot.
As in the original, each mini "game-in-game" slot corresponds to a different progressive: the original Blazing 7s, with a progressive resetting at $20; Blazing 7s Diamond Line, resetting at $100; Double Blazing 7s starting at $200; Triple Blazing 7s resetting at $1,000; and the top Blazing 7s Seven Times Pay, with a jackpot resetting at $2,000.
Also as with the original, the five progressives occur with great frequency. According to the manufacturer, the bottom $20-plus Blazing 7s jackpot hits every 241 spins, on average. The $100 jackpot hits every 1,373 spins. All game-in-game wins are multiplied by the total bet.
15 Times Pay
Those 15 reels mean you can get multiple winning combinations of any other jackpot symbol as well—one for each of the 40 paylines, in fact. Imagine getting five 7s, times 40. That's the power of this game.
"You can get five 7s times 40 theoretically, but you can get quite a few occasions of the same winning combination on one spin," says Loren Nelson, vice president of game development for Bally. "There are a lot more wins in the game because you are not bound to how we stack the reel strips. Each spot is its own reel strip. You can get 15 7s, 15 bars, or 15 Hot Shots."
Fifteen Hot Shots, of course, would mean 15 cracks at a progressive jackpot. You're normally going to get three or five, and occasionally somewhere between five and 15 cracks at that progressive, or a bonus when the miniature slot machine spins to a paying combination lower than the top progressive prize. (The full pay schedule is available to each miniature slot, which is another cool feature of the game.)
But what if you spin those tiny reels and get no bonus jackpots? Another piece of valuable feedback Bally got from players on the original is something we've all experienced at one time or another: annoyance. Players told the researchers that coming up empty after the dog-and-pony show when the bonus event is triggered was very annoying.
The new 15-reel version of Hot Shot addresses that problem with a "Second Chance" feature. If the player triggers the bonus and goes through three, five, 10 or however many bonus spins without landing a bonus award on any of the miniature slot machines, the bonus launches again, re-spinning all of the game-in-game machines—this time, for a guaranteed win.
"For players who liked Hot Shot and enjoyed all its features and elements, we've tried to listen, and understand what would make the game better," says DeDeaux. "By adding the Second Chance feature and more game-in-game chances, we tried to give players more of what they really like about Hot Shot—the same progressive awards, the same opportunities to bet what they did on the original, the same progressive levels."
More of the Same
The rest of the experience in Hot Shot Progressive 15-Reel gives you an encore of what you loved about the original slot. "We've kept the same game mechanics," DeDeaux. Says. "We've kept the frequency of the bonus round really similar to the original five-reel version. You're still going to get into the bonus round on a frequent basis, but on this version, you have a chance at more game-in-game jackpots within the feature. On the original, you could get as few as three progressive spins or as many as five. On this version, you can get as many as 15.
"The other thing that's compelling about this game is that we maintained the same Blazing 7s game feel and graphics, but gave it a more modern look and feel. The game has a really great visual presentation."
The 15-reel setup takes this winning formula to new levels by jacking up the hit frequency—it's almost 85 percent on this version, meaning you'll get a winning combination of some kind nearly every spin.
In general, DeDeaux says casinos are installing the new 15-reel version of Hot Shot to refresh their original five-reel versions, in the standard upright cabinet or the great movie-style CineVision setup. While you are most likely to find the slot in a penny or other low denomination, the game is available to casinos in any denomination—so, if you go for the high-end slots, keep an eye out for the game in one of the premium denominations.
According to Nelson and DeDeaux, so far, players are responding positively to the enhanced version of their beloved Hot Shot video slot. "From what I'm hearing, this is doing two to three times the business of the original Hot Shot," Nelson says.
Considering that the original is still a runaway hit, that assessment bodes well indeed for this super-charged version of Hot Shot Progressive.
Call it Hot Shot 2.0. •
HOT SHOT PROGRESSIVE 15-REEL
Bally Technologies
SLOT TYPE
Fifteen-reel video slot; multiple progressive jackpots through free-spin bonus event; all denominations available
PAYBACK % RANGE
85.02%—96.04%
AVERAGE HIT FREQUENCY
84.74%
TOP JACKPOT
Progressive; $2,000 reset (or 10,000 times total bet)
AVAILABILITY
AZ, CA, CO, CT, FL, IL, IN, IA, KS, LA, MI (tribal), MN, MS (tribal), MO, ND, NM, NV, OR, SD, WA, WI