GOING FOR THE POT OF GOLD and a BRACELET TOO – World Series of Poker
Casino Player previews the World Series of Poker final table
by Sean Chaffin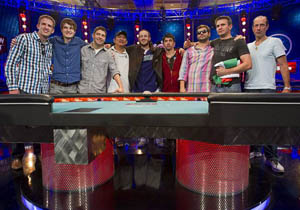 The players are ready.  So are the fans, the bright lights, and the ESPN cameras.   The final nine players in the 2012 World Series of Poker Main Event are set to return to the Rio Hotel and Casino in Las Vegas in late October to battle it out for the biggest title in poker.
This year's poker spectacle featured 74,766 entries in 61 events with a total prize pool of $222 million.  The current version of the "November Nine" will be battling it out for $8.5 million and the most coveted of World Series of Poker (WSOP) gold bracelets.  To avoid an Election Day conflict, this year's final table begins earlier than in past years, October 28th to be exact.  The final table is certain to provide some interesting results of its own, however.  The players that made this year's Main Event final table outlasted more than 6,800 other players and had to stay focused and on top of their game for more than a week's worth of play.  In a departure from recent years which saw foreign players achieve great success at the final table, this year is heavy on the Red, White, and Blue – as eight Americans are among the Main Event finalists.  Casino Player takes a look at the nine survivors who'll be looking to bring home the cash.
JESSE SYLVIA
Hometown:  Martha's Vineyard, Massachusetts (now Las Vegas)
Chips:  43.875 million
Twitter:  @jesse_sylvia888
Jesse Sylvia enters the final table as the overall chip leader.  The young professional poker player sits atop a mountain of chips and will look to use that chip lead to his advantage.  Sylvia has a few small cashes since 2008, including a cash at the 2011 WSOP, and a few nice online scores, but nothing of this magnitude.  The spotlight will be on him.  Sylvia's ability to use that big stack to his advantage may determine his success at bringing home the cash.  An interesting note is that Sylvia is a friend and former roommate of fellow final table player Russell Thomas.  Sylva says he wants to get involved in the movie business and has plans to move to Los Angeles to attend film school and write scripts.  If this rounder can take home the title in October, his journey should certainly provide some Hollywood-style inspiration.
ANDRAS KOROKNAI
Hometown:  Debrecen, Hungary
Chips:  29.375 million
Twitter:  none
The only non-American left at the final table, Andras Koroknai has an ample amount of chips to make a move and win this Main Event.  The 30-year-old professional poker player has been traveling the globe in recent years playing major tournament poker.  While he may not be well known, Koroknai is no slouch at the table with more than $1.8 million in lifetime tournament winnings.  He scored big by winning the 2010 WPT L.A. Poker Classic for $1.79 million.  Later that year, he also finished 339th in the WSOP Main Event pocketing $36,463 in the process.  He credits poker for getting him through a bout of depression following a serious injury sustained in Greece when he fell off a moped and nearly over a cliff.  He took up the game to get his mind off his injuries. With his experience and success, Koroknai looks to be a formidable foe for the others at the final table.
GREG MERSON
Hometown:  Laurel, Maryland
Chips:  28.725 million
Twitter:  @gregy20723
Another young professional, 24-year-old Greg Merson experienced a great run through the 2012 WSOP.  He cashed four times, including a fifth-place finish in the $2,500 Four-Handed event for $70,280.  That was a nice start, but the highlight came in the $10,000 No-Limit Hold'em Six-Handed championship when he bested a field of 474 to win his first gold bracelet and $1.13 million.  Qualifying for the Main Event final table was an added bonus.  Armed with a healthy amount of chips, another piece of jewelry is not out of the question for Merson.  Primarily an online player, Merson said he was living the "poker lifestyle" a few years ago and saw his bankroll dwindle.  He appears to have battled back successfully, and credits living more frugally and being more positive.  Amazingly, Merson was down to only a few big blinds on Day 5 of the Main Event, but successfully doubled up multiple times to get himself right back in tournament contention.  With that kind of luck and armed with significant poker skill, he is definitely someone to watch out for in October.
RUSSELL THOMAS
Hometown:  Hartford, Connecticut (grew up in Philadelphia, Pennsylvania)
Chips:  24.8 million
Twitter:  @ rungoodrussell
As an actuary, Russell Thomas must know quite a bit about numbers.  His studies of probability have surely helped him at the tables, but actually playing poker is the best way to improve your game, he says.  After cashing in the 2011 Main Event (248th for $40,654), the 24-year-old has definitely sharpened his game.  He also has a fifth-place finish to his credit in a $1,500 event at the 2010 WSOP that brought him $84,256.  After making the Main Event final table and taking a leave of absence from his job, Thomas finished 23rd at the World Poker Tour $3,330 Main Event at the Parx Casino near Philadelphia in August, earning $10,403 in the process.  Thomas considered becoming a poker pro after graduating from Temple University, but had a good job lined up and enjoys the structure of a normal routine.  The late nights and crazy life didn't interest him.  During the Main Event, Thomas was happy to see his mother fly out to Las Vegas and support him.  In October he'll have a chance to really make her proud.
STEVEN GEE
Hometown:  Sacramento, California (born in China)
Chips:  16.86 million
Twitter:  none
The final table's elder statesman, at age 57, Steve Gee, has been playing poker for 45 years.  Now a poker professional, he formerly worked as a manager of software projects for the California Public Employees Retirement System and holds a degree in business administration from California State University at Sacramento.  Gee is no stranger to WSOP success with several cashes and he is the final table's only bracelet holder.  He won a $1,000 No-Limit Hold'em event in 2010 for $472,479.  That experience could come in handy for the savvy veteran as he fights to overcome a chip disadvantage and work his way towards the top.  In his 20's, Gee played professionally in some of the biggest low-ball games in the country.  During his wait for the final table, he planned on playing several major tournaments to polish his skills.  An avid tennis fan, Gee says he actually enjoys playing tennis more than poker.  After this event, he should have plenty of time to serve and volley.
MICHAEL ESPOSITO
Hometown:  Seaford, Long Island, New York
Chips:  16.26 million
Twitter:  none
As a triathlon athlete, Michael Esposito knows the physical grind of a long race.  He understands the focus, determination, and tenacity to keep going.  Now the 45-year-old Long Islander hopes his strict daily regimen of running and biking, as well as, swimming several times a week pays off on the poker felt too.  Esposito grew up playing card and board games as a self-described "average kid on Long Island."  He is now a commodities trader on Wall Street and plays a couple poker tournaments each year as a hobby.  While he may not be a professional, he has garnered considerable success through the years – cashing in several tournaments, including some nice five-digit scores.  That tally includes finishing 540th in 2006 for $22,266 in the same event where he now sits at the final table.  Six years later, Esposito could come out on top in this WSOP race.  The broker had this to say about making the final table versus his day job, "Being a broker is a lot more relaxing some days than being at the poker table."
ROBERT SALABURU
Hometown:  San Antonio, Texas
Chips:  15.155 million
Twitter:  @robsalaburu
Robert Salaburu has been playing poker professionally for seven years.  He knows the ups and downs of the job.  As poker players say, he's "gone broke" a few times, but always scraped his bankroll back together and kept going.  Now Salaburu, 27, has a chance for the biggest score in poker – and the unique opportunity to add his name to a long list of champion poker players from the Lone Star State.  Though he prefers cash games, Salaburu has several smaller tournament cashes and wins.  His biggest thus far is a $1,000 buy-in No-Limit Hold'em tournament at the North American Poker Tour's Mohegan Sun event in 2011 to the tune of $17,261. Salaburu says he has had some nice $30,000 tournament wins playing online prior to last April's Black Friday which devastated the online poker community.  In the later days of the Main Event, he found himself leading the chip count for several days.  Salaburu definitely has a chance to get back to the top on poker's biggest stage.
JAKE BALSIGER
Hometown:  Tempe, Arizona
Chips:  13.115 million
Twitter:  @pzerotm
Barely old enough to buy beer, Jake Balsiger, 21, is the youngest player at the Main Event's final table.  He is definitely living a dream.  While he has only a few years of poker experience, Balsiger makes up for it with his dedication and card smarts.  He hopes to build a successful poker career, and kicked it off with a small cash to start the WSOP.  Now a senior and political science major at Arizona State University, this Sun Devil grew up with a love of card games in any form.  Poker, however, proved to be his first love.  In the months before the final table, Balsiger says he consulted with Canadian poker phenomenon Mike McDonald for some coaching tips in hopes of fine-tuning his game.  When not in class or hanging out with friends, Balsiger can often be found at the $3-5 No-Limit Hold'em tables at Talking Stick Resort in Scottsdale.  If he can pull off winning the bracelet and the cash, his poker skills will have everyone back on campus talking.
JEREMY AUSMUS
Hometown:  Lamar, Colorado (now Las Vegas)
Chips:  9.805 million
Twitter:  @jeremyausmus
Yet another professional player, the 32-year-old Ausmus is a graduate of Colorado State University.  He is married, has a one-year-old daughter, and another child on the way.  Ausmus is no stranger to the poker felt.  He's been living and playing professionally in Las Vegas since 2005.  While he may be on one of the short stacks, Ausmus has plenty of tournament experience to rely on.  He's cashed in nine WSOP events including an impressive eight events this summer alone.  A frequent cash game player, he found himself with a very low chip count several times midway through the Main Event.  During one crucial hand, he was forced to get all his chips in with a pair of Queens on the Turn.  His opponent tabled a set of 8's (three-of-a-kind), but a miracle Queen on the River kept him alive.  With his wife pregnant and due in early-November, the couple's doctor said the baby might come early.  What will he do if their bundle of joy arrives during the final table?  Play cards of course; and hopefully have two great reasons to celebrate!
The World Series of Poker Main Event will be held Oct. 28-30 at the Rio Hotel and Casino in Las Vegas, and will then air on ESPN.
Sean Chaffin is a freelance writer in Rockwall, Texas.  His new book, RAISING THE STAKES:  True Tales of Gambling, Wagering and Poker Faces, is available as an eBook and in paperback at www.RaisingtheStakesbook.com, Amazon.com, and BarnesandNoble.com.  He is also editor of www.PokerTraditions.com; all about poker history, lore, and people.  If you have a gambling or poker story idea, email Sean at seanchaffin@sbcglobal.net.