GETTING IN ON THE ACTION
A complete guide to playing poker in a casino
By Sean Chaffin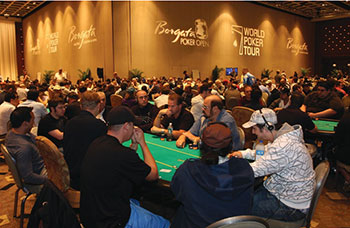 Poker players around the world check out televised events like the World Series of Poker and World Poker Tour on a weekly basis. Many play in their neighborhood game with friends and some branch out to play online. Playing poker at a casino might be a completely different experience for some.
Here is your complete guide to jumping in on the action at a casino poker room during that next trip to Las Vegas, Los Angeles, Atlantic City, or even just the card room down the street.
Hitting the Tables
Getting in on the Cash Game Action
You've checked into the perfect Las Vegas suite or parked the car at the local casino. Now it's time to head to the tables. If it's your first time, there are a few things to look for and keep in mind.
To start playing at a casino poker room, first head to the host area that displays the day's action. A screen will usually show the games that are underway. Players can decide the games and stakes they would like to play. Sometimes there may not be an open seat and you'll want to get on the waiting list.
Cash games will usually have a minimum or maximum buy-in amount (or both). When your seat is ready, buying chips is easy. At many casino poker rooms, simply head to the cashier (or cage).This is also where you will cash in at the end of the session – hopefully with a tidy profit. If things don't go your way at the tables, however, and you get low on chips, simply ask for a floor person who can usually help you purchase more.
Players new to a casino cash game will notice that each table has a professional, full-time dealer. So that a casino makes money, the dealer takes a small percentage of each pot known as the "rake." That can vary from 2 to 10 percent depending on the property and house rules. So, players not only have to beat the other players at the table but also make enough per hour to overcome the house rake.
Another added note about cash games is the mantra that "money plays." In most casinos, poker is played for "table stakes." The cash or money in front of a player is at stake in any game. Players can't take it off the table until they're done playing – all players have an opportunity to win that amount on the table.
And unlike what you may have seen in a movie, players can't simply reach into their pockets (or throw the car keys in the pot) in the middle of a hand to add more to a pot. What you have in front is what you can play – you'll have to buy more chips after the hand.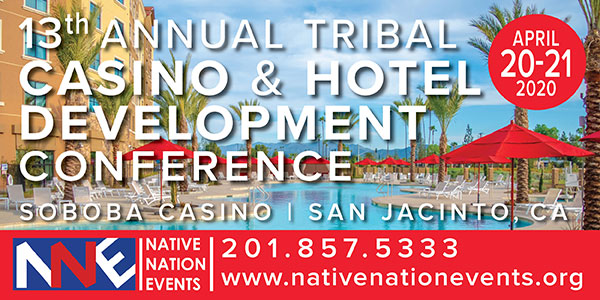 Cash Game Promotions
Many casinos often add some extra incentives to reward regular cash game players. Promotions like "Aces Cracked Wins a Rack" or similar are common. In this scenario, a player losing with pocket aces will win a rack of chips or a certain amount of money. Poker room promotions during sporting events are also common, and a property may offer random "splash the pot" bonuses as well.
The Bad Beat Jackpot is a common promotion at many rooms. The casino may take a dollar of each pot to add to the jackpot, which can reach hundreds of thousands of dollars. A player losing with a premier hand will usually win half the jackpot and the winner of the hand gets a fourth.
The remaining fourth is usually divided among the other players at the table. This is a hand most players don't mind losing and makes for quite a happy table. The house usually has certain qualifying rules for the Bad Beat Jackpot, so be sure to ask if you're unsure.
What to Expect from Tournaments
Not a cash game player or looking for something different from that regular $1/$2 no limit hold'em game? Most casinos also have regular tournaments, and if that is more your style, check the casino's website or host station for a schedule.
Some properties also host bigger tournament series that may require bigger buy-ins. These could vary from a couple hundred bucks to thousands of dollars. Beyond buy-ins, these tournaments will vary in regards to structure as well. Smaller house tournaments may feature shorter blind levels and poorer structures. These are meant to be finished quickly and the poker room may offer several in one day.
Bigger tournament series should offer better structures with longer blind levels with a flatter progression. These benefit skilled players more, but also give more room for play as well as bigger starting stacks. Tournament structures are usually available in the poker room and on the casino or poker tour's website. These major events may also feature a nice trophy for winners – a nice added bonus to memorialize your win.
 EXTRA THINGS TO REMEMBER 
Bringing Phones to the Table
The use of cell phones at the tables usually varies depending on the casino. Some will allow texting while playing, but not talking on the phone while playing. Others allow quick conversations in between hands. But there seem to be not definitive rules. If you're in doubt about texting or tweeting while at the table, ask the dealer for the house rule. When it comes to phones, those that are more accepting also tend to have amenities to cater to players. Some may have charging stations on site and some even have charging stations directly at the tables. If you're planning on being at the table for long hours (hopefully winning), packing a cell phone backup battery may be a good idea.
Be Sure to Reward Yourself
Most casinos offer loyalty clubs, which allow players to accrue points for free meals, comped rooms, merchandise, and other rewards. It's a good idea to take a few minutes and get a card when you're ready to play.
Obviously, it's important to wager only what you can reasonably afford to lose, but adding some value for your play is also a good idea. Those points might accrue and earn a nice dinner at the steakhouse or buffet. But beware of chasing points. A free backpack or jacket from those reward points is probably not worth the risk of losing a few hundred more dollars.
The Overall Environment
The environment at a poker room totally depends on the property. Some high-end casinos will have a plush room catering to medium and high-stakes players. Others may focus on lower rollers and have a more relaxed feel. Players tend to find a poker room that suits their general personality.
Rooms may differ as well in the games and tournaments they offer. Some may stick to traditional no limit hold'em and others may offer more mixed games. Many are also trending in the non-smoking direction while others seem as smoky as a chimney.
Poker rooms in Las Vegas tend to be located in the main part of the casino and the sounds of passersby and slot machines is a normal part of playing. In other parts of the country, the poker room may be a completely separate venue from the main casino. These are usually much quieter, and the noise level of a room may be something to consider when hitting the tables.
There is a poker room for everyone, and those who haven't made the trip to the local poker room should now know what to expect. Don't be afraid to jump in the action. Just buy your chips, play your best, and have some fun. Good luck!
Sean Chaffin is a freelance writer in Crandall, Texas, and senior writer for Casino Player and Strictly Slots magazines. His work appears in numerous websites and publications. Follow him on Twitter @PokerTraditions or email him at seanchaffin@sbcglobal.net for story assignments.