Gamble Online – Poker Rooms
Poker Rooms
Navigating Internet Poker Rooms
There's no question that poker has become the "in" game of the day. Television, radio, magazines, newspapers—everywhere you look is flooded with poker. And the Internet is no exception. Just about every online gaming site company with the resources to do so has rushed to add their own "state-of-the-art" (or so they claim) poker room to their repertoire in an effort to capitalize on the hot poker trend.
In most cases, this has been a boon for players. Where years before there were only a handful of less-than-spectacular card rooms scattered across the Internet, now there are a multitude of great sites each with its own unique flair. You can battle it out heads-up in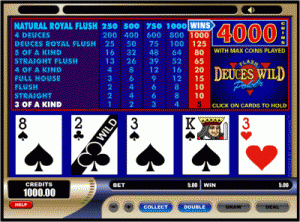 Texas Hold 'em against players from around the world, or claw your way through a 2,000 player multi-table tournament with over a million dollars in prize money at stake. Some sites even offer players the opportunity of a lifetime: to play against poker's elite. Pros-turned-icon such as Howard Lederer, Kathy Liebert, Phil Ivey, Chris Ferguson and more are accessible to online players thanks to sponsorship/spokesperson deals from various online card rooms. Even Doyle Brunson, the 71-year-old godfather of poker himself, has welcome online poker's arrival and challenges all comers to a game at his self-titled site, Doylesroom.com. He has even been known to offer a bounty to any players skillful enough to knock him out of a tournament.
But while this online poker explosion does offer greater accessibility to the game and options galore, it can make taking those first steps as an online poker player a little bit tricky. Which sites are the best? Do they all have the same games? Can I get to the World Series of Poker from here? Let's find out.
Winning Strategies for Online Poker Players
Navigating Internet Poker Rooms.