From the Poker Room To the Boardroom
MGM Resorts Executive Bobby Baldwin reflects on his life in poker, and the top ranks of the gaming industry
By Sean Chaffin
 Baldwin is a big name in poker, having taken part in the World Series of Poker in its early years and winning the Main Event in 1978 for $210,000. He was only 28 years old. During this period, he also began using his business education to help run Las Vegas casinos.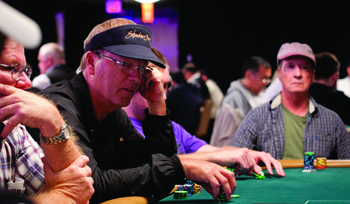 It's fair to say Tulsa native Bobby Baldwin didn't take the conventional route to becoming a major casino company executive. Baldwin got his start chasing big money poker games in Texas and Oklahoma, and would eventually achieve the distinction of being a member of the Poker Hall Of Fame as well as one of the top executives in the gaming industry.
Baldwin is a big name in poker, having taken part in the World Series of Poker in its early years and winning the Main Event in 1978 for $210,000. He was only 28 years old, which made him the youngest WSOP Main Event winner at that time. He continued to achieve success at the poker tables through the 1980s, winning three other WSOP bracelets.
During this period he also began using his business education to help run Las Vegas casinos. In 1984, he became president of the Golden Nugget; in 1987, he took the helm at the Mirage; and in 1998, he was named president of the Bellagio. In 1999, he became the CFO of Mirage Resorts under Steve Wynn, and in 2000 was named CEO of the merged MGM-Mirage. His most monumental task was spearheading the company's CityCenter project in 2005 on the Las Vegas Strip.
Casino Player recently spoke with Baldwin about his career on both sides of the table—as a player, and as one of the industry's most respected executives.
Where did you grow up, and how did you get into poker?
I grew up in southeast Tulsa. I went to Memorial High School and graduated in 1968. I wasn't really into much of anything except for playing pool and playing poker. The pool came before cards, because I played at 9-ball at a place called Brookside Billiards. They had a poker game in the back room. After a period of time, I couldn't get a pool game anymore (because he was winning everyone's money)…and then I became interested in the card game. So I gravitated to the poker room in the back room. When I was about 15 I joined in the game, and I lost every time I played. I was the only one in the game who was younger than 50.
When did poker turn around for you?
I went to Oklahoma State University and majored in business administration. It didn't turn around for quite some time, literally until I got to play in some games at OSU. I had a roommate in college who was a very good card player and he did a lot to teach me the game. I played on Tuesdays and Friday nights. If I remember right, it was a $100 buy-in No Limit Hold'em. By the end of college, I was quite a bit better. I actually quit college in my fourth year and became a full-time professional poker player, mostly in Texas and some in Oklahoma City. I lived in Dallas in 1976 and 1977. I played at the Amvets Club in Dallas on Greenville Avenue (a popular underground poker club that hosted some of the biggest names in poker throughout the '70s and '80s). I slept in the back room there. It had a lot of good poker games.
What were some of your other favorite places to play?
There was the Amvets, and there were several house games I played at. There were a variety of guys who had poker games on various nights of the week. I kind of played the Dallas circuit, and on Sunday nights I played in Denton, Texas, which is just about 30 miles north of Dallas. I played in Belton, Texas, and Corpus Christi, Texas, and I pretty much played every night of the week. I moved to Vegas in 1982, but I first started playing cards in Vegas in 1975. My first time to enter the World Series of Poker was 1975.
What was it like to win the WSOP Main Event Championship in 1978?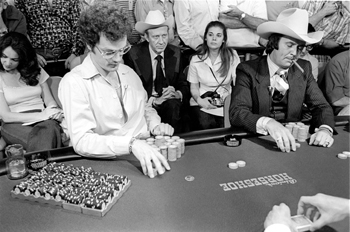 I was 28 years old, and when you're 28 you think that you're going to win every time you play, but I was obviously happy to win the World Series of Poker. There were 43 players at that time–nowadays they have 7,000 players. I didn't drink at the time, so there wasn't much celebrating. It was just packing up the money and trying to get it to the bank. Usually when a poker player wins a tournament, he has to pay the people he owes, and then pay all his bills that are stacked up.
What are your feelings on poker's popularity today, including ESPN's live coverage this summer, and of the final table in November?
The Internet and TV, and the advent of how the TV can show the players' cards, has of course expanded the number of people who want to play no Limit Hold'em dramatically. It's a great game and people have a lot of fun at it, and there are more professionals now than ever—but still, 95 percent of all players are amateurs playing just for recreation. I liked the live coverage, and I think that's the way to go with poker. It was on a 15-minute delay, but it was the same as live.
 Do you still play poker quite a bit?
I play a couple times a month and I play during the World Series of Poker. I have a place called Bobby's Room at the Bellagio, which is my room inside of the poker room that has two tables and is named after me. I mostly play there.
Can you describe your role with MGM Resorts?
My title is CEO of CityCenter and I'm the company's chief design and construction officer. I'm in charge of CityCenter, which has the Aria Casino Hotel, Mandarin Hotel, and another hotel, Vdara, which is part of CityCenter, and I have some residential towers. Aside from my duties as CEO of CityCenter, I run all of the company's construction efforts. We have 10 casinos in Las Vegas, and 14 casinos altogether. We just finished CityCenter in December of 2009, so we're still refining our operation there. It was the most exciting project. It was the largest the company had ever undertaken—about 18 million square feet.
What were some of the challenges you faced with that enormous project, and do you have any interesting future projects?
It was just the logistics of getting a project that large done in a reasonably short period of time. It was five years from start to finish, and it was about $8.5 billion and included residences, which was an interesting twist to the Las Vegas Strip. It was a lot of fun and has been very successful. Mostly right now, I'm developing restaurants and nightclubs and [overseeing] improvements in the buildings we have. We have undeveloped land in Las Vegas, but we have no new projects scheduled.
What do you think is the future of online poker, and if it becomes fully legalized, are you looking to get involved?
I think it's mostly up to Congress, and if it approves online poker many of the states including Nevada are prepared to license businesses or individuals or both. It will be just like anything else in America— a free-market competition for the best online poker sites and our company will be involved of course. We have an affiliation with a company called PartyPoker in North America (which is owned by online gambling giant bwin, which is the largest publicly traded online gaming company), so we have a partner. They already have operations around the world, so we'd just be expanding on their brand through MGM within the U.S.
 Sean Chaffin is a freelance writer based in Rockwall, Texas, and the editor of www.PokerTraditions.com, which is devoted to poker history, lore, lifestyle and people. For more information on his work, visit www.seanchaffin.com. Do you have an interesting poker tale? Email sean@PokerTraditions.com.
**** SIDEBAR ****
Stacking Chips with Bobby Baldwin
Favorite movie? Cool Hand Luke with Paul Newman, and The Hustler with Jackie Gleason and Paul Newman
TV show? Anything on the History Channel
Book? I'm not much of a reader for entertainment, because I read so many other things.
Sports team? Oklahoma State Cowboys. Golf's my individual sport because it's kind of like poker, it's you against you. You're really just trying to control your own destiny. Golf's a lot like poker because you have to have a great deal of discipline, and at the same time, a lot of imagination.
Travel location and why? I like Cabo San Lucas, because it's only two hours away from Las Vegas and it has everything.
Drink? Crown Royal and Seven-Up.
Music artist? I like Elvis Presley.
Biggest achievement outside the poker world? CityCenter
Do you have a hobby? Off-road racing with my son. We race Baja trucks in the Baja 1,000 and Baja 500. My son has won several races and he's won three national championships. I'm not quite as fast as my son.
If you could meet anyone in the world, who would that be? I guess the President of the United States is usually a pretty interesting character.
What's the worst mistake you have made at the table? Playing in a game that turned out to be crooked. I think every poker player's been cheated. Many years ago in Dallas, there was a card game that had a couple of cheats in it. They were cold-decking—switching the decks with set-up decks.
What's your lucky charm? A good bottle of Fiji water is always sitting next to me.
Saying or quote? If you're sitting at a poker game and you look around and don't see the sucker, you're it.