DEAR AMERICAN GAMBLER
How to enjoy responsible gambling when you're being responsible and staying home.
By Roger Gros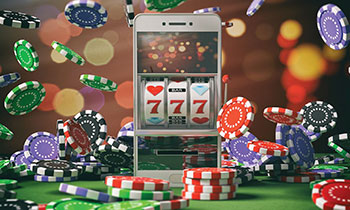 YOU LOVE GOING TO CASINOS.
You enjoy the planning and anticipation of a trip to the casino. You know how to budget your money to get the most bang for your buck.
Choose your poison! Slots? Blackjack? Video poker? Roulette? Poker? That's where the fun really starts.
Yes, casinos are more than just gambling. The restaurants and shows always add a great element to the surroundings. The camaraderie among the players trying to beat the house. The special events that attract you to the casinos are all part of the overall experience.
Now that most of the casinos around the world—and 100 percent of the casinos in the U.S.—are closed to prevent the spread of the coronavirus, we can't enjoy any of these things right now.
Well, that's not entirely true.
Certainly, the total experience of the live casino cannot be replicated anywhere but a real casino. But the thrill of playing the next hand, pushing the button to spin the reels and enjoying a showdown between you and the casino—that's always available with online gambling.
To be a responsible citizen these days, you should quarantine yourself so this can be over as soon as possible. But does that mean you can't enjoy a little recreational gambling?  Of course not.
With all sports shut down as well, betting on the games is out, but every casino game is offered on iGaming websites in Delaware, New Jersey and Pennsylvania. You can play online poker in those states, as well as in Nevada.
To be able to play, you have to be physically present in those states. A technology called geolocation will determine where you're located. So, while you can open an account at a legal online casino in any state, you won't be able to bet unless you're present within the borders of one of the states with legal online gambling when you want to play. A good resource that lists the available online casinos and the states where they are legal is iGamingPlayer.com.
How to Join
So, you've decided you want to open an online gaming account. Now you must decide which online casino you'd like to play at. Now is actually a great time to sign up, as the online casinos are offering terrific bonuses and promotions for new players. Check out the promotions tab on iGamingPlayer.com to see all your choices in any of the states.
When you open an account, you'll be required to show proof of identification and provide the following information:
Name
Email address
Cell phone number
Home address
Social Security number
Date of birth
You'll then be prompted to create a log-in name and password.
At some point—it differs with each site—you'll be asked to down- load an app. Most have versions for all kinds of devices—iPhones, iPads, Android phones and tablets, and desktop or laptop computers.
Simply go to the App Store for Apple devices. For Android devices, it's a little more difficult, because Google doesn't permit gambling apps to be downloaded at its Google Play store. But each site will direct you to an alternative download site and it will be very easy from there.
Next, you'll be asked to deposit money to begin to play. It gets a little more complicated here, because the more money you deposit, the bigger bonus you'll get.
How to Deposit & Collect
Online casinos know that making deposits and withdrawals has to be easy. In the early days, some players had problems with major credit cards, which initially did not allow transfers to gambling sites. Some of those glitches have been ironed out, and you can now use some credit cards to make deposits. But don't be discouraged if you get turned down because not all banks or credit card companies are participating. But that's just one of several options. Here's a quick rundown:
ACH. This is an acronym for Automated Clearing House, linking your bank account with an online casino. This is the easiest way to transfer money directly to the online casino, and back if you're a winner. Understandably some people might be a little nervous about linking your account directly to an online casino, but legal online casinos in the U.S. are required to follow the same regulations as land-based casinos when it comes to cash transactions, so if there's any question, a regulatory agency can investigate.
Credit and debit cards. Most online sites accept deposits from credit and debit cards. However, as we said you may still run into a problem with some banks, though most major banks now acknowledge online gaming as legitimate. You can also use eChecks and wire transfers from banks eWallets. Most online gambling sites allow deposits through eWallets such as PayPal, Neteller or Skrill.
Prepaid cards. Many sites began using this option to offset credit cards and they remain in play. You can also make cash deposits by physically going to the casino or sportsbook which partners with the online site, which of course isn't an option if the casinos are closed.
Collecting can be done in a variety of ways. For ACH, you just request a withdrawal, and the money will be in your account quickly. Same way with a credit/debit card or eWallet. And finally, a check can be mailed to you via old-fashioned snail mail if that's the only option.
Games People Play
One of the great things about online gaming is the wide variety of games you can play. From slots to tables to sports betting, there's some- thing for every gambler.
Slots
If you have a favorite game in the casino, there's no question you can find it online. One site alone, PlaySugarHouse.com offers 672 casino games in New Jersey. So there's no doubt that you'll find your favorite slot on this site. But there are lots of other games at the other casinos, some you've never seen before on a casino floor.
Hard Rock's New Jersey site offers "live" slots, where you actually play a real live slot machine located within the Hard Rock casino. It's a new technology and gives you that "real" casino feel. And Hard Rock is the only online casino to offer Aristocrat games like Buffalo and Lightning Link.
Best of all, most online games give you a better chance to win than those in a casino. Why? Because there's no overhead of buying a machine, or staffing the slot floor, or the simple real estate costs of a land-based casino. So, slot players get the best deal online.
Blackjack/Roulette
Good luck finding a blackjack game in a casino with as much favor to the players as you would find online. In most Atlantic City casinos, low-limit blackjack games ($10-$25) pay 6-5 on blackjack. Online casinos almost al- ways pay the standard 3-2.You can double down on any two cards and double down after splitting, giving the player even a better game.
And like those bonus blackjack games with the side bets that offer you a chance at a big jackpot, most casinos offer a variety of those games at all different price points.
What if you don't like the electronic version of the game?  Too boring?
Try the "live dealer" blackjack, where actual human beings distribute the cards to the players and recognize you by name! It's as close to being in the casino as you can get. And again, great rules! Live table games are available at the Golden Nugget and Hard Rock casino sites.
Same goes for roulette. We've all seen the electronic wheels on the casino floor that are basically electronic table games. Well, that's what you'll find on the online roulette games as well. But another player advantage is available for roulette in that most casinos offer a single "0" roulette, cutting the house edge from 5.26 percent to 2.7 percent. And "live" roulette games can be found at those same sites.
Baccarat
If you haven't played this favorite of Asian gamblers, you're missing out on one of the best bets in the house. Although it looks complicated, it's basically like flipping a coin—you bet either banker or player. Odds slightly favor the banker, so a winning bet pays a five percent commission. The only other bets are the tie bet that pays 8-1 and a "dragon" bonus bet that pays off on wins on a "natural" hand of 8 or 9. But don't bother with either of those bets, the house edge is much higher than either banker or player.
"Live" tables are available at the Golden Nugget, Hard Rock, BetFair, PartyCasino, PlayMGM and Borgata casinos.
Sports Betting
Yes, the decision to shut down sports worldwide has pretty much made sports betting an afterthought in the quarantine era. There are some exotic sports that are still offered, and horse racing continues albeit to empty stands.
But there are some "virtual" sports betting options at Golden Nugget, Caesars and Mohegan Sun online casinos. You can bet on recreations of races featuring horses, dogs, cars and motorcycles, and you can even bet a soccer game. Next month, we'll tell you how to bet those games.
Also, coming up in April will be the NFL Draft. It won't be the huge extravaganza that it was in Nashville last year, or the big blowout that was planned for Las Vegas this year, but it'll give bettors a great opportunity to wager on their favorite team, players and situations. It's bound to be a huge betting event, now that there are no other sports to bet on for the time being.
So, don't just sit there behind your windows and doors. Head to the virtual casinos, but don't forget to check iGamingPlayer.com before all your gambling excursions. They've got the latest and greatest tips, promotions and sign-up offers.