CHECK RAISE AS A WEAPON
Strategy for Texas hold 'em
By Jim Feist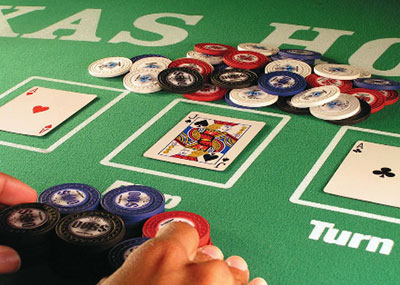 Basketball season is a frenzied time in Las Vegas, with rivalry matchups, tournament play and the madness that follows. That means the best basketball coaches are going to use strategies to attack the weaknesses of their opponents, such as the full court press, the fast break, or utilizing the bench when situations such as three-games in three-nights crop up.
Winning in basketball, both straight up and against the Vegas lines, are endlessly challenging. The same is true with competition at the poker tables. Winning doesn't mean sitting back and waiting for the best hands. It means going after your opponents hard, knowing when to push, when to back off, and when to bluff.
This is the time of year when you will hear some basketball TV commentators point out how one team is dominating the glass with their big men and the opponent isn't making any adjustments to try and stop it. Poor coaches won't make adjustments, just as weak poker players won't handle the fast reactions necessary to turn a profit at the tables.
If you think your poker opponent is taking too many of your chips, then do something about it the next hand! It's not about going easy on your opponents, but going for the jugular not only with your cards, but strategies and even mind games. There are many poker strategies to learn, modify and master. One is the check-raise, a basic move that can be a powerful tool.
A check-raise in poker is a useful deceptive play in which a player checks early in a betting round, hoping someone else will open. The player who checked then raises in the same round. By checking and raising your opponent's bet you can use their position against them to get more money into the pot when you're holding above average cards or make them fold when you're bluffing, a double-edged sword tilting the odds of winning in your favor.
A check-raise is fundamental but it's important to understand why and when to use it. A poker check-raise consists of checking when the action's on you, and then raising after a player behind you has bet. Essentially it's a trapping move, putting pressure on your opponents. This is utilized for two reasons: 1. Check-raising for value, meaning you want to get more into the pot, or 2. By bluffing you can force an opponent to discard a good hand.
Check-raising can first provide a psychological edge, as your opponent won't think you have a weak hand. Of course, you can't do this every time or it loses its edge. It would be like a basketball coach having his players start every quarter in a full court press. It's not a bad idea to change your style of play, but not so that it's predictable.
One plus side of check-raising is that if you do have an above-average hand you will be more comfortable putting more chips at risk. Check-raising puts pressures on your opponent, either by forcing them to make an error (such as calling with a weak hand), or forcing an all-in shove from drawing hands and second-best made hands.
Check-raising with a real strong hand is especially effective, but remember it can scare your opponents into folding. So if you're not bluffing, be careful not to scare them out. Better players use patience, building up the pot to try and cash a bigger payday.
If you don't have a good hand check-raising can work as a bluff or semi-bluff. You can use the check-raise to knock players off pots regardless of the cards you're holding. Even novice poker players know they should be continuation-betting the majority of the time when they raise pre-flop, so it's possible to turn the tables on them with a well-timed check-raise. Check-raising as a semi-bluff is another powerful way to add strength to the way you play your drawing hands. Next time you flop a potential flush draw, for instance, try a check-raise instead of a check-call and give yourself a second way to maximize the pot.
In basketball and poker, it's not always about who has the best players or cards, but who uses the right methods to maximize wins, build up pots, and even cut losses at the right time. The name of the game in Vegas and poker tournaments is one word: WINNING!.
TOURNAMENT STOPS

Seminole Immokalee Poker Challenge Returns
Seminole Casino Hotel Immokalee in Florida is hosting the second annual Seminole Immokalee Poker Challenge (SIPC) on Feb. 21-26. The six-day festival runs as part of the 2016/2017 Seminole Hard Rock Poker (SHRP) season and features two primary events headlined by the $1,650 buy-in, $200,000 guaranteed Championship. In all, the series is set to award more than $250,000 in cash and prizes.
The Championship begins Feb. 24 and is eligible in the SHRP Player of the Year race which awards prizes to the top three points earners and boasts a winning prize valued at $32,450. In addition, the tournament features an added seat in the $5,250 Seminole Hard Rock Poker Open Championship set aside for the champion.
This marks the second consecutive year for the property to host the SIPC. Last year's Championship drew a field of 127 entries and saw Herbert Woodbery of Winter Garden claim the top prize of $51,000 along with a $3,500 tournament entry.
Preceding this year's $1,650 Championship is the $350 buy-in, $50,000 guaranteed opener. With four starting flights, the event saw a strong field of 188 entries generate a prize pool of over $55,000 in 2016. Claiming the victory was Brian Wilson of nearby Cape Coral. To go along with $16,356, Wilson earned a $1,650 seat in that year's Championship. As was the case in 2016, the $350 opener will again feature an added $1,650 Championship seat.
Running alongside the series primary tournaments will be daily satellite and side events. A complete series schedule and event structure sheets are available at www.seminoleimmokaleepoker.com.