Battling For Bracelets
16-Time World Series of Poker Champion Phil Hellmuth Discusses His Life in Poker and Quest for Greatness
By Sean Chaffin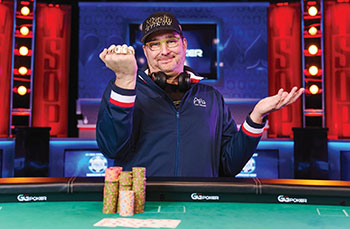 The World Series of Poker kicks off on May 31 and no player may be more synonymous with the event than Phil Hellmuth. The 1989 Main Event champion has 16 championship bracelets and $16.3 million in series winnings. He sits well above the next-closest competitors with six more bracelets than poker legends Doyle Brunson, Johnny Chan and Phil Ivey.
There's no doubt Hellmuth brings plenty of skills to the table, but his "Poker Brat" persona can rub some poker fans and players alike the wrong way. The family man, investor, businessman, and next-level poker player has tried at times to rid himself of the bratty persona, but his anger and frustration still often come out. Love him or hate him, however, Hellmuth attracts fans to the game. Whether at a WSOP final table or dominating heads-up matches on PokerGO's High Stakes Duel, discounting Hellmuth's skills seems silly at this point.
The last WSOP was held in the fall and Hellmuth had a massive run, scoring five final-table appearances in the series' first three weeks. He ultimately scored his 16th bracelet in a $1,500 Deuce to Seven Triple Draw event and also added two runner-up finishes. With the WSOP right around the corner and moving for the first time to the Vegas Strip at Bally's (soon to be Horseshoe Las Vegas) and Paris, Hellmuth sat down with Casino Player to discuss his storied career and the game he loves.
How does it feel to see the World Series of Poker returned back to the summer and moving to the Strip for the first time?
I'm really excited. You know, for me, it's a time to kind of block off two months of my time and it's going to be nice. I'll be coming off a friend's birthday party in Mexico for three days, then it's straight to the series.
It's just an adjustment process, right? I've been playing the series since it was at the Horseshoe in I haven't missed a year. To me, this is the most important event for the professional poker players times 10. And I decided that if I wanted to be the greatest of all time, I'd have to do it at the World Series of Poker. So I'm going to work hard to continue to burnish my legacy.
For me, it's interesting, because I stay at Aria. So I may find myself walking in a lot. But in terms of change of location, I think it's just alright. It doesn't matter where we play. You just have to be ready to show up.
What are some ways you get prepared and thoughts on this process?
Using BreinFuel [an energy drink Hellmuth endorses that can help with focus] just really helped me. Those last few hours of the day, or even those first few hours, sometimes I would just blow it. So the drink just gave me a chance to play great from start to finish every day.
But obviously, there are other factors, like how you're running. And there's some luck and can you play your best 365 days out of the year? And I think sometimes we're a little bit more like baseball players where we have slumps, and then we hit the ball out of the park for a while. So it's going to be a nice challenge. For me, at least I feel I'm prepared. The fuel side is kind of set for me, which is nice. And I'm ready to have some workouts too. I also think that if I can make seven final tables, I think it's possible that I can win five bracelets in one year. So that's an outrageous thing to say, but I just made seven final tables.
Your first three weeks of the series last year were just massive. Did that even surprise yourself?
No one, including me, was expecting five final tables the first 18 days or whatever it was, and a bracelet and a second place. No one was expecting that first and second. But it does tell me that things are possible that I didn't think were possible before. So again, I think it's now possible. I could win five bracelets in one year, which is outrageous.
I had three seconds in a year and then came back with two firsts the next year. So it's nice to think things are possible. But it seems like after I had three seconds, I told myself, 'Wow, you could have three firsts and then I had two firsts.' So it's a strange thing to say, but seven final tables is possible. Omaha Eight or Better, I wouldn't be surprised if you see me down there a lot in the future. Then Razz has been my game. I played some crazy big pot where if I win I'm going to have like second chips when we're eight-handed. And I've already won two bracelets and had a second in that game.
So it's completely possible to win five bracelets. I like it when I think things are possible even if it's unfathomable for people. My career's been unfathomable to a lot of people.
You were second in WSOP player of the year last year and that's one of the few things you haven't accomplished at the series. How important would winning that title be for you?
That's the cherry on top. I already have the biggest cake in history and there's a ton of frosting on it too. But it would be nice to have that little cherry on top. I think it says a lot about me that I have four times finished second in player of the year. In the early years, when I finished second, it was primarily Hold 'em. And now it's due to mixed games. I had a shot last year with literally about 48 hours left in the race. I just had to win instead of finishing second.
What's the format you'd like to win a bracelet in next?
Any mixed game bracelet and I've had seconds and thirds. I've had a ton of final tables in mixed games and for whatever reason I haven't won a bracelet. It would be very fitting after last year to win a bracelet in mixed games. I always wanted a Deuce to Seven bracelet. I had to wait a long time for that and got it. Second for me has always been in mixed games.
You have 12 runner-up finishes at the WSOP. As someone who is hypercompetitive at the table, does it just kill you to finish second and have so many second-place finishes?
Yeah, it does eat away at me. Second place is just not where you want to be. I remember the three seconds in 2011 or '12. Everyone was like, 'At least you locked up player of the year.' I think that was the year that Greg Merson had to win player of the year in the last event [the $10,000 Main Event]. He had to finish first; even second doesn't win player of the year  And then there are a couple tournaments a year, where if I just last longer then I would have locked up player of the year. But it happens.
Are you still doing the "Raw Deal" segment for the World Poker Tour?
Yes, as a matter of fact, [WPT CEO] Adam Pliska called me today. I know that I'm shooting my next segments in L.A. on March 30. And because of that, my wife and I are going to celebrate our wedding anniversary March 31 in L.A.
For me, it's fun because they send me the hands and then I write the scripts. They'll send some suggestions and it's kind of a collaboration between the writers, producers, and me. Sometimes they'll send me funny stuff that I love, and I'll add like 40% me. Sometimes there's not as much there and it will be more like 80% of me in the writing.
It just works out well. I really jive well with the producers. I like the collaborative effort of writing the scripts. It's just fun and I kind of just get to go. It's like, 'Alright, you get to say this and this and this and you can joke as much as you want and let your personality shine.' I'll say funny stuff and so for me, I've really enjoyed doing the 'Raw Deal' all these years.
The WPT has really seen some big events post-COVID and seems to be seeing growth. What are your thoughts on the tour?
Massive WPT stuff is happening, massive. These fields are crazy that they're having. The first WPT back in Florida in 2021, the numbers were crazy big. And they were playing with plastic guards up at the table and masks, and we had record fields. So I think that the WPT is going to continue to kill it.
Are you going to be playing some WPT events this year?
I always play WPTs. At least three or four a year, and it would be really nice to win one. It's been very frustrating. I got heads up against Art Papazyan [2017]. Early in that tournament, he went crazy with deuces and I folded Queens. And then I got it in with Ace-King against the King-Queen, and a Queen came on the flop. I would have been back close to even in chips with him or maybe with the chip lead. It kind of hurt, that second-place finish.
I've had a bunch of final tables, so it's just strange I don't have a WPT title. A lot of it can be just because of fatigue and then there's been some very unlucky stuff. I remember a lot of weird hands over the years. And there were a few times where I finished seventh or eighth, so I just missed the official TV final table. This isn't a pity party—I'm not whining, but it's frustrating. There are a lot of close calls there, but that won't get it done. You have to win them.
On another note, you've had some dominating performances on PokerGO's "High Stakes Duel" against some big names like Antonio Esfandiari, Daniel Negreanu and Tom Dwan. How fun is being part of that?
A lot of fun. I think I was 7-0 and then Dwan beat me. Then I did put up $200,000 to challenge. Even though I'd won, I was up $800,000 or something. I was hesitating putting up $200,000. It doesn't matter how wealthy I am, I just hate risking a ton of money in poker, which is a weird thing. I've always been a great money manager  which is why I have this amazing house that I'm pacing around in the backyard. And I've been very lucky financially. Part of that is good discipline. Anyway, finally I sold the majority of myself in the match and I won that one. So I'm looking forward to the next one. I have to beat Dwan for $800,000 and then $1.6 million before I can cash out [per the rules of the show]. So I have to win two more—and he's tough as nails.
You were recently part of a celebrity event as part of Super Bowl weekend for the American Cornhole League on ESPN. What was it like being a part of that and representing poker in the mainstream?
I think in the finals, I had no chance. I was against a guy that could make two out of four bags every time. I'd only been playing for a week. They put me against a semi-pro, a ringer. But I had fun. The six-minute segment they did on me at my house with Cody Henderson [his professional partner in the event] was pretty cool.
You're a shareholder in the online gaming company Rush Street Interactive and predicted in 2020 that the company would get into online poker. The company recently acquired poker pro Phil Galfond's Run It Once platform and appears to be hoping to launch it in the U.S. What are your thoughts on the company and the move?
I'm very happy for Phil Galfond. I think Phil has been an upstanding member of the poker community for a long time and he's shown a lot of class. I'm very happy for him to have a nice exit. On the Rush Street Interactive side, I'm really happy. I went public and said I have 165,000 shares of Rush Street, and it hasn't been fun watching them fall from $20 down to $8—12 points at 165,000 shares, that's like $2 million. That's been kind of tough. I never sold a share because I have a lot of faith. But as far as online poker in the U.S., you'll probably see me get involved in a huge deal with somebody in the next few months. Not Rush Street.
Really? That seems like a natural fit for you.
No, not now. It's interesting, because I'm kind of surprised myself. I thought it would have been a good fit. But what I'm going to announce is going to be massive. We were hoping to announce it last year. Things have been moving slowly.
Do you have any insight on when Rush Street plans to enter the U.S. market?
No insight. They keep closing deals. I saw that they just closed a casino deal in Ontario. It looks like they announced something about Mexico. So I'm kind of shocked—for one of the leading companies in online gaming and online sports betting in the U.S., I think that they're horribly mispriced. But again [says laughing], I have a lot of shares. So obviously, I'm bullish.
How do you feel about the future of online poker in the U.S.?
Bullish, as soon as we get interstate cooperation. I saw what the numbers used to look like in the day and they were massive numbers. It seems like a lot of the 19-, 20-, and 21-year-olds are getting back into poker, which is weird because we had a while where that wasn't the case. So that's interesting. I'm very bullish on poker. I hope that we can get to what they call shared liquidity between states  and then things can really take off.
Many poker players regularly offer criticism of your game because you make moves at the table that others wouldn't. Do you ever think there are too many players who get hung up on "the" way to play in certain situations?
I love it. They told me there was a perfect way to play the 1980s and I invented my own system. And then they said the perfect way to play in the '90s. And Daniel Negreanu criticized the way I was playing in 2010, '11, and '12, and I won more bracelets and had two back-to-back second-place finishes in WSOP player of the year and just continued to just crush everything.
So now they're saying, 'Hey, there's a perfect way to play in a box.' I've heard it all before so many times. To me it's a bit comical. My wife would say all I want is a little respect. So I'm watching the commentators and I'm like, 'Don't they understand what I just did?' And instead they're like, 'Well, the optimal play is duh-duh-duh-duh-duh-duh.'
And I'm like, 'Are you kidding me? I just threw away Ace-Jack of spades in a heads-up match. Because I was sure I was beat. No one in history has done that. No one in the history of online poker or anywhere has ever thrown away Ace-Jack of spades in that spot. It turned out I was in bad shape. And those people said, 'Well, you could get a Jack.' Yeah, I could have hit a Jack. It also could have come Ace-high and I could have lost one-third of my chips.
And so some of these laydowns and some of these moves I make are amazing. I mean, I raised Dwan 13 times and 13 times he folded. They're like, 'Well, we're not sure if Phil knew something.' The math is staring him in the face. But at the same time, I do want more respect but I also don't want people to figure it out [says laughing]. For sure you guys keep going. You guys keep telling me how great you are and I'll just keep winning all the bracelets.
Speaking of Daniel Negreanu, you guys snipe back and forth on occasion. Do you two still get along? We get along just fine, 100 percent. He'll tell you I was at both of his weddings. That's his joke. The funny thing is, he's criticized the way I play poker from head to toe at every possible decision matrix.
He said I suck at mixed games for years and years. He said I suck at Hold 'em now. Daniel has a $25,000 fantasy poker contest he holds every year. And I'm far and away number one over 10 or 12 years. No one's even close right now.
And so I'm way ahead lifetime on that thing. So there's all this math that says, 'Wow, Phil's a great player. He's even way ahead in my own contest over 10 or 12 years.' But then he continues to criticize me head to toe. The only thing you'll ever hear from me about him is he's one of the great poker players. So that almost sounds like a one-way rivalry to me.
You've written several books and seem to enjoy that. Do you have anything else in the works?
I should have written a book during the pandemic. The problem is I wrote Poker Brat [his autobiography] and then within months I wanted #POSITIVITY out because I thought that's a book that could help the world. The book has eight life tips and even Tony Robbins tells people to buy my book. It's insane. So to me, that's truth. And the more you know about truth, the better off you are in life. So here's the truth: you read #POSITIVITY, it's going to have eight life tips that are going to help you.  Here's a truth that takes 70 minutes to read.
Since then, I was playing a lot of poker during the pandemic. I won a lot of money, but it would have been a good time to write a book. Probably writing books that can help or entertain society is maybe a better long-term move for me. So lately, I've been toying with the idea of writing a book—more of an adventure book about someone who's 16 years old, but finds some real magic.
I'm thinking of a fictional book that can also incorporate some positivity and some life lessons. Good versus evil kind of thing. I wrote the idea down in 1986. But recently when I was in bed, I asked my mind to expand on the topic a little bit. Then, there are a bunch of follow-up books I could do on positivity. I could write a small book on each chapter, talking about the power of it. I think if I wanted to, I could very easily do a positivity movement. I could start a tour where I just have a bunch of people come in like Tony Robbins does. Maybe a couple hundred people at each stop and that's one way we can improve people's lives.
Tony Robbins works himself so hard, but he's making everybody's lives better. That's a great model and I'm sure I could make a lot of money doing it too. But my life is so nice and so happy. It's hard to find that motivation. I've been blessed financially, I've been blessed with a super full plate, and so it's hard for me to consider stuff like that.
Sean Chaffin is a freelance writer and senior writer for Casino Player and Strictly Slots magazines. Follow him on Twitter @PokerTraditions or email him at seanchaffin@sbcglobal.net for story assignments.
2006
At the 2006 World Series of Poker, Hellmuth captured his 10th WSOP bracelet in the $1,000 No Limit Hold'em with rebuys event.[ At the time, it tied him with Doyle Brunson and Johnny Chan for most bracelets. The following year, in the 2007 WSOP, Hellmuth won his recordbreaking 11th bracelet in the $1,500 No Limit Hold'em Event.
2013
Phil Hellmuth Finishes "In The Money" for the 100th Time at the WSOP.
2021
There's no denying Phil had a banner 2021 WSOP, having reached a record seven final tables. In total, he entered 34 events, bought in for $448,379, and cashed out for $1,248,860, for a net profit of $800,481.