Bally's "Cash Spin" lets you reach out and touch the action
Re-inventing the Wheel
By Frank Legato
For the first time in recent memory, here is a Bally game that has players literally lined up to play. Crowds two and three deep are bunched around this game wherever it is placed.
"This game's a hammer."
That's how Mike Mitchell, vice president of game development for Bally Technologies, describes the success of the slot-maker's newest big-time game, "Cash Spin."
"Hammer" doesn't even begin to describe how players have gone gaga over this game. For the first time in recent memory, here is a Bally game that has players literally lined up to play. Crowds two and three deep are bunched around this game wherever it is placed, waiting eagerly for a chance to take their turns to place some of their dollars into one of these machines.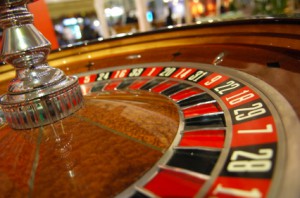 It's like a carnival around some of these games, and it's all for one reason: audience participation. Cash Spin is on the Bally V32 cabinet, which is the one with the large, rectangular, vertical monitor. You may have seen this setup on games like "Fireball" and Bally's video roulette game. They had to use this cabinet to fit the source of all that excitement—a big video fortune wheel that you can spin. Yes, you put your hand up, touch the screen and physically spin a big virtual wheel.
It's called "U-Spin," and it's a gimmick that's making believers out of all those crowds of people clamoring for a spot at this game. There are sensors inside that somehow measure the force of your spin, so if you really crank up and give it a wail, the virtual wheel spins like a propeller. Just nudge the wheel and it clicks lazily around to its destination.
Before you ask: No, you can't gingerly click it one spot to get that 5,000-coin prize. It's not a real wheel.
But it sure seems that way when you play this game. "The player can start and control the wheel spin," Mitchell says. "Based on how much pressure they apply to the screen and how fast or slow they move their hand, they can affect the speed of the spin. It's great player interaction. It's a lot of fun, believe me."
Oh, by the way, there's a great game attached to that wheel. Cash Spin is the culmination of several technologies, according to Mitchell. The first is that unique V32 cabinet. The second is "iReels," which is a setup with mechanical reels covered by a transparent video screen, so animation bounces on top of the reels, celebrating wins and providing a video-style bonus sequence. Finally, there is that patent-pending U-Spin, which can lead to credits, free spins or even one of two progressive jackpots.
"When we added the interactive reel technology," says Mitchell, "and then added the U-Spin technology—which is essentially 'gesture control'—that combination, along with a very attractive wheel, all the interconnectivity of that bonus game, and all the other features, we ended up with a great collection of different, unique events."
Incidentally, this remarkable combination of features came together in record time. A year ago, Cash Spin was just an idea. Software engineers in Bally's studio in Huntington Beach, California, worked with hardware engineers in Las Vegas, and within a few months, had a working prototype—in time for last year's gaming trade show in Las Vegas, where it won the first of three industry awards for innovation.
"We had rapid development from concept to approval to actually having games in the field," comments Greg Colella, the director of product management who was at the center of the effort. "Everyone did a heck of a job. It was a new hardware design, a new play mechanic. There were significant development elements converging. It all came together with this project in an incredible manner."
The effort is now paying off, as players encounter a game that offers fun on several different levels.
Action-Packed
At its core, Cash Spin is a simple game—25 pay lines criss-crossing three mechanical reels with a fairly traditional pay schedule. You can bet up to five credits per line, with a 200-credit maximum, but you don't have to bet the max to activate all the features—just cover the lines plus a 15-credit ante, which is all figured out for you in pre-set wagering buttons.
The base game is a good one, with a one-in-three hit frequency and lots of good wins. However, as Mitchell says, it is the combination of this with all the unique features that really makes the game great.
Let's start with that "iReels" feature. There are money bag symbols on the reels in addition to the more traditional reel symbols. Scatter three of those anywhere on the reels and the transparent video screen kicks in, making the reels into three video monitors showing money bags. Pick one and a credit value is revealed, anywhere from three to 50 credits times the total bet on all paylines (excluding the ante wager). According to the manufacturer, the average payoff on this event, which occurs every 72 or so spins, is close to 10 times the total bet.
There are three other possible outcomes tied to that unique virtual wheel.
The "U-Spin" symbol anywhere on the third reel kicks off the main feature. The player is invited to touch his hand to the screen and spin that big wheel, which includes 22 spots. Among those spots are credit amounts ranging from 200 to 5,000; "Free Games" slices, the "Minor" progressive, which resets at $100; and the "Major" progressive, resetting at $5,000.
If you hit the Free Games spot, you get 12 free games with all pays outside the top jackpot doubled. More cool features of this free-spin round: You can win either the Money Bag feature or the U-Spin Bonus again within the free spins. If you win the U-Spin within the free games, it can, of course, lead to more free games or one of the progressives. You can go on and on with this feature, up to a possible total of 60 free games. It's one of the strongest free-spin bonuses out there.
One very important thing to know about these bonus features: The way this game is designed, the more you bet, the more you win. First, make sure you hit the big button on the right to activate the message "U-Spin Bonus Active." After that, you are assured that the ante is included, regardless of which per-line wager button you push. It is a 15-credit ante for each per-line credit—if you bet two credits per line, a 30-credit ante is automatically added, and so on. As we said, the machine does the math. But if you can get up to five credits per line, you've got the best chance to win big on the U-Spin wheel.
"You are five times as likely to win the $5,000 on the wheel with the maximum bet as you are with the minimum bet," says Colella.
Bottom line: Start out with as much as you can afford, but if you build up a big credit bank, jack that bet up. When you hit the big-wheel bonus, the payoff will be substantial. The button setup makes it easy. Once the ante button is active, you can move back and forth between per-line wagering buttons with ease.
However, even without that max bet, all of the features of the game are available to you, as long as you hit that button activating the U-Spin wager. "From successful games like Hot Shot and our Quick Hit progressives," Mitchell explains, "one of the things that came back to us from players is that they would like to be able to play for a progressive for less than a maximum wager. This game does that."
All of this stuff is tied together into a uniquely fun package—in addition to the animation on the reels, you have little extra touches like a candle on top that changes colors with different bonus events—and you are guided through all the bonuses by a star actor with a very recognizable voice. (We're sworn to secrecy, but trust us, you'll figure out who's talking.)
"The game has good hit frequency, you can win bonus games within bonus games, you can get free games within free games, Major and Minor jackpots within free games, a Money Bag bonus… All those things have come together with this game," says Mitchell.
Colella estimates that this game could be in more places, with more units, more quickly than any game in Bally history. And that is a long history indeed.
To reiterate Mitchell's concise observation: This game's a hammer. •
CASH SPIN
Bally Technologies
Slot Type
Three-reel, 25-line
mechanical-reel slot with video bonus events; reel-based bonus on transparent
overlay; virtual wheel-spinning bonus; free-spin bonus event; penny, 2-cent,
3-cent, nickel, dime, 15-cent, 20-cent and quarter denominations
Payback % Range
85.72%—90%
Average Hit Frequency
33.79%
Top Jackpot
Progressive; $5,000 reset
Availability
AZ, CA, CO, CT, FL, IL, IN,
IA, KS, LA, MI (tribal), MN, MS (tribal), MO, ND, NM, NV, OR, SD, WA, WI. Other
North American jurisdictions pending at press time.
Bally's "Cash Spin" lets you reach out and touch the action.