Attack from TEXAS – Slot Games Creator
Multimedia Games mines the talent of Austin, Texas to create great slot games
by Frank Legato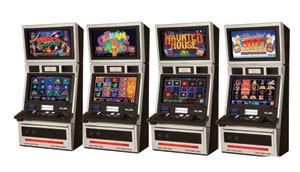 Most of what you see on the slot floor these days is the product of the creative forces of Las Vegas-based slot manufacturers. However, more and more incredibly fun slots these days come from that well-known gaming hub of… Texas.
That's right, Texas—but one particular artsy, creative, energy-filled corner of the state, the capital of Austin. That's the headquarters of Multimedia Games, a slot-maker which until a few years ago was almost exclusively in the Class II electronic bingo markets. But since the company committed to becoming a larger player in the traditional casino markets, its games have gained fans around the country.
Multimedia produces some of the most creative, clever video slots in the business, and the company's location has a lot to do with that. Besides being the state capital, Austin, as you may know, is a center for the arts, music, and creativity in general. It is also the location of the University of Texas—which feeds a steady stream of engineering, design and art talent to Multimedia Games.
"We've got a very magical kingdom here in Austin," says Mick Roemer, the slot-industry veteran who joined Multimedia as senior vice president of sales a few years ago. "Coming from an artistic community like Austin gives our games a fresher feel, and our games are resonating across the country because of that."
Many of the features you see appearing on the games of the top slot-makers started with Multimedia. For instance, it was the first company to use a wide-screen video format. Beyond that, the company has used its talent to create a variety of play mechanics that are just now starting to become commonplace.
But where the player sees the difference most is in the games themselves—they are funny, engaging, consistently interesting and packed with entertaining bonus events. "Players are interested in great graphics and great game mechanics," Roemer says, "and an entertaining experience in terms of playability of the game and hit frequency of the awards. But not only do we have outstanding and distinctive graphics; we have many layers of bonus events. Players love the way the screens change when you get into free games or other bonuses."
Eclectic Group
What sets Multimedia apart from other slot-makers is the talent in game design and artwork that pours naturally into the company from its surroundings in Austin.
"We're exposed to more varied themes than designers in the traditional slot markets," comments Clint Owens, executive producer in Multimedia's game development group. "A lot of the people on our team have varied backgrounds. We have painters. We have people who have done acting—including one artist who was on a Seinfeld episode. We have a yodeler! Creativity runs in crazy veins."
This eclectic bunch of game designers, producers and artists typically takes part in every aspect of game design, and the fun they all have shows up in the finished product.
Take "Invasion from Outer Space," a kitschy 1950s-style alien invasion theme. The video reels float over a scene of a crowd of people running for their lives from flying saucers. Characters doing their best film screams serve as reel symbols. In one bonus game, you shoot down flying saucers at the behest of a classic 1950s public service announcement. In grainy black-and-white, the announcer urges, "It's time to fight back!"
The people you see and the screams you hear in "Invasion" are the people on the Multimedia game design team, including the executives. "We had the entire art department running across a garage for the scene where people are running through the city," laughs Owens. The terrified townspeople depicted on the reels? Also Multimedia execs and game designers. One of company's game producers provided a particularly blood-curdling scream, worthy of anything Hollywood produced in the '50s.
"If you listen to our games, you will hear a lot of our internal talent," Owens says. "One of our art directors plays banjo on a game; another's voice is heard on the 'Smokin' Hot' series of games. On 'Alacazam,' one of our art directors is doing a genie with a particular accent that's pretty entertaining. The voice on 'Wild Wheel' is someone from our product management group."
The team participation sometimes requires a little bit of outside assistance. "In 'Carnival in Rio,' we did all the sounds internally, but we hired a dancer to do the wild dancer symbols," notes Brad Johnson, vice president of product management and marketing. "We also wanted an authentic Rio accent. There's a certain way people from Rio speak. So, we went trolling in bars to find people to do the Brazilian voices."
This attention to detail shows up in the games. In "Haunted House, a game that provides a truly creepy 3D trip through various rooms of a haunted house, the interactive bonus presents a scene of one room. You touch a picture frame and get a ghost, or an otherworldly sound, or a key to the next room, and a whole new collection of eerie choices. "Our guys made actual scale models of each of those rooms, which we photographed to make each of the levels," says Owens.
Convergence of Ideas
In addition to talent, the collection of game producers that make up Multimedia's creative team contributes a steady stream of great ideas for new games. For instance, "Texas Tornado," a popular nine-reel, 32-line game that features a bonus round with flying tractors and farm animals in a funny sequence, includes a side wager on a five-card stud poker hand that appears in a window on the right of the game screen. Odds on the side bet are true to the game of poker—right up to 600,000-to-one for the royal flush. (It's straight stud poker; there is no card draw.)
It is part of what Multimedia is calling its "Side Action Series," which adds several side games involving both poker and dice, for a minimum 25-credit side bet.
"Power Stacks" is another innovative play feature. When a wild symbol appears, the computer randomly nudges additional wild symbols.
One of the ideas on which the team keeps improving is "TournEvent," a slot-tournament system that allows any bank of machines to be switched instantly between normal and tournament play. The latest version includes cameras on each tournament slot machine, which beam images of the ongoing action to a large, overhead screen. Players enter their names at the start, so everyone gets the chance to be a "star" during the event. A leader board tracks changing tournament positions, and follows the action much like a sporting-event broadcast.
The newest version of TournEvent also adds a dashboard at the side of each game screen, with a picture-in-picture window that runs the video of the event as it happens—or, in the case of completely automated tournaments, an animated emcee. The slot games themselves have been simplified, and one more factor has been added—a chance to win side jackpots during the game. Players can add to their scores when balloons appear on the screen by simply touching the balloons.
In all, it's the opposite of the robotic, button-pushing slot tournaments that used to be the norm. "TournEvent has made a lot of people excited about playing in tournaments," says Roemer. "The idea of turning the average slot tournament into a theater/video/Let's-Make-a-Deal kind of event has gotten a lot of traction."
Up and Coming
"Carnival in Rio" and "Alacazam" are the latest of a Multimedia game library that has incredible staying power. "Of all the games we've released in the last year and a half, only four or five have been replaced in the market," comments Johnson. "All of our other games are still out there and still going strong."
Other new games to watch for include "Maximum Lockdown," just released last month, and "On the House." "Lockdown" is a unique five-reel, high-denomination reel-spinning game with five reels in a novel configuration. The middle three reels each have three spots, but the outer reels display one symbol each. When those symbol match, it is a "Lockdown," launching a free-spin bonus paying left-to-right and right-to-left for winning combinations.
"On the House" is "a drinking game," according to Roemer. "This game will not look like anyone else's game in the industry," he says. "It is a nine-reel format with 32 paylines. It is easy for the players to understand, and to see what they've won."
The biggest story for Multimedia Games, according to Johnson, is that its slots are earning big for the casinos, because they are so popular with players. That means the slot-maker is going to be gaining ground for some time. "We're out there with all the major manufacturers, and people are gravitating to our games," Johnson says. "We're going to try to be very innovative going forward, taking what everyone's been doing the same way for 25 years and turning it into a really unique gaming experience."
As Owens notes, it all comes back to Multimedia's people, and the talent they pour into the games. "Our games resonate with players because we're passionate about the games we make," he says. "Players sense the energy we put into the games, and they really enjoy playing them because of that."
Attack from TEXAS – Slot Games Creator.