Debunking Slot Club Myths
Let's cut through the superstitions and explain how players clubs really work
By H. Scot Krause
The truth is that no machine—no matter how long it's gone between jackpots—is ever "due" to pay out. The machines are random, and that means that basically anything can happen—including hot streaks and long, cold runs, and everything in between.
This month, we'll examine some of the myths about slot club cards and machines, and sort out the facts from fiction—and then I'll share some of my hottest tips on where to play this summer.
Myth: "You can't win if you're playing with a slot club card!"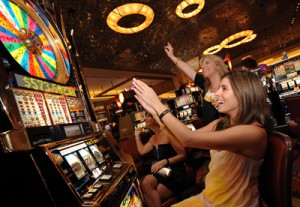 Truth: This notion is absolutely false. There is no link between the slot club card reader, which is only recording information about the number of coins being played and the RNG (Random Number Generator) which determines the combination of symbols (or cards) that come up on the pay lines. By not using a slot club card, you are only denying yourself all the "hidden" benefits and rewards of playing—such as cash back, comps, gifts, special invitations, future room offers and more.
Myth: "Some machines are 'due' to hit!"
Truth: The truth is that no machine—no matter how long it's gone between jackpots—is ever "due" to pay out. The machines are random, and that means that basically anything can happen—including hot streaks and long, cold runs, and everything in between.  Just because a certain combination on the reels (or deal of the cards) hasn't appeared for a long time does not necessitate that it is "due." Some players attempt to force the issue by continuing to play on and on. If a winner eventually comes up they can say, "I told you so," but they may have pumped in more money than the jackpot paid anyway! Play away, but don't be fooled into believing that any machine ever "due."
Myth: "You can't win on a machine if it just hit a jackpot."
Truth: Another false notion.  We've seen all kinds of oddities in actual casino play, including back-to-back royal flushes and slot jackpots that came on the very first spin. None of these events are any more or less likely to occur again after the first hit. Again, that's the nature of the RNG.
Myth: "You should play coins instead of credits."
Truth: This is an old superstition, because most machines today are "TITO" (Ticket In, Ticket Out) and won't even allow coins to be played. But there are still some coin-droppers out there, and many players still love them. (For example, the Eastside Cannery in Las Vegas has brought back coin droppers. Next to the poker room you'll find 50 classic slots, including video poker and assorted vintage reels, that dispense real coins).
While it this may help you with money management techniques, by slowing down your play, the machine does not determine pay outs by the number of coins being played, or whether credits are being played. It's true that you would probably get something different on the pay line if you insert coins, but only because it takes a second or two longer to deposit the coins and the RNG would stop on a different combination.  But there is no way to determine if it would be better if you played coins manually, or pushed the credit button, or pulled a handle.
Gamblers are a funny breed. If you have a lucky hat, or you feel that you win when you wear red shoes, go for it. But most of the myths and superstitions that surround the games of chance are, in fact, just myths. Remember—these are games of chance, and you are gambling.
As one friend of mine likes to say, "I gamble every day…I never know if I might be walking around lucky."
Summer Promotions
In Reno, new and existing players' club members at Grand Sierra Resort and Casino can enjoy exclusive perks ranging from dining discounts, double points, giveaways, free play, and more through July 30. Promotions include:
—Players' club members may enjoy a specialty menu at Café Sierra. Bettors who have earned 777 points can order any menu item for free without any point deduction. Players may redeem one meal per day, seven days a week.
—Grand Sierra's Mega Points Hot Wheel spins every two hours from 10 a.m. to 10 p.m. and players may receive 2 to 7 times the points for a two hour period. The offer is only good on select reels.
—Table game players can earn double comps between from 10 a.m. to 10 p.m. on Tuesdays and Thursdays.
—Guests may participate in free slot tournaments 1–8 p.m. Mondays, Fridays and Saturdays and in free video poker tournaments 1–8 p.m. Wednesdays.
—Members may also enter to win free psychic readings from an internationally acclaimed psychic, Terri Jay, 11 a.m.–4 p.m. Tuesdays and Thursdays.
—Patrons can enter to win a complimentary soothing massage while playing their favorite slots, video poker and table games. Massages are available 6 p.m.–midnight,  Monday through Friday.
You can also celebrate summer at the Riviera Hotel and Casino in Las Vegas with free pool parties. Enjoy the tunes of local Vegas favorite Tommy Rocker as he provides the perfect musical backdrop for your day in the sun. Casino marketing director Debbie Mumford says, "Tommy Rocker is a fun and extremely popular entertainer performing great sing-a-longs."
Food and beverages are available at poolside, so you won't miss a beat. Enjoy salads, sandwiches, sides, snacks, soft drinks and desserts, as well as your favorite tropical mixed drinks and beers, while soaking up the sun. These parties are at the Riviera Oasis Pool Complex and start at 5:30 pm on July 1, 8, 15, 22, 29; August 5, 12, 19; and September 2, 9, 16, 30. For additional information, call the Riviera Gaming Marketing Office at 702-794-9571.
New members signing up for a Total Rewards player's card at any Las Vegas Harrah's owned property receive $5 in free slot play, or $10 if you sign up at the Rio.
Signing up as a new member up for the Imagine Rewards slot club at the M Resort in Las Vegas will get you a choice of a free M logo t-shirt or $5 in free slot play.
Happy slot clubbing!
H. Scot Krause is a freelance writer, gaming industry analyst and researcher, originally from Cleveland, Ohio.  Scot reports, researches, and specializes in writing about casino games, events, attractions and promotions. He is a former entertainment director and a fifteen-year resident of Las Vegas. His work is regularly featured in gaming publications and the annual American Casino Guide Book. Questions or comments for Scot may be addressed to: krauseinvegas@cox.net
Debunking Slot Club Myths.