Penny Power in Casino
Sampling the games, and enjoying some low-cost fun, during a tour of three casinos
By John Grochowski
 
Neither of us won money. In fact, I dropped about $15 and my wife Marcy lost about $5, but the game was fun and drew some laughs.
When I'm on my own in a casino. I look for games that give me the best shot to win. I play a lot of video poker, provided I can find the right games with the right pay tables, and I might cross over to the table pits to play blackjack, with an occasional foray at the craps tables when the urge to "roll the bones" comes upon me.
But when my wife Marcy is with me, it's an entirely different kind of experience. Together, we're just after a little entertainment, and what Marcy finds most entertaining are the penny slots. So when we went off together for a two-night, three-casino jaunt in Indiana and Michigan, we were mostly searching for low-cost games with big value in the fun department.
We spent the nights in Indiana, at the Blue Chip Casino in Michigan City and the Ameristar Casino in East Chicago. In between, we detoured across the border to the Four Winds Casino in New Buffalo, Michigan. At each location, we spent the bulk of our time playing side-by-side, seeing how long we could make a few bucks last—a worthy goal when you're playing negative expectation games.
Marcy likes penny slots overall, but the one she really likes best are those with second-screen pick'em-style bonuses. So at Blue Chip, we settled in at a couple of WMS Gaming favorites, with Marcy on Airplane! and me on Jackpot Block Party.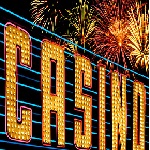 For Marcy, it turned out to be one of those nights. Small payouts in dribs and drabs, no bonus events, and before long, her $20 bill had shrunk to around $8.
Jackpot Block Party was kinder to me. It's a recent version of Jackpot Party in which instead of one screen full of gift boxes to touch for credits and bonuses within the bonus, there are four rectangular fields. Pick a box with a key, and it unlocks the next party. And a pooper in party No. 2, 3 or 4 just ends that party, not the whole event. It takes a pooper in the first party before you're sent back to the video reels.
Just five spins into the session, it was party time for me. And just three picks into party No. 1, I found a key that unlocked all three of the other parties. Now the credits were jumping onto my meter. Whenever I picked a box on one party, the corresponding box would open on the others, until I'd finally popped my last pooper. Before it was over, I had nearly 3,800 bonus credits.
"Dinner's on you tonight," Marcy said. (I already knew that.)
On our jaunt up to Four Winds, I was looking for something a little different. I found it right away with a bank of games by Incredible Technologies. IT is always willing to play around with the slot format, and Marcy and I both settled in to try out All Mixed Up.
All Mixed Up is from IT's Innovation Collection of non-traditional slot games. The video reels rotate horizontally instead of vertically. You still wind up with five stacks, each three symbols deep, but here you're trying to make the stacks align into people, with matched head, torso and lower body. The space alien's head atop the football player's middle atop the model's high heels might give you a chuckle, but it's not going to get you any credits.
Still, there are 355 ways to win, and you don't need a perfect stack to boost your credits. Head and torso upper-body matches are payers, and so are torso-legs lower-body matches. There are color background matches and free-spin bonuses. Both of us got to try the Portrait Puzzler Bonus, trying to complete a jigsaw puzzle of game characters in comical situations.
Neither of us won money. In fact, I dropped about $15 and Marcy lost about $5, but the game was fun and drew some laughs. That was enough, as we hit the road for East Chicago.
Ameristar guarantees new games every 90 days, and I wanted to show Marcy what stacked symbols were all about. I demonstrated on a new IGT game called Cherry Mischief.  It was a 40-line penny game, so I was wagering 40 cents a spin. All symbols were sometimes stacked in the IGT Super Stacks feature. Among the symbols were young women with fairy wings, and a butterfly symbol that if stacked on reels 2, 3 and 4 launched a free games feature.
I slid a $20 bill into the validator, and quickly discovered the down side of stacked symbols. Symbols in a stack can block potential winning combinations, as when blonde fairies on reels 1 and 2 were separated from the match on reel 4 by a stack of red-headed fairies on reel 3.
Before long, my 2,000 credits were down to 85.
But then, my luck turned. The "Q" for "Queen" symbols stacked on all five reels, a screenful of Qs for a 520-credit win. A few spins later, I got the butterfly stacks on the middle three reels. In the free-spin bonus, a dark-haired fairy stacked on the first three reels, bringing an all-payline win, and another spin brought three stacks of the redhead.
The free spins put 1,860 credits on my meter, briefly putting me into the profit zone by a couple of dollars. I played down to my original $20 and we moved on.
When you play stacked symbol games, that's the kind of experience you can expect. There will be fast losses, and there's a fair chance of big all-line wins. You're just hoping the balance falls in your favor.
We played other games at those casinos, of course, and wound up losing just shy of $40 between us. But in Jackpot Block Party, All Mixed Up and Cherry Mischief, we had three very different kinds of experiences. Different game play, different bonus events, different volatility levels and different kinds of inexpensive fun. We'll take it.
Sampling the games, and enjoying some low-cost fun, during a tour of three casinos.
Do you have a comment or question about this article?

Look for your question to be answered in either Casino Player or Strictly Slots Magazines.